Vanderpump Rules Recap: Either Him or Me
Season 7 - Episode 3
Jennifer Ray December 18, 2018 12:53pm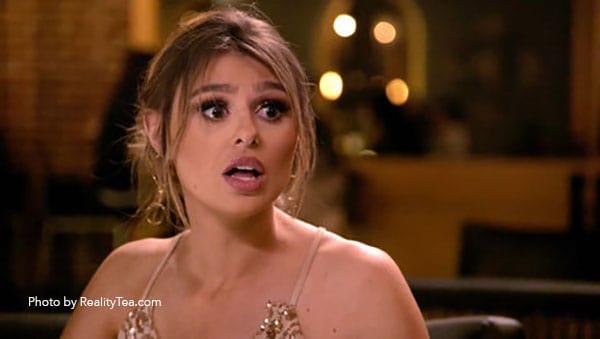 Hello everyone! Welcome back, me. I was out of the country last week and it feels good to be home. Where was I? Glad you asked. I was fortunate enough to take a vacation in Jamaica. The trip was wonderful until it was time to come home. The resort forgot about us and didn't include us on the bus ride back to the airport. To remedy this they called a van service to drive us the hour-and-a-half. On the way there the driver picked up a random person, drove into oncoming traffic with, then missed the turn to the airport and made an illegal U-turn that caused a motorcyclist to crash into us. And yet, through all of that, the gang at Vanderpump Rules still managed to have a more dramatic day than I did.
Yes, James Kennedy has managed to put a cloud on one of the funnest days of #PumpRules year: Gay Pride. After drinking himself into a stupor, James went on a tirade that included calling Katie Maloney-Schwartz fat, walking down the street asking people if they wanted to mess with him, yelling the word "Pumptini" at Jax Taylor, then telling Stassi Schroeder that she had a dildo up her bum.
Meanwhile, James' girlfriend, Raquel, is having a chat with Scheana Marie about the rumor that James slept with a girl named Hope. Being the wise one that she is, Scheana tells Raquel that she doesn't believe Hope as she feels that Hope exaggerates her stories – something Scheana is well-versed in. (re: "Rob can hang a TV in 7 seconds" story) Raquel believes that Kristen Doute is the mastermind behind the rumors, telling Scheana she believes Kristen is coming after her. I mean, she does need to stay relevant somehow.
After speaking with Scheana, Raquel finds Hope and questions her about the rumors. Hope admits the rumors are true, then tells Raquel that she and James have been sleeping together for THREE YEARS! They even slept together at Coachella, WHILE RAQUEL WAS THERE! And how does Raquel respond? "I need more proof."
The madness doesn't end there. After James has insulted everyone within earshot, he searches SUR for Raquel which puts him right in front of Lisa Vanderpump. Lisa tells James to calm down, and before he can find Raquel, Lisa finds her first and tells her that she needs to tell James not to drink anymore. I'm sure he'll listen. Raquel eventually finds James and tells him about the conversation she had with Hope. Of course, James denies everything, then proceeds to tell Raquel that she's talking out of her a$$. Just when you think this is the moment she'll choke him with his fanny-pack, she announces to the world that she loves James and will be keeping her job as his girlfriend.
The next day, everyone deals with the aftermath. Katie tells a severely hungover Tom Schwartz about James' fat-shaming comments, which Tom would be more upset about if it wouldn't make his head hurt more. Meanwhile, James and Raquel are talking about the events that transpired at Gay Pride when James receives a phone call from Peter: after what happened at SUR, James is no longer invited to his birthday party. Raquel tells James that actions have consequences because James is apparently a 5-year-old and doesn't know that, then she says that she wants James to quit drinking for good. If Raquel would just watch Season 5 I think she would see that we've been down this road already.
Later that night, the SUR crowd gathers for Kristen's boyfriend, Carter, and Peter's joint birthday party. Scheana makes her entrance with busboy, Adam, on her arm. You may know him as the Adam that Scheana tried to hook Brittany Cartwright up with after she and Jax broke up for a while. So that's not weird. While more people filter in, Stassi and Brittany have a drink together when they're joined by Scheana. Did anyone else laugh at the face Stassi made when Scheana joined them? Anyway, Brittany asks Scheana about the Hope and James debacle, to which Scheana replies with mixed answers. She thinks something happened but she also thinks Hope exaggerates a lot. After our heads finished spinning, Stassi tells Scheana that she needs to quit trying to make everyone happy because all it does is bite her in the a$$.
In a more welcoming conversation, Peter pulls Jax aside to tell him that Lisa has given him permission to put Jax back on the schedule. And that's not the only "whhhaaatt?" moment. It seems as though Stassi stalked Ariana Madix to the point of submission and now they're friends and will be throwing a joint birthday party. After discussing minor party details, Ariana and the rest of the girls talk about a Hollywood themed girls night out, one that Scheana is not invited to. So basically all of these conversations were welcoming as long as you were not Scheana.
The next day, Jax and Brittany begin testing cheese's for their new business: Mamaw's Beer Cheese. While sampling different types of cheese, Jax tells Brittany about getting his job back, and Brittany tells Jax about the girls night.. and that she'll be inviting Raquel. She wants to be there for Raquel as she knows what it's like to be in her shoes. Jax seems to have forgotten that he's the one who put Brittany in those shoes as he can't understand why anyone would want to be with someone so hated like James. Him and James are different, though. Jax wanted to be better and James doesn't. So that settles that. After this exchange, Brittany calls Raquel and Raquel happily accepts the invitation.
Later that night, the girls arrive at Mama Lion's looking stunning. Other than the outfits and drinks, Stassi's favorite part about their girls' night is that she doesn't have to listen to Scheana claw at her phone all night. Same. Brittany tells the girls that she has invited Raquel and to everyone's disbelief, Raquel will be joining them. Raquel arrives and the look on vegan-Kristen's face is one of such disgust you would have thought Raquel was wearing a dress made out of meat and shoes made out of kittens.
Stassi, Kristen and Katie excuse themselves and head to the bar while Brittany and Ariana try to have a come-to-Jesus talk with Raquel. Raquel explains that she's been blind to James' drinking as if that were his main problem. As Brittany tells Raquel about the comments James made to Katie, Katie, Kristen and Stassi rejoin the table. Raquel claims to have no knowledge of that exchange, then asks Katie if she thinks he only says those things when he's drunk. Katie says "I don't care." Raquel goes on to defend James claiming he only acts like that when he's drunk and that they don't see what she sees. Raquel claims James treats her like a queen, and I just feel like maybe none of us have seen the James that she sees. Katie has had enough and informs Raquel that she will be telling Lisa about his comments.
The next day, Katie arrives at SUR and asks Lisa if they can talk. She tells Lisa about James' fat-shaming comments, then gives Lisa an ultimatum: either James goes or Katie does. TO BE CONTINUED…
The ultimatum worked with Schwartz, do you think it'll work with Lisa? Who thinks James is getting fired next week? Comment below!
---