Pregnant Reality Stars In Fall 2019
'Tis the season for pumpkins and pregnancies
Emily Bertha October 1, 2019 7:41pm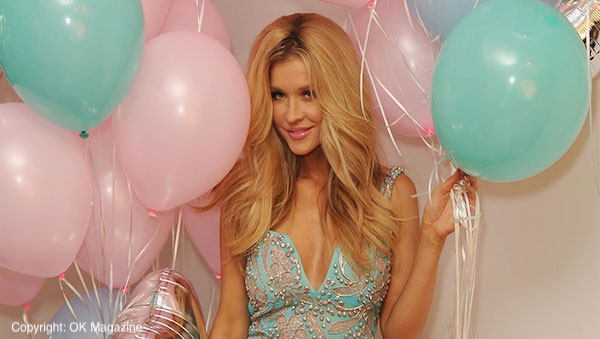 From Andy Cohen to MJ Javid, a lot of reality stars became parents to more than just fur babies this year, and even more, have a baby on the way now!
Check out the reality stars expecting a star of their own!

Malika Haqq
The Kardashian clan keeps popping out kids, but this time it's not an actual Kardashian who is pregnant. Khloe's best friend, Malika Haqq, announced on Instagram that she'll soon join her friend as a new mom.  I'd be remiss if I didn't comment on just how absurd the way she announced her pregnancy—via a sponsored selfie featuring a pregnancy test brand—truly is. I mean, imagine your mom literally capitalizing off of you as a fetus. I'm all for making money where money can be made, but wow.  Also, I get that a positive pregnancy test is symbolic, but it's still just a peed on plastic stick inches away from her face… Malika hasn't named the baby's father yet, although I'm curious to know what his thoughts on the announcement are. Rumors are swirling that the father may be her ex, O.T. Genasis, but we'll have to wait and see.
Faith Stowers
Faith Stowers played a major part in Vanderpump Rules drama despite not being a cast member… Any guesses?  Faith was the server who revealed she slept with Jax Taylor, believing that he wasn't in a serious relationship at the time. Faith recently left a different reality show, MTV 's The Challenge:World of Wars 2, and is now pregnant with her first child (who is thankfully not Jax's…). Faith opted for the classier ultrasound picture to share the good news online.
Joanna Krupa
This RHOM alum and got married August last year and announced in May that she's pregnant with her first child.  Joanna was very open about the fact that she froze her eggs. With supermodel genes like hers, it would be a travesty not to have. Joana's also revealed her happy news via a sponsored selfie featuring a pregnancy test. It's a capitalist world, and we're all just living in it (her baby included). Truthfully though, I'm just glad she's getting laid.
Erica Mena
LHHNY star, Erica Menna, just announced her pregnancy with LHH cast jumper Safaree Samuels! This will be her second child but first with her soon-to-be husband, Safaree. The couple has been actively trying to get pregnant, so we couldn't be happier for them (although also a tad jealous because with parents that look as good as they do, that baby will have a good chance of looking like a model right from then start).
Kandi Burress
This singer, business woman, Real Housewives of Atlanta star, and a million other titles, will soon welcome her third child via surrogate. Kandi and her husband, Todd, discussed the possibility of having another child via surrogacy in season 11 and announced during the premier of season 13. Kandi's daughter, Riley threw some serious shade on the idea, claiming that Kandi and Todd were too busy to add a new baby to the mix. With the baby now on the way, we'll see how Riley warms up to her new sibling!
Our baby thats on the way now via surrogate will be the last one unless by some miracle I was to get pregnant without the help of IVF which would be a miracle. #RHOA https://t.co/TfqBZbsIe3

— Kandi Burruss (@Kandi) November 4, 2019
Deavan Clegg
90 Day Fiancé star, Deavan Clegg, confirmed she's expecting her second child with her new husband, Jihoon Lee. The news originally leaked after Deavan posted a question in what she thought was a private Facebook group regarding insurance in South Korea. The couple's relationship turned a bit rocky (to say the least) after finding out about their first pregnancy together, but they seem thrilled to be welcoming a second child. Although maybe next time I'll have my grandma give her some advice on how to use Facebook…
Teddi Mellencamp
RHOBH star Teddi Mellencamp is now pregnant with her third child. Supposedly, the pregnancy came as a "surprise", although I'm still not entirely sure how a kid can be a "surprise" when you're a married couple presumably using the same method of birth control or not using it at all. Regardless, Teddi's  recently revealed she's having a baby girl during a gender reveal party (which are highly problematic in nature, but I'm glad Teddi and her family seem happy).
Which pregnancy surprised you the most? Comment below!
---