A Newly Pregnant Kenya Moore Shows Off Her Baby Bump & Ultrasound
Congrats, Kenya!
Genny Glassman June 4, 2018 5:28pm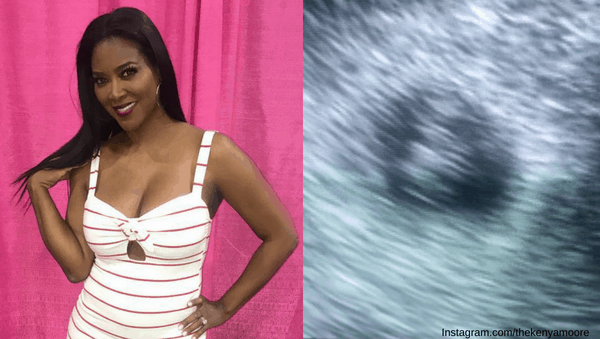 A new baby twirl is on the way! Congratulations are in order for The Real Housewives of Atlanta star Kenya Moore and her  husband, Marc Daly, as the new mommy has shared her first ultrasound with 2+ million Instagram followers.
The 47-year-old mom-to-be first revealed her pregnancy on the couch of the RHOA reunion. Host Andy Cohen had asked Kenya if there was any news on a "baby twirl" in the future. Kenya, who seemed caught off-guard, was hesitant to answer, but finally she let it slip that she and her husband were expecting.
"We will definitely be welcoming a — boy or girl in late this year," Kenya gushes. Moore, who has been on RHOA since 2008, recently married her restauranteur beau in June of 2017, but the two have not had the easiest time conceiving. The two ultimately decided to try and conceive using in vitro fertilization (IVF), a process which requires a doctor to extract an egg from his female patient's uterus and manual inseminate the egg with a sperm sample in a laboratory. Once the egg has been fertilized, the newly formed embryo will be implanted back into the uterus, where it may or may not result in pregnancy.
According to The Mayo Clinic, the procedure has a lower success rate for women after 40. "The younger you are, the more likely you are to get pregnant and give birth to a healthy baby using your own eggs during IVF," the site says, even going as far as to recommend that women 41-years-old and up use a donor egg during IVF to increase their rate of success.
While we can mostly assume that Kenya has used her own eggs to conceive her child, anyone who has been through IVF can confirm that it's not an easy process. And now that Kenya is pregnant, she is opening up about what it is like to be a first-time mom.
Kenya also recently showed off her brand new baby bump at the Atlanta Ultimate Women's Expo and took a snap of herself. In her caption she writes, "Won't He do it?"
The RHOA star also posted this ultrasound today, confirming that there is in fact a bun in that oven.
She even clarifies that though the nurse in the video calls the baby "Barbie," the couple has yet to learn the gender of their new baby. She told People that she and her husband Marc are actively trying to not learn the gender before the baby comes.
"We just want a healthy baby. And it doesn't matter to either of us — boy, girl, we don't really care," she tells them.
The news is perhaps a ray of sunshine for Moore, who has been rumored to have been fired, or demoted, from the hit Bravo show which brought her fame. A report published by BET explains that Moore has also recently shut down her production company, Moore Vision Media, INC.
If Moore does return to RHOA, it should make for some interesting television. Seeing as how new costar Eva Marcille has also welcomed a baby boy this spring. Either way, we're happy to see that Kenya is over the moon!
Would you watch Kenya as a new mom on the next season? Let us know in the comments!
---