#10 Danny Pellegrino talks Housewives, Southern Charm, and being a meme king!
If you're not listening to our podcast... you're missing out on wino-unicorns!
Troy Turner June 16, 2018 11:09am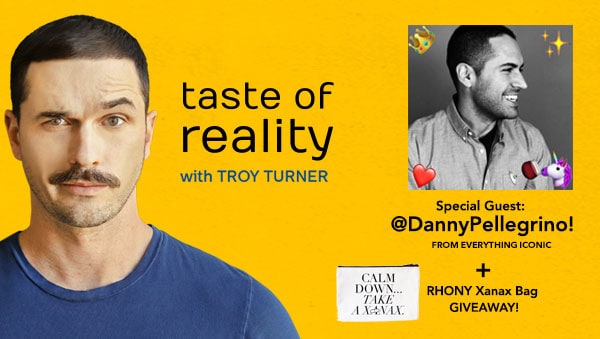 Podcast: Play in new window | Download
Subscribe: Apple Podcasts | Google Podcasts | Stitcher | Email | RSS | More
In episode 10, Danny Pellegrino from the Everything Iconic podcast joins Troy to talk reality TV, Real Housewives, Southern Charm and being the king of memes! Then, they recap the latest episodes of Real Housewives of New York and Southern Charm. Listen in for the week's hottest gossip AND answer the question of the week to win a RHONY "Calm Down, Take a Xanax" bag!
Sound off in our Facebook Group and follow us:
Visit the Website: https://tasteofreality.com
Join the FB Group: https://facebook.com/groups/2002217393430171
Like on Facebook: https://facebook.com/tastereality
Follow on Instagram: https://instagram.com/tasteof_reality
Follow on Twitter: https://twitter.com/TasteOf_Reality
Connect with Danny:
Visit the website: https://everythingiconic.com
Listen/subscribe to Everything Iconic: http://dannypellegrino.libsyn.com
Everything Iconic Patreon: https://www.patreon.com/EverythingIconic
Follow on FB: https://www.facebook.com/pg/pellegrinodanny
Follow on Instagram: https://www.instagram.com/dannypellegrino
Follow on Twitter: https://twitter.com/DannyPellegrino
---