#5 Special Guest: Madison Marie Parks Valletta!
If you're not listening to our podcast... then you can't hang a TV in 7 minutes.
Troy Turner May 4, 2018 2:45pm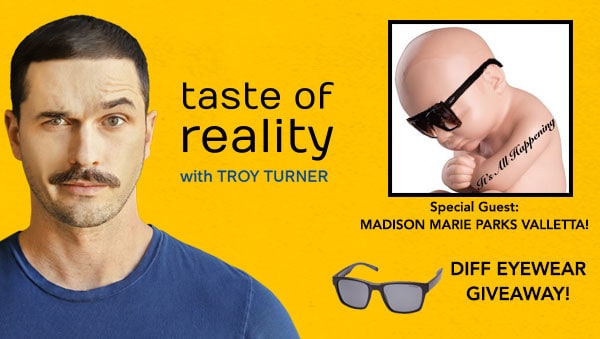 Podcast: Play in new window | Download
Subscribe: Apple Podcasts | Google Podcasts | Stitcher | Email | RSS | More
In episode #5, Troy interviews Madison Marie Parks Valletta (Scheana's imaginary baby)! Then, he shares this week's reality TV news and talks Scheana Marie's many cringeworthy moments in Vanderpump Rules Season 6. OH! And listen to find out how to WIN the weekly giveaway – a pair of awesome DIFF Eyewear sunglasses!
Sound off in our Facebook Group and follow us:
Web: https://tasteofreality.com
FB Group: https://facebook.com/groups/2002217393430171
Facebook: https://facebook.com/tastereality
Instagram: https://instagram.com/tasteof_reality
Twitter: https://twitter.com/TasteOf_Reality
---