#7 Kameron Westcott from Real Housewives of Dallas!
If you're not listening to our podcast... you're not pink and sparkly.
Troy Turner May 19, 2018 9:02am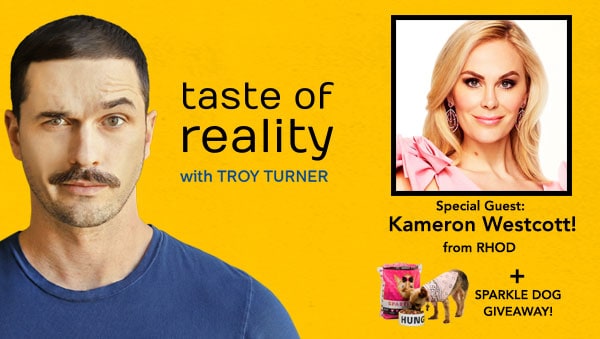 Podcast: Play in new window | Download
Subscribe: Apple Podcasts | Google Podcasts | Stitcher | Email | RSS | More
In episode 7, Troy interviews Real Housewives of Dallas star Kameron Westcott who spills all the tea on upcoming Season 3! She also talks social media trolls and just how much kibble she had to chow down on to launch her adorable dog food brand. Listen for the question of the week and leave your comment on the @TasteOf_Reality Instagram post for a chance to win some Sparkle Dog food!
Sound off in our Facebook Group and follow us:
Web: https://tasteofreality.com
FB Group: https://facebook.com/groups/2002217393430171
Facebook: https://facebook.com/tastereality
Instagram: https://instagram.com/tasteof_reality
Twitter: https://twitter.com/TasteOf_Reality
Follow Kameron and Sparkle Dog:
Web: https://www.kameronwestcott.com
Facebook: https://www.facebook.com/KameronWestcott/
Twitter: https://twitter.com/kamwestcott
Instagram: https://www.instagram.com/kameronwestcott
Sparkle Dog Web: https://sparkledogfood.com
---