The 'RHONY' Reunion Trailer is Here & You Know It's Good If Andy Cohen is Screaming
The ladies of New York are bringing the heat!
Genny Glassman August 15, 2018 4:30pm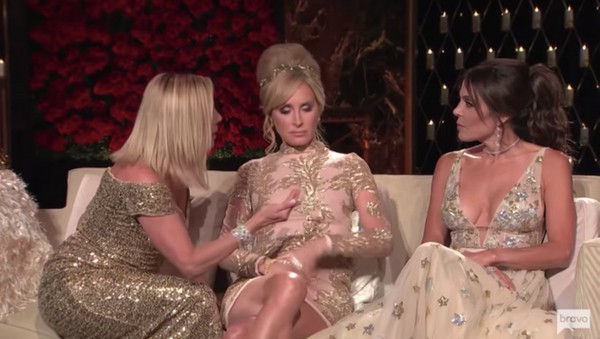 You know it's going to be a good day when the Real Housewives of New York season 10 reunion trailer has dropped. And boy is this one a doozy.
In the video for the special, which will air August 22 on Bravo, even host Andy Cohen gets in on the drama, yelling at Ramona Singer, Dorinda Medley, and Carole Radziwill that he "wants to hear her f***ing answer!" when the ladies won't allow Bethenny Frankel to finish telling her side of a story.
According to the trailer, Bethenny says before she goes into the room that the experience will be like, "Game of Thrones. [I'm] the Mother of Dragons fighting multiple blondes."
And TBH, she's sort of right. Aside from the big confrontation between former friends Bethenny and Carole; Bethenny gets into it with Dorinda and at one point, Ramona screams at Bethenny, "don't say a F***ing thing, with your fake t**s!"
Singer's ex-husband Mario even makes a small appearance when she puts Andy on the phone with him before the ladies sit down for their interview.
We can hardly wait.
Are you excited for the season 10 reunion? Let us know in the comments!
---