Opening Night At Vanderpump Cocktail Garden
Lisa Vanderpump knows how to throw a party!
Ashley Hoover Baker March 31, 2019 7:07pm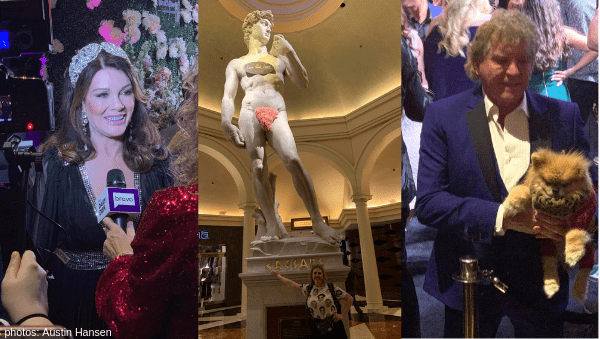 "Life is a sexy little dance, and I like to take the lead." –Lisa Vanderpump
This classic LVP tagline was an understatement after watching Vanderpump Rules' HBIC in action last night at Vanderpump Cocktail Garden's Opening Night Event! She did more than take the lead, she owned the night!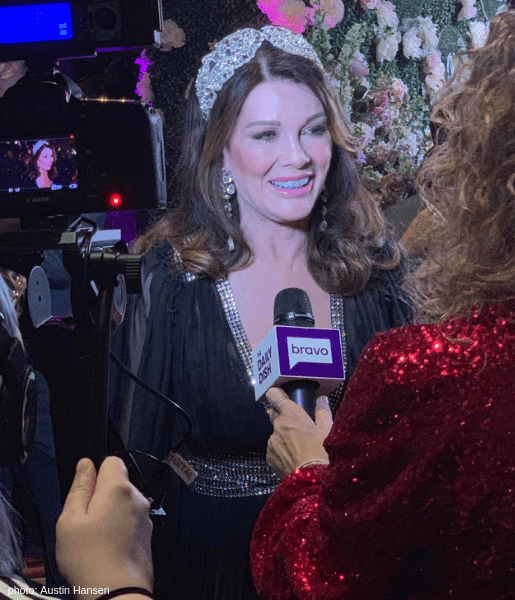 The Grand Opening soiree was an invitation only event. I was among the sea of Vanderpump fans trying to catch a glimpse of my favorite Bravolebrities. I had completely spaced this event, so shout out to my friend, Austin, for reminding me and being a stellar wingman. Austin was the Tom Sandoval to my Tom Schwartz last night. Respect.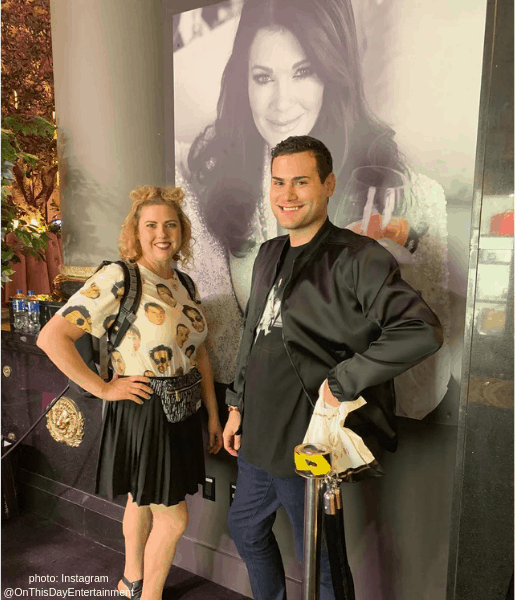 Lisa was escorted into the venue, Cleopatra style, with oodles of muscular, half dressed men around her. LVP made a speech and was welcomed to the casino by Caesars Palace executives. It was a celebration fit for a queen!
The Vanderpump Rules cast was already inside by the time I arrived. Thankfully, most of them are awesome to their fans and came out to give us some love. Key word = most. Not all were friendly, more on that in a minute…
Let's start with the positive. Enter Brittany Cartwright. Brittany was sweeter than candy and so humbled by the fact that people were there to see her! It was super endearing. I did some Brittany impressions of Brittany for Brittany (super meta) before she did her 'I'm engaged' throwback from Friends.
Speaking of awesome women, let's talk about Lala Kent. I always thought Lala was stunning, but she took my breath away in person. Someone channeled their inner Joan Rivers and asked the 'PJ' frequent flyer who she was wearing. When Lala responded "Vintage Versace" I asked if it was a 'Ver-say-ce'. She laughed and I told her how cool it was that she knew my 'Nomi Malone from Showgirls' joke. She broke my heart as she explained that she thought I was referencing a 'hood-rat hip hop song'. If you don't know the Showgirls reference, watch the movie and thank me later!
A surprise for me was Katie Maloney Schwartz. I go back and forth with Katie. From watching her inside the party, I thought she would be a total wet blanket. She was making that face where she looks like someone just passed gas near her… you know what I mean. She came out to greet the fans and was so kind to everyone. She went out of her way to take a picture with every. single. fan. (which not everyone did) and exchanged pleasantries with the crowd. She even gave TasteOfReality.com a shout out! She had been drinking, but there was no 'Tequilla Katie' in sight.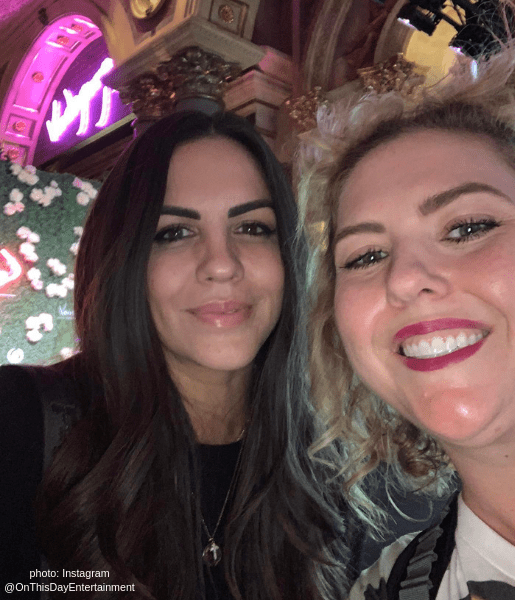 Let's move from Bubba to her hubby, Tom Schwartz. Schwartzie was lit AF by the time I got there. Throughout the course of the night, he only got messier. My prediction is that he got lost and ended up at the wrong casino after he blacked out. He hasn't posted on social media since the beginning of the party, so his whereabouts are still unknown to us. Is this an updated version of  The Hangover (which was shot in Vanderpump Cocktail Garden's home, Caesars Palace.)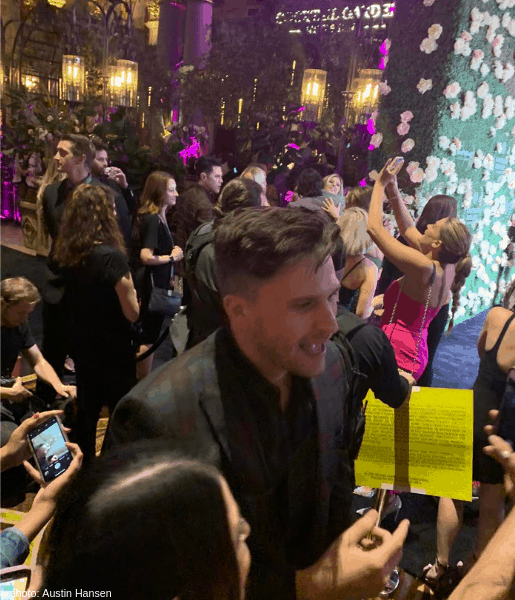 While on the topic of Tom, let's slide over to the other half of Tom Tom, Tom Sandoval. I did not get a chance to meet Sandoval or gorgeous live-in girlfriend, Ariana Maddix. However, I did speak with others who got a chance to say hi to the new homeowners and the consensus was that they were lovely, kind, and gracious to their fans. I fangirl HARD for Ariana, so this was great news!
Someone who was neither lovely, kind, nor gracious to their fans was Kristen Doute. I didn't meet crazy Kristen, but the infamous character was alive and thriving in Las Vegas last night. I spoke with a 'Vanderfan', Kelly Rossi, who had some dirt on Kristen from earlier in the night. According to my new friend, Kristen and Scheana Shay walked into the event together. Fans were screaming for the past and present SURvers to wave or take photos, but Kristen not only ignored them, she held her hand up at them.
Kelly, my new ride-or-die, called Kristen 'a total bitch' and that was all I needed to hear. Though I didn't encounter Crazy Kristen personally, I snapped some candid pics of her living up to her namesake!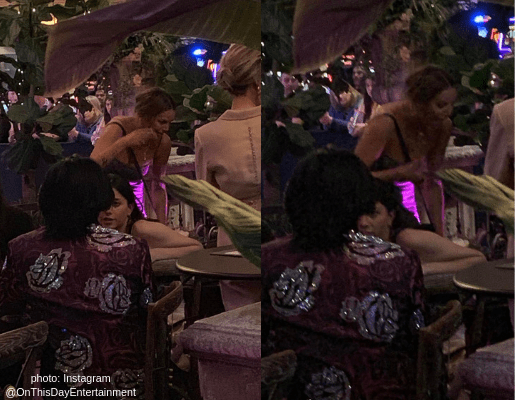 The asshole of the evening, in my personal experience, was none other than White Kanye himself, James Kennedy. He and the Bambi-eyed-bitch Raquel Leviss were leaving as I reentered. James was trashed beyond belief and was a total dick to my friend and me. Instead of just taking a quick photo with us, he made a web of excuses of why he didn't have time, then even physically caught me in his web of BS, explaining the extreme awkwardness of the photo below. Austin and I are officially victims of James Kennedy, much like a majority of the SUR staff.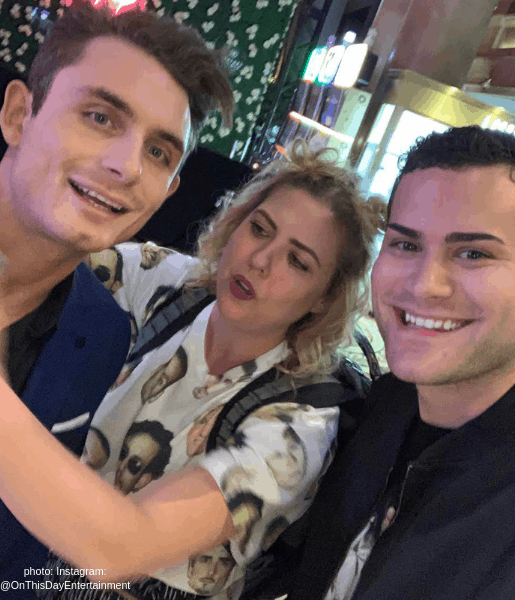 There are more stories, good, bad, and messy that I told on a bonus episode of my podcast. Click here to listen to my Jax Taylor, Stassi Schroeder, Peter Madrigal, Billie Lee and Ken Todd behind-the-scenes stories.  I explain the cute, cheeky slap I got from Lisa Vanderpump, which was a welcomed treat from my last run-in with the Queen. IT'S ALL ON THE PODCAST!
Oh, and Scheana spilled some tea on how Rob Valletta hanging her tv in minutes really played out. I love Scheana! I tell a super fun story about our previous meeting on the bonus episode. Doesn't it look like we're BFFs?!?!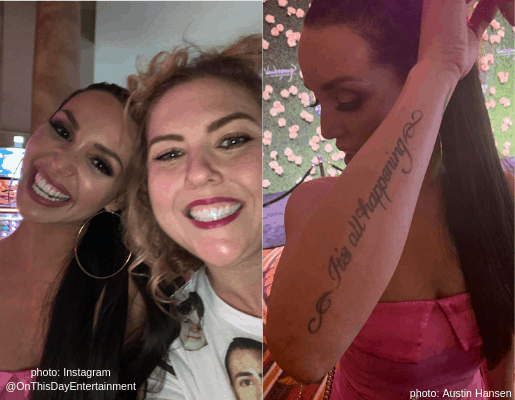 In case you are in Las Vegas and get to experience the Vanderpump Cocktail Garden for yourself, Peter recommends you order the Vanderpink Margarita. My personal recommendation is great if you're with a big group: You may treat yourself and your personal Witches of We-Ho to the 'Stassi's Meltdown' which is 10 shots of 'Teeny Pumptinis' for $90, a great bargain for an upscale Vegas restaurant or bar!
Have you met any Bravolebrities? Your friends from TasteOfReality.com would love to hear your good, bad and ugly stories in the comments!
---