No Reunion For Below Deck Med Season 4
This is the first season with no reunion
Emily Bertha September 13, 2019 10:29am
When Below Deck Mediterranean first premiered four seasons ago, fans jumped aboard. And looking at the ratings, it doesn't appear as if they're going to jump ship anytime soon. However, despite objections from viewers, it's been confirmed that there will be no reunion this season.
Rumors that there would be no reunion following the finale had been swirling for about a week or so before it was official. As mentioned, this is the fourth season of the show, a spinoff of the original Below Deck, and the previous seasons of both shows had reunions. Andy Cohen finally confirmed it on WWHL on Monday night that there will be no reunion this year, and Captain Sandy Yawn took to Twitter to announce that the rumors were true.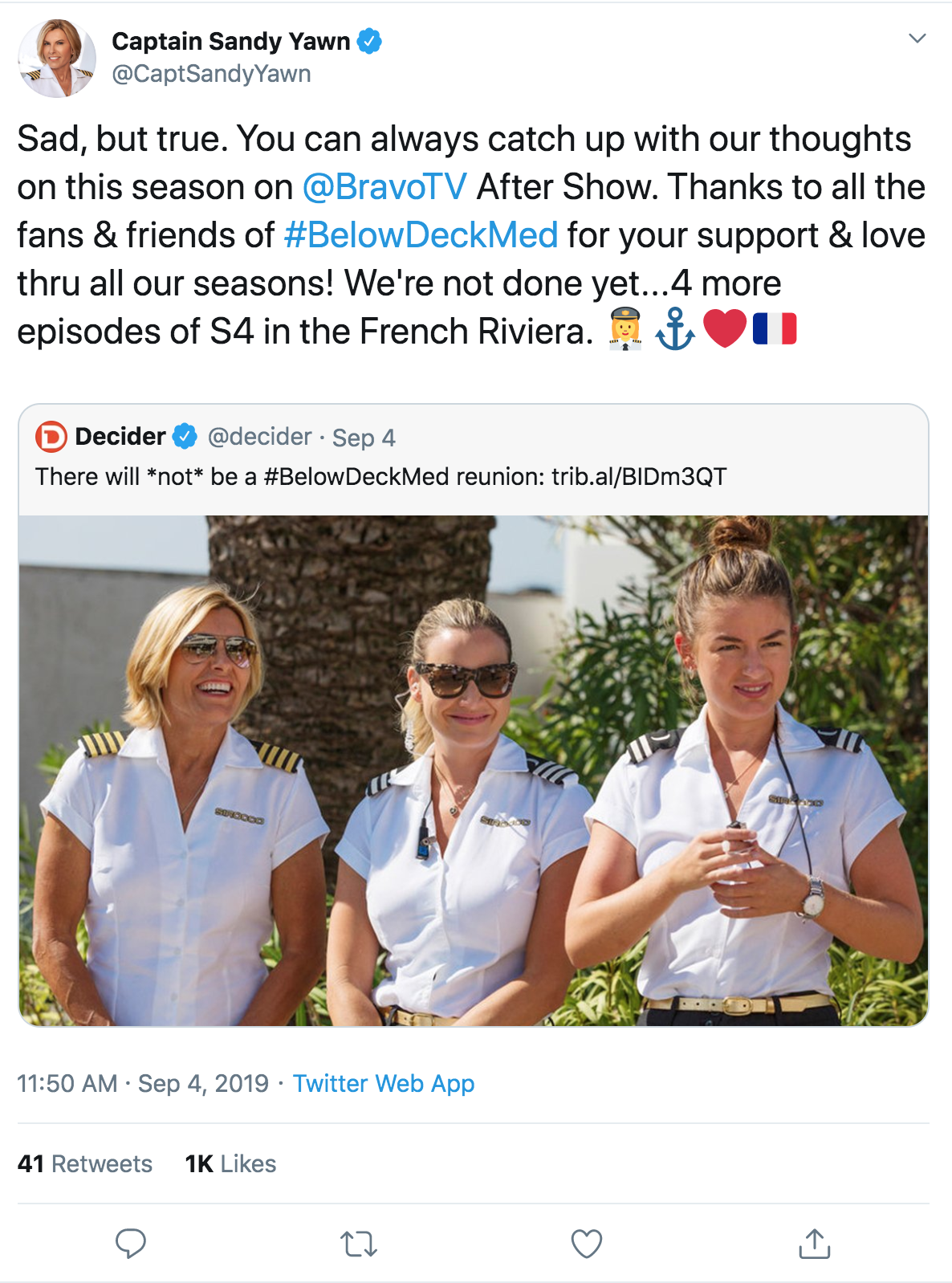 Andy responded to a fan's comment on social media saying he had nothing to do with the decision since he's not an executive producer on this series. However, he didn't give any specific reason as to why there won't be a cast reunion.  Our first assumption would be that it's because not everyone's schedule allowed for it. As yachties (and a chef), it makes sense that the cast doesn't exactly have a ton of free time on their hands. They're from all over the world and travel as part of their jobs, but so do crew members from previous seasons.
Plus, it's not as season four was lacking in drama. I'm sure even Captain Sandy would agree that this season never made us yawn (I had to). From homophobic remarks from the initial chef, Mila Kolomeitseva, to deck crew member Travis Michalzik's drunken nights, this season was full of shocks, laughs, hookups, outrageous guests, and more. With so much that happened, there's no shortage of talking points that could be used during the reunion.
While we're certainly upset that there won't be a reunion, at least we can look forward to a juicy finale on September 30th.
Do you think the season needs a reunion? Let us know below!
---