'90 Day Fiance' Nicole's Stepdad Accuses Azan of 'Living off Her'
Nicole's stepdad says Azan is 'living off her!'
Mandy Robinson August 2, 2018 8:05am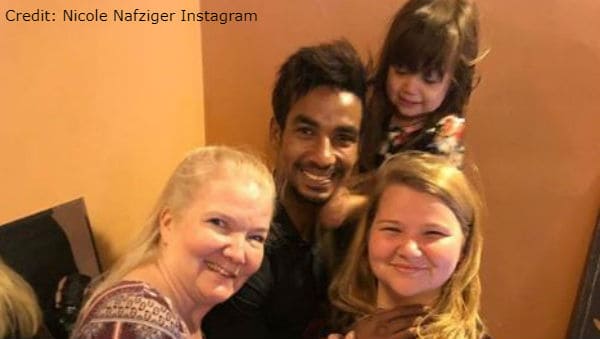 On 90 Day Fiance everyone has watched Nicole Nafziger's fiance Azan Tefou use her over and over again. They will plan a wedding and then the next thing you know it is canceled once again. Now, he is using her money to open up a store that doesn't seem to really exist. She just keeps handing it over to him anytime he asks.
Radar Online shared that Nicole's stepdad is speaking out and he feels like Azan is using Nicole. Wow, that is a shocker! But honestly, it is great to hear someone actually say it. Joe Fouraker, Nicole's stepdad, did an interview with Radar and he didn't hold back on his thoughts. It turns out that Nicole gave Azan $6,000 for his so-called business that was supposed to be all about beauty products. Here is what her stepdad had to say.
"He's living off of her. She sends him money. He was going to start a business. My wife was there for a week for the wedding. He would never allow anybody to see his place of business."
Joe went on to explain that he doesn't believe there really is a business. They wouldn't let Nicole's mom see it because they wanted to wait until it was set up, but that doesn't seem to have ever happened. As of right now, Nicole and Azan never got married. On the last 90 Day Fiance special about them, they made it sound like it would happen someday but someday has never arrived.
As you can see below, Nicole is back in the United States living her life without Azan by her side. Her travel Visa ran out and he was never able to get a K1-Visa to come here and marry her.
Are you shocked to hear that Nicole's stepdad says 90 Day Fiance star Azan is living off her? Do you agree? Let us know in the comments and don't miss watching 90 Day Fiance on Sunday nights on TLC. Don't forget there are also rumors that Luis was deported!
---