Music City Recap: And The New Miss Tennessee Is...
Season 1 Episode 4
Stephanie Downs March 16, 2018 11:57am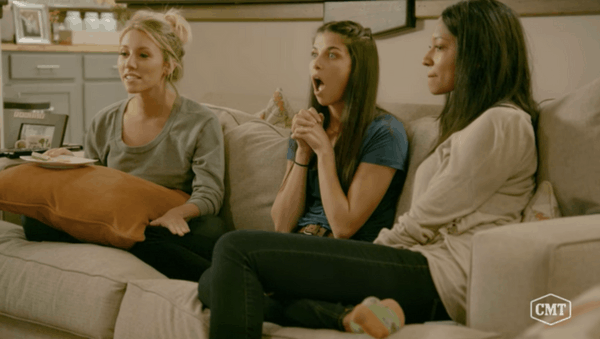 This week's episode of Music City largely had a ton of relationship drama in it, which probably won't come as a surprise to anyone. The ep also took viewers on a journey to see who the new Miss Tennessee would be and, tbh, the exciting pageant did not disappoint on the entertainment front. Let's head right into all of the drama that went down on Season 1 Episode 4 of Music City.
The episode started off with Rachyl Degman, Alisa Fuller, and Jessica Mack getting together for brunch. During their get-together, they talked about the usual. In particular, they discussed Alisa's songwriting career and Jessica's relationship with Jackson Boyd. But, this whole brunch got a lot more interesting once Rachyl got a surprise text from her ex! Yep, in the middle of their meal, and under the watchful eye of a carefully placed camera, Rachyl got one of those "Whatchu up to?" texts from a mysterious "J." Yet, she didn't tell her friends about the text situation, which made the situation a more suspicious than necessary.
Then, Alexandra Harper and her mom talked about the upcoming Miss Tennessee pageant. During their convo, it was revealed that Alexandra's mom was a former Miss Tennessee herself. While she didn't admit to it, that had to have added a little bit of pressure to the whole event for Alexandra, right? The pageant thing is stressful enough without this extra layer of familial pressure (even though her mom was totally supportive of whatever outcome).  Her mom also started to plan the celebratory party in advance. I'm not a superstitious person, but planning a party in expectation of a win like that kinda sounds like a jynx to me but whatevs.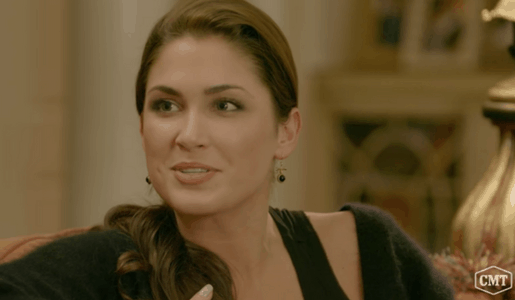 There was also a cute get-together with Jessica and Jackson in this ep. The two strolled along, hand-in-hand, as they discussed how their relationship was progressing. Jessica was happy that he's down to take things slow, which led to the two naming themselves "Team Take It Slow." Annnd this is what I'll be calling these two from now on. Thanks, guys!
We're back to the Rachyl and Kerry drama. The couple is busy taking care of their son, Wolfgang when Rachyl receives another text from J. She actually replied this time to tell him that she's in Nashville but failed to mention that she was back with her husband (the two had taken a break at one point during their marriage). It's all kinds of yikes. To make the whole thing even more dramatic, just as she started talking to J, Kerry leaves to head off to work, while Wolfgang tells him goodbye and Rachyl sulks over her phone. Very dramatic stuff here, people.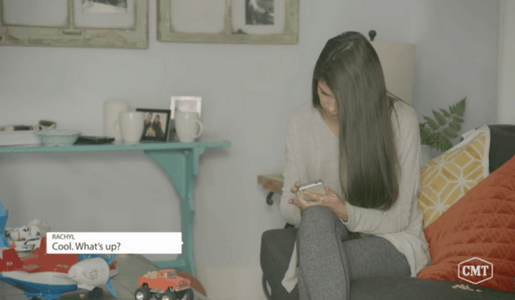 Finally, it's time for the pageant. Rachyl, Alisa, and Jessica streamed it from home while Jackson sat in the audience to support his cousin, Alexandra. The girls all laughed about a weird choreographed dance portion during the pageant, and I couldn't help but laugh along with them. It was really random. The pageant had all of the traditional aspects that we've come to expect, including evening dress and… swimsuit? Who knew that was still a thing? Regardless, Alexandra nailed every part of the pageant even though she had some stiff competition from her friend, Savanna.
So, did Alexandra come out on top? Or did her friend Savanna nab the spot? The new Miss Tennessee is… Alexandra! Guess planning that party in advance wasn't a jynx after all? By the way, if you follow Alexandra on social media, you might have already been aware that she won the Miss Tennessee title. According to the official Miss Tennessee Instagram account, Alexandra was crowned in October of 2017. However, it was still totally fun to watch all of the excitement play out on the show.
Since Alexandra won her Miss Tennessee title, there was nothing left to do but celebrate! However, some of the attendees didn't weren't in the mood for a party. Rachyl finally told Jessica and Alisa all about her texting situation, which they were truly shocked about. She told her friends that she was unsure of whether she should tell Kerry and then whether their marriage would be able to survive if she did clue him in. I'm not a couples therapist or anything, but these two sound like they have some serious issues to work out, stat.
But, that wasn't the only troublesome moment for the friend group. None of the girls were pleased to see Jackson getting his flirt on with Savanna (a pairing arranged by Alexandra, lol). Obviously, Jessica was the most ticked off of them all. In fact, she was so mad to see Jackson flirting right in front of her that she left the party without telling him goodbye since he didn't "deserve" one. And she totally made the right move there. Oh and throughout all of this drama, Alexandra was too busy having an amazing time to pay attention to any of it, all while wearing her crown, naturally.
Do you think "Team Take It Slow" is actually headed for trouble in paradise? Could it really be over for them almost as soon as it began? Let us know what you think!
---