RHONJ's Melissa Gorga Caught Selling Fake Chanel Bags in Envy Boutique
Customers claim that requests for refunds have gone unanswered.
Genny Glassman April 25, 2018 5:54pm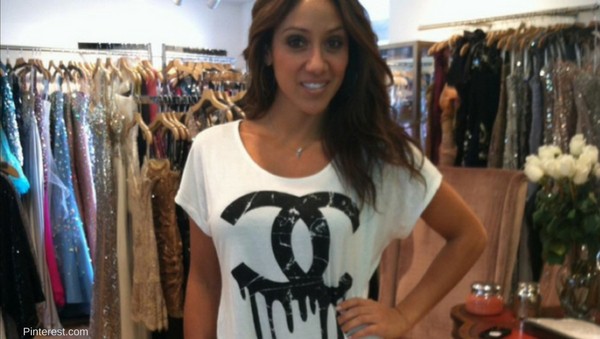 In some truly shocking news, Real Housewives of New Jersey's Melissa Gorga revealed on Instagram this week that her New Jersey boutique had been selling counterfeit Chanel merchandise. Now several customers who had purchased their designer wears from the reality star are trying to get an answer for how they can get their money back.
Melissa, who is the owner of Envy By Melissa Gorga, posted on social media Monday night, revealing that a representative of Chanel informed Melissa that her products were phony.  On Instagram she writes, "Chanel has informed Envy by Melissa Gorga that all of the Chanel branded goods previously offered and sold by our company were counterfeit and illegal. "
Gorga swears that she has ceased all sales of Chanel products in her stores. But in a rather telling move, she disabled all comments on her post, leaving former customers helpless for answers as to how they can get their money back.
According to The Inquisitr, customers have taken to other posts on Melissa's Instagram to demand their answers. For instance, on a post Melissa published of herself and her son, Joey, one user wrote, "What do we do to get $ back on the fake Chanel bags you sold."
On a separate post promoting Envy's latest line of sandals and flip -flops, one user claimed they spent big bucks at Melissa's store and can't get a response for a refund request. "I bought a Chanel bag and paid $1890 I have now learnt it's 100%FAKE," they write, "but they aren't replying to my refund request and even blocked me on Envy. What do you advise I do it's a lot of money for FAKE merchandise."
This isn't the first time that Envy by Melissa Gorga has gotten into hot water. According to The Inquisitr, Gorga's former partner, Jackie Beard Robinson, sued Melissa and Andy Cohen for $30 million in defamation. Robinson claims that Melissa has ruined her image by claiming that she stole clothing from her boutique while on the show and that Andy Cohen should be held responsible because he repeated the accusation on an episode of Watch What Happens Live.
Overall, the whole thing is just messy and tragic. Melissa, if the deal seems too good to be true, that's because it most likely is.
Sound off about Melissa's phony merchandise in the comments!
---