Mama June Gambles With Boyfriend After Crack Arrest
She's been recorded having a manic conversation and has been photographed gambling.
Ashley Hoover Baker March 17, 2019 1:48pm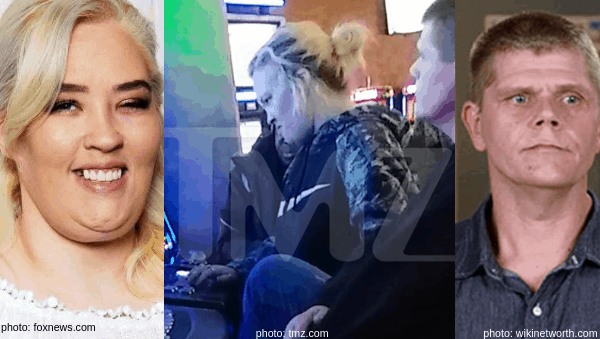 It's gone from bad to SO BAD for Here Comes Honey Boo Boo's star, June Shannon. Mama June was arrested days ago for felony possession of a controlled substance and drug paraphernalia. Keep in mind, the arrest was at a gas station in Alabama. The Mama June: Not To Hot star likes to keep it classy.
I thought maybe, just maybe, it was something like a bit of weed and a pipe. Boy, was I wrong! Police reported that Honey Boo Boo's mom admitted the white powder in her possession was crack cocaine. She was also in possession of a needle and a pipe.
Mama June, at least, gets a gold star for being honest throughout this scandal. The reality tv star claimed the vehicle and its contents. Police found a needle on the floor of the driver's side. Authorities then patted down Mama June and found a glass pipe with white residue inside her pocket. Cops also found a pill bottle containing crack cocaine in the glove compartment.
Audio was recorded after Mama June was released from the slammer. Listen as she tries to get her car out of impound from the tow truck driver. Kids, don't do drugs.
TMZ got their hands on a police report that noted that cops were about to pat down Mama June's boyfriend, Geno Doak, when he told them not to reach inside his pocket. "I don't want you to get sticked or nothing," said Mama June's boyfriend of three years. Who said chivalry was dead?!?!
Both Mama June and Geno have been released, and were seen at an Alabama casino around 3am this morning. If the audio clip above didn't scare you from ever touching a hard narcotic, this video should do the trick.
This woman is a mother of four. This is unacceptable behavior, to say the least. Where are her kids? Who is caring for them? I need answers ASAP! I'll keep you beauties posted to this train wreck as it unfolds.
What do you think would be the best case scenario for Mama June's family. Leave your opinion in the comment section!
---