Luann de Lesseps Opens Up About Her Arrest, Claims That She Was Drugged After a Day of Drinking
The Countess broke down in tears on the Dr. Oz Show.
Genny Glassman May 9, 2018 5:24pm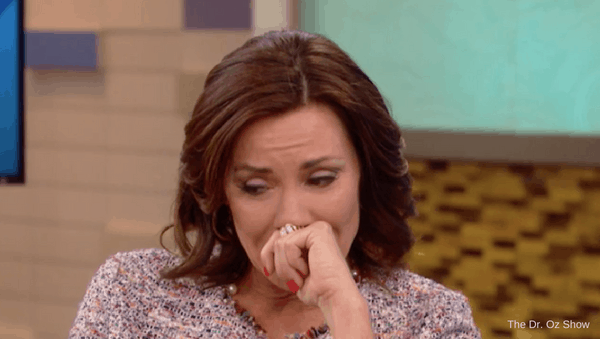 We aren't used to seeing the Countess get so candid, but on today's episode of The Dr. Oz Show, the Real Housewife of New York got very real when talking about her alcohol abuse.
In her interview with Dr. Oz, Luann de Lesseps opens up about the charges leveled against her: disorderly conduct, intoxication, and resisting arrest. The cabaret performer admits that they are all true.
According to a report by, TooFab, Luann was repentant about her shameful actions. "Yes. It's all true. It's ridiculous, but it's true. And I feel so terrible, because it's so not me," She says.
More from Taste of Reality: Luann de Lesseps Arrest Video Released!
Luann tells Oz the full story, including how she got her mystifying battery charge:
"So what happened was they come now to arrest me. Now, I'm a drunk woman in a hotel room in my own hotel, but the wrong room, granted. So they come after me and I was drunk, so I wasn't equipped to handle it. And I got scared and I ran like a child to the bathroom.

I locked myself in the bathroom and then [the police officer] tried to open the door, and he opened the door and then I closed the door and it hit him in the forehead. So that's battery that I did on a police officer," she says.
Oz asks Luann if she considers herself an alcoholic and she seems hesitant to label herself. "I don't know. I think that I am a self-medicator, that's for sure," she says.
She adds that, "I think I was using alcohol to numb my pain and my emotions until it didn't work for me anymore." While Luann makes no promises to quit drinking forever, she does say that right now, she is off drinking.
Things got particularly tense, however, when Oz asked Luann what previous events in her life might have lead her alcohol. Aside from the end of her first marriage, which caused her to decamp to The Chopra Center, a wellness clinic created by spiritual author, Deepak Chopra, for two weeks. Luann admits that a 1999 car accident in Switzerland continues to cause her distress and trauma.
"There was a car accident. I tumbled down a mountainside with the two children in the car in Switzerland, and I thought I killed myself and my children. I really did," she admits. "I thought I was going to be dead. It was really rough."
But Luann admits that her divorce from Tom D'Agostino was really what did her in. "I just cracked," she tells Dr. Oz.
More from Taste of Reality: Southern Charm's Thomas Ravenel Accused of Sexual Assault & His Accuser's Daughter is Not Backing Down
The most interesting part of the interview came when Luann retells Oz about her day of drinking before her arrest. According to Page Six who reported the video of Luann's interview. Luann tells Oz that, "I checked into the Colony, to make a long story short. I had a rosé at lunch with my girlfriend, we split a bottle of Whispering Angel, which is normal."
"And then there were some people there that were fans, so they send me more rosé. So I drank more than I usually would. On the way [to a friend's house], we stop and have not one martini but two. So, by the time I get to the Colony, I was pretty sloshed and then I don't know."
More from Taste of Reality: Dorit Kemsley May Not Returning for Season 9 of RHOBH
It would be one thing if she had just overindulged for the day, but according to Luann, she thinks that perhaps there was another factor in her erratic behavior, "I almost think that somebody slipped me something because I don't remember a thing after that," she says.
We can't be sure exactly how seriously to take Luann's comment on the daytime talk show. Perhaps she was being flippant when trying to explain her behavior. However, Luann does have an approaching court date, so it should be interesting if she claims to be drugged while defending herself in a legal setting. Whatever the case, we will definitely be keeping a close eye on this story as it develops.
Tell us how you feel about Luann's interview in the comments!
---