LHHNY Remy Ma's Assault Charges Dismissed
Remy Ma is finally a free woman as her assault case is dismissed.
Lisa Evans December 3, 2019 12:00pm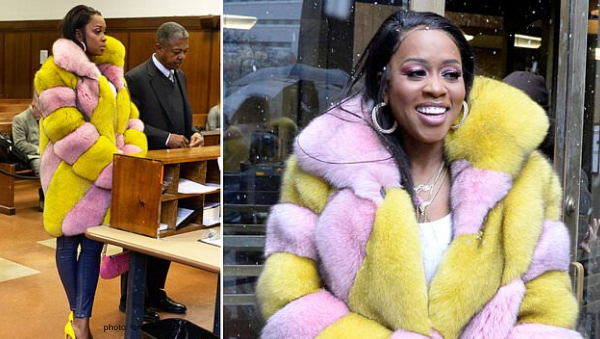 Remy Ma  left the Manhattan District Court a free woman.  Hopefully this time it lasts.
Prosecutors dropped all charges against the Love & Hip Hop New York star early Monday morning.
Leaving court with her husband Papoose, the couple bumped into multiple media outlets.  Remy spoke out about why the charges were dropped.
Instagram handle: dailyteatalks
You may recall, the rapper was facing assault and related charges for allegedly punching fellow co-star Brittney Taylor in the face.  Brittney claimed that the incident occurred at a benefit concert in Irvington Plaza back in April of 2019.
When Remy and her attorneys walked into the courthouse early Monday morning, prosecutors pulled her team aside and explained that charges would be dropped.
Assistant District Attorney Juan Maldonado shared that the district attorney's office could not prove beyond a reasonable doubt that the rapper had committed the alleged assault.
There was no surveillance nor witnesses that could corroborate that the incident did indeed occur.  Witnesses unaffiliated with both parties also had conflicting accounts.  As a result, the case was dismissed.
Basically, too many questions mean someone wasn't being honest about what occurred that night.  And according to the prosecutions office, the one witness who was corroborating Brittney's story was no longer cooperating with the lead investigators on the case.
Papoose got a real kick out of his wife's' response.
Remy was facing a total of four charges.  Two counts of assault, one count of aggravated harassment and one count off harassment in the second degree.
And while she adamantly maintained her innocence and stated that she was not at the concert when the alleged assault occurred, she was still made to wear an ankle monitor all the while having an 8 PM curfew as well as travel restrictions placed on her.
Over the past few months, the rapper shared with her social media followers that this case was impacting her ability to feed her family due to loss of income.
Now it is unclear if Remy will seek reparations from young Brittney, but don't be surprised if she does go that route.
Before we go, look at Brittney being her clout chasing self.
Girl, you are doing too much.
Is Brittney clout chasing?  Would you sue if you were Remy?  Let me know in the comments below.
---