Love & Hip Hop Hollywood Recap: Clutch Your Pearls
Season 5 Episode 1
Dana Escamilla July 26, 2018 12:07pm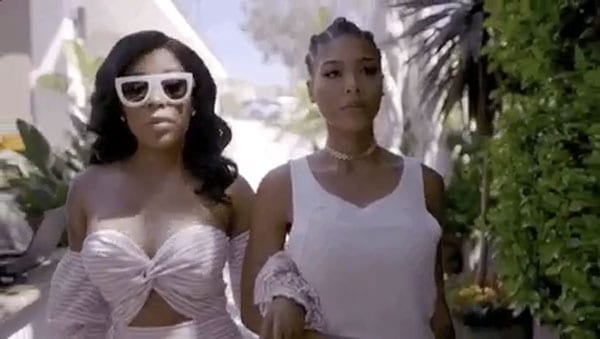 Love & Hip Hop Hollywood is back and so is LHHATL alum K.Michelle! Now that she's in Hollywood tho, she prefers going by Kimberly. She's trying to be on the up and up and let the hood side of K. go by the wayside, but we all know someone will bring it out in her. Say what you want about K., but this woman knows how to bring it and we are so here for her return on our screens! Especially since clapback queen Masika Kalysha is no longer on the show.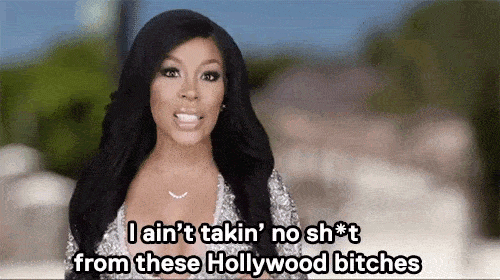 From K.Michelle to Kimberly… K. is in LA to get surgery done to remove the botched butt implants she had done some years ago. "I did whatever hood b*tch done. I wanted that big butt." -K. Being in LA, she reunites with Moniece Slaughter and Bridget Kelly over drinks and sunshine.  K. asks Bridget to open for some shows here in LA and Bridget thought Lyrica was her opener. Well no. Lyrica was late to her one her big press events and it cost K. overages. K. wants to have a little talk with Lyrica about her unprofessionalism. "That's a very Kimberly approach to take. K.Michelle would have snatched her wig." -Bridget 
Moniece was sitting pretty until the conversation turns to the war she started with Princess Love, claiming her sister-in-law Brandy is her surrogate. She owns it and could give two Fs.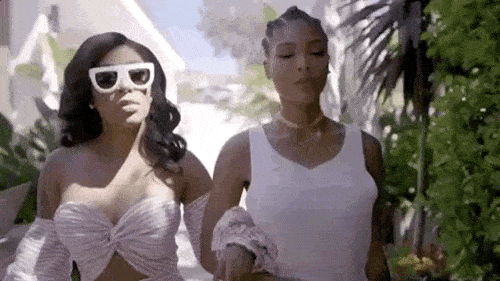 From comebacks to cheating scandals… Miss Nikki Baby is back and throws a Boss B*tch Brunch with pregnant Princess Love (apparently now they're friends?), Lyrica Anderson who's music career is poppin' and former K.Michelle assistant Paris P. First news is Princess is gunning for Moniece after spreading those vicious rumors. Lyrica shares her opening opportunity with K.Michelle and Paris warns her about K. and her many sides…. But Paris is here in LA to make new connections and wants Princess to introduce her to Ray so she can maybe work with him. Turns out Princess isn't talking to Ray because he's been caught with bum b*tches. And she's moved out of the house.
From the rooftop the doghouse… Ray J is out on the town with A1. A1's career is poppin' and now they're all here to meet up with Solo Lucci who's career is also on the up and up after signing with a new label. Not sure why Solo had to come back but here we are. Ray is struggling with Princess' pregnant "harmonials" and being tied down apparently. Princess is full on putting him on blast in social media.
From Ray J drama to rehearsals… Lyrica rolls up to confirm her opening for K.'s LA show. It starts off sweet and then K. brings up her being late. Lyrica denies it all and blames management. K. blames Lyrica for being entitled and for spending her time at Neiman Marcus instead of being at the show on time. And Lyrica loses her sh*t.
K. just starts yelling at her in the mic and things cross a line when K. brings up her fake marriage to A1. That's it's just out of convenience. "Last time I checked she's dying from fake implants."-Lyrica Lyrica grabs a mic and they start yelling at each other like a weird rap battle while security holds them back. What shuts it down tho is K. claiming Lyrica "tried to f*ck Safaree". K. says she's got receipts from her friend, Safaree.
From mic battles to mansions… Solo, A1 and Ray are still partying it up. The booze is flowing, the women are all around, including the stripers. But before we meet any new stripper come up cast members, Taeirra Mari is back and looking better than ever! She's sober and when she sees Ray they put the past behind them. But it's Miss Nikki who's gunning for Ray after hearing Princess moved out. Ray's gotta eat that.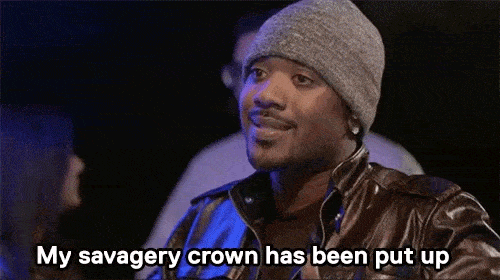 And now it's time to meet the new stripper on the scene, Apple Watts. "Another day another stripper dreaming to be an artist." -A1 Ain't that the truth with this show! But A1 entertains it and she does a rap on the spot. He's impressed and they're talking so she feels she's gotta shake her ass for him so he throws some $1 bills at her. And who should walk in? His wife, Lyrica. "That's somebody hoe husband, what the f*ck you doing?" -Lyrica She's mad but not really. Apple apologizes but Lyrica is not having it. Lyrica is still fuming over her mic battle with K and now this sh*t. She starts venting about her convo w K and the accusations about trying to f*ck Safaree. A1 oddly doesn't seem that surprised or mad about it tho.
From hoe husbands to homecomings… Ray rolls in to his house to find his mom, Sonja waiting up for him. She's got some things to say. This whole thing of Princess posting personal stuff in social media has got her losing sleep! Ray tries to explain about the pictures taken of him with girls in his hotel room in Vegas. She's not mad at Ray tho. "No wife should take their business and put it out on social media." -Sonja What about Ray being in hotel rooms with other women with a pregnant wife at home? Sonja's calling for Princess to apologize publicly.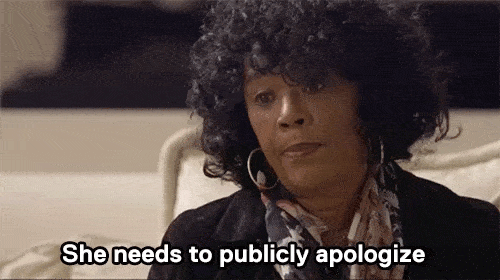 From apologies to Apples… Apple Watts heads home to where the streets are real. And her best friend, Lee Lee, who watches her kids is there to give her advice. Apple tells her the story about taking her shot with A1 and then the drama with her wife. She's tired of dancing and she feels like she f*cked up her chance. "You're not just ass up in people's husband face." -Lee Lee 
From advice to anniversaries… AD is hosting a fashion show for her Digg The Kicks line and it happens to be on her anniversary with Moniece. Misster Ray is back (sadly no Zell) and there to promote. Bridget and Paris show up and Bridget is on a mission to get Paris and K reunited. Paris entertains the thought but gets more excited when she sees Moniece. She's gotta go hit Princess up and let her know where she can roll up and confront Moniece.
Princess rolls up real quick (she must have been standing outside because nobody can move that quick in LA) and immediately grabs the mic when she walks in. "Miss internet thug. Miss keyboard killers. Where she at?" -Princess Moniece stays super quiet until the end when Princess is leaving. "Come see me when you drop that daemon seed b*tch." -Moniece Misster Raymanages to restrain Moniece who obviously isn't afraid to go for a pregnant woman and tries to throw a chair at her. Princess gets in the car surrounded by security and just laughs at Moniece.
From rumors to receipts… A1 shows up at K.'s house to confront her about the Safaree rumors. A1 and K. worked together on her last album so he's not sure why she feels the need to disrespect his wife like that. "Oh my god, the guy with the pearls is coming to get me. I'm shaking in my boots." -K.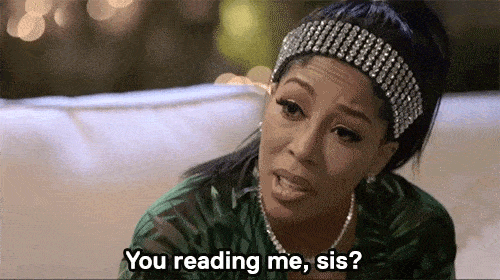 K. doesn't feel bad about calling her out for being late. But she does want to keep it real with him about going for Safaree. "I don't believe it. If she's gonna try to f*ck somebody it's gonna be with somebody more lit than me." -A1 A1 then hits back with how her last album flopped, she's banned from radio and she'll never be Beyonce. Kimberly kicks him out of her house, managing not to unleash the full K.Michelle we know she can be.
What do you think about K. Michelle joining the Hollywood cast?! Sound off in the comments below!
---