Love & Hip Hop Atlanta Recap: Oh Baby!
Season 7 Episode 2
Dana Escamilla March 27, 2018 3:47pm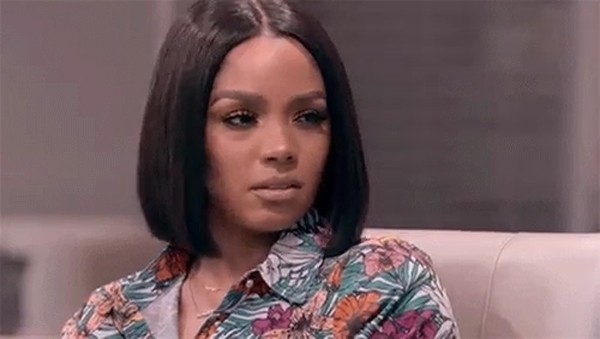 The Season 7 premier of Love & Hip Hop Atlanta left us with Rasheeda Frost's mom Ms. Shirleen giving Kirk Frost's baby mama Jasmine Washington the side eye when she rolls into Rasheed's store, Pressed. Now, LHHATL Episode 2 picks up on looks also being served by Kirk's oldest daughter Kelsie Frost.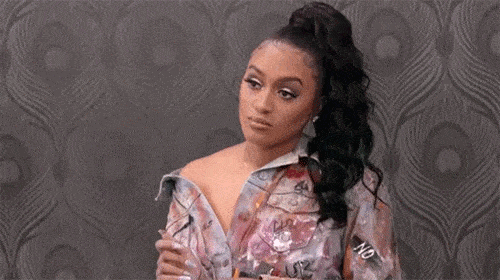 Jasmine doesn't know if they've heard the news about the DNA results, but goes ahead and tells Kelsie she now has a baby brother! Kelsie isn't surprised. They're more surprised to see Jasmine there asking for Rasheeda. Both Shirleen and Kelsie don't understand why this home wrecker would roll up, so they question her motives. Is she still talking to Kirk? Is she trying to be with Kirk? Did she mean to get pregnant? Was she trying to break up the Frost family? "It takes two people to make a baby and I wasn't the one stepping out on my marital vows." -Jasmine Jasmine claims she's trying to right her wrongs with Rasheeda and asks they help her out in relaying the message. "Maybe I will. Maybe I won't." -Shirleen Ok then Ms. Shrileen….
Erica Mena is settling in to her ATL life but not without her long time gay bestie Albee who we've met in past scenes of LHHNY. Apparently she's also friends with Melissa Scott from LHHATL Season 6. Huh?! Anyway, Mena fills these two in on her meeting with Stevie J and her attempt to sniff out if Estelita and Stevie have slept together. So then Melissa has to ask…. is she gonna work with Stevie J?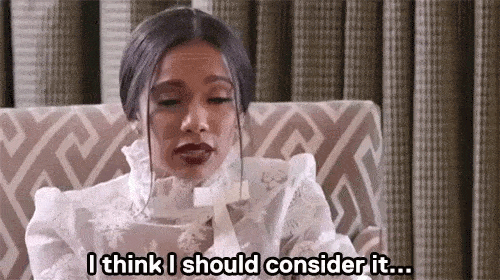 Mena says she's considering… so the voice of reason Albee is like, why? And even Melissa again tells Erica what everyone knows… Stevie. Sleeps. With. ALL. His. Artists. Erica says her eyes are wide open, but she's more interested in the bangers Stevie is know for producing rather than banging him. So…. she's gonna do what she's gonna do to get those hit records.
Enough about Stevie. Time to talk throwing Erica a Welcome to Atlanta party! And who's the special someone Erica really wants to be there? Tommie. Didn't see that coming! Albee makes the smart reco to beef up security for this notorious firecracker.
Mimi Faust of course finds herself in the middle of her baby daddy Stevie's business. Estelita runs to Mimi for help after Erica Mena crashed her recording session with Stevie and how Stevie told her he wants Erica to be the face of Danger Zone. And as she's in a Chardonnay rage talking about this Erica and Stevie confrontation, the truth slips out…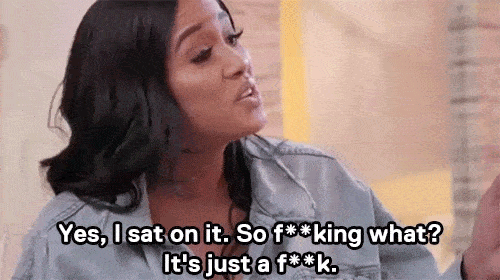 Not surprisingly, Mimi is not surprised.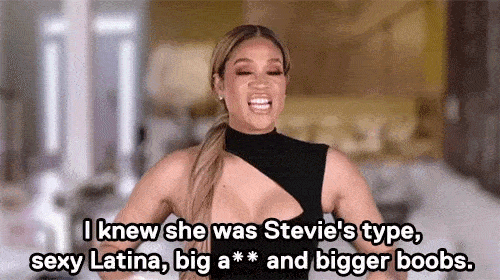 Clearly with Joseline Hernandez out of the picture, he'd go for another sexy Latina. Estelita thinks Stevie's just playing this game with her career because she wouldn't f**k him a second time.
Newly separated Sierra Gates is living her best life with a new boo BK Brasco. He sets up an uber romantic date at Wolf Mountain Vineyards to get the low down on where things are at with the divorce. The church boy in him is questioning the fact she's still a married woman. She puts his mind at ease that it's over with Shooter and the divorce is *almost* final. So they cheers to new beginnings and lots of sex!
The Frost family saga continues as Ms. Shirleen stops by Rasheeda's to fill her in on Jasmine popping up at the store and she told them the DNA results. Why hadn't Rasheeda told her momma the DNA test proved it's Kirk's baby already?! Now Rasheeda's mad that Jasmine beat her to the punch. So she's adding it to the list of reasons she's p*ssed at Jasmine. (Why isn't she so angry at Kirk again?!) Rasheeda's realizing they need to sit down with the kids and break the news they have a two year old baby brother.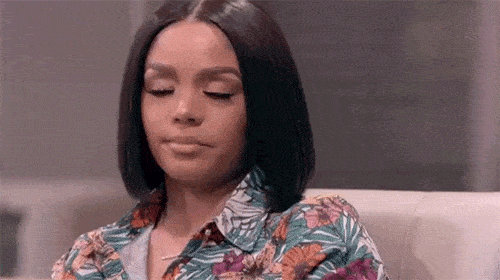 On to more fun things! Melissa throws Erica a Welcome to Atlanta party and it brings everybody out, including Tommie. From the first moment they meet, Erica is all about Tommie and getting on Tommie.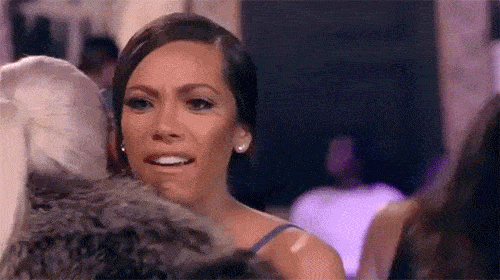 It's awkward watching how hard Mena's gunning for Tommie outta the gates and for once Tommie seems nervous. "I'm sorry I make you nervous. You make me wet. So can we meet?" -Erica Tommie thinks it's a set up and admittedly has some PTSD from the fall out from her first/last sexual experience with a passionate Latina, Joseline. Joc meanwhile is trying to get a front row seat to this action! "They're either gonna be feelin' each other or killin' each other." -Joc As soon as she has an out, Tommie bounces from the party. And as she walks out, who walks in? Estelita and Mimi. This forces us to watch a boring conversation between Melissa and Mimi to clear the air from last season. They aren't going to be friends, but Mimi agrees to move forward because she doesn't have much else going on for a storyline. Meanwhile Mena tearfully apologizes to Estelita for crashing her session with Stevie and claims she was just trying to look out for her so she doesn't get taken advantage of by Stevie. Too late for that! They cry it out and everything seems all good for now…
Back to the baby mama drama. Jasmine's settling in to mom mode with the support of her mom and grandma. Jasmine fills her mom in on trying to talk things out with Rasheeda so their kids can have a relationship. Things get a little teary when talking about the situation with Kirk distancing himself from the baby and needing his child support check (he has seven kids now so those checks have got to be adding up!).  Jasmine still feels like everyone blames her and it's a double standard. Um yeah what did you expect when sleeping with a married man with six kids?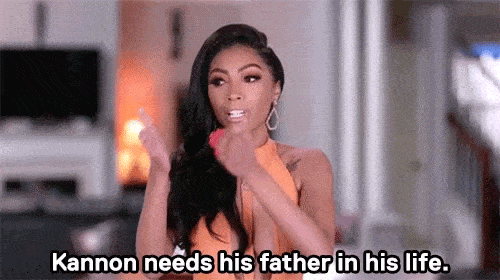 Speaking of Kirk…. he is still trying to worm his way back home! So when Rasheeda calls a family meeting, he's hoping it's to tell him to move in. In reality it's a chance to get his grown kids together to talk about the confirmed baby number seven. Not surprisingly, no one is surprised they have a baby brother. What they are mad about is Jasmine rolling up to Pressed to talk to Rasheeda about it. They just think Kirk needs to put Jasmine in check. WFT!?! What about putting this man's d*ck in check?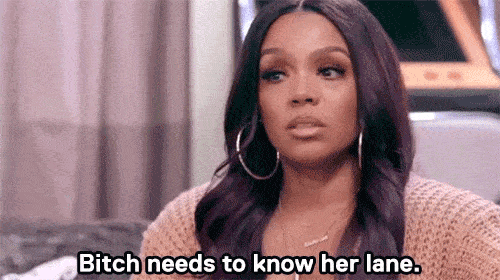 Now we see Mena earning her Mona money serving looks at a photoshoot when Tommie drops by to give Erica back the bracelet she walked out of the party with.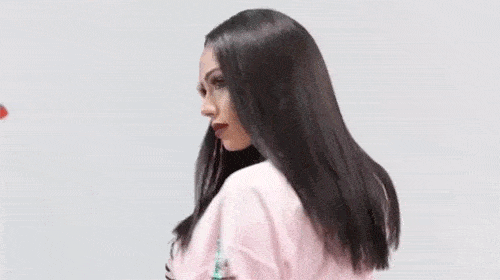 Erica apologizes for coming on so strong at the party, but says she's only aggressive towards those she wants. Tommie's really uneasy about the whole thing and slightly confused since she thought Mena was into men. Mena makes it clear she's bi and likes to keep her options open. Tommie then tries to make it clear that she pretty much sticks to men. Challenge accepted! Erica realizes she's gotta change her game up to convince Tommie to take a dip back in the lady pond again and starts to work the "let's be friends" angle.
Sierra's working at her Glam Shop with new client Tokyo Vanity. Tokyo is most known for her song Best Friend going viral on YouTube and just as we're excited to meet a new fun cast member…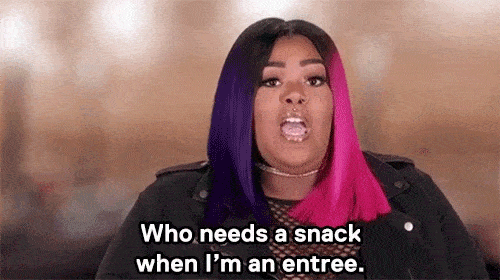 …in walks Karlie Redd. And anytime Karlie walks in… it's time for tea! The tea is Karlie's seeing Sierra's new man's best friend. So these sisters share a high five for having new men. The fact they are best friends means double dates are in their future! Sierra's feeling so happy talking about her new man and moving on from her cheating husband. But that's when her employee, Shan, has to burst her bubble and break the news that Sierra's estranged husband, Shooter, has a 2 year old (which means a he had a baby while they were still married) and a second one on the way! Oh dayum! This is a case for Karlie! "How do you know?" -Karlie Turns out Shan does Shooter's side chick's hair! And Shan just couldn't keep the secret anymore since Sierra seems like she's really moved on from Shooter. Well turns out telling your boss in front of her friends and mom her husband has two babies with another woman will get you fired! Here we go again!
So we need to have Albee ask these side chicks getting pregnant….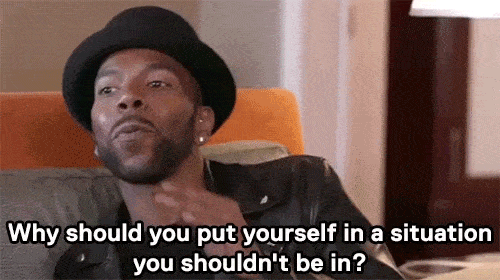 Tell us your answers in the comments below?!
---