Love & Hip Hop Atlanta Recap: Beginnings and Endings
Season 7 - Episode 3
Dana Escamilla April 4, 2018 5:01pm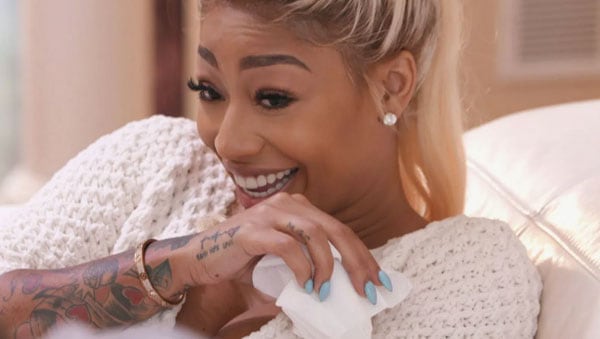 LHHATL Season 7 Episode 3 should have come with a warning that it contains some unusually heavy stuff. So consider this a warning about the emotional rollercoaster you are about to embark on…
After all these years, Mimi Faust still can't resist a chance to get all up in baby daddy Stevie J's business. Mimi is taking up Stevie's Danger Zone Latina artist Estelita Quintero's case. She just can't stand by and watch Stevie pull a Stevie by trying to take advantage of his female artists. (His label seems appropriately labeled but these women don't seem to see the red flags!)  By his threatening Estelita with making Erica Mena the face of Danger Zone, Mimi calls him out for being messy AF.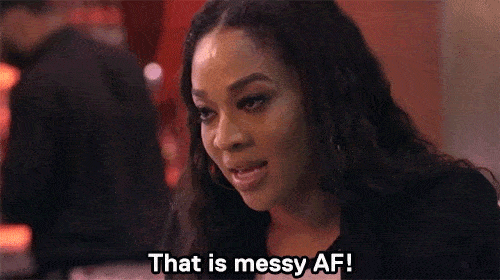 Stevie claims Estelita's just not stepping up and has nothing to do with her putting out. And if Estelita doesn't want to get in the studio, it doesn't matter. As her manager, he's still getting his 30% from her club appearances and Instagram posts. Mimi just can't believe these women sign a contract giving this man that much of a cut! And not only are they giving him his cut, he says these women are the ones wanting a piece of his beef cake. So does that mean he's sleeping with Mena now? He says no, but it's not off the table. "You can't continue to sleep with your artists! Do not sh*t where you eat" -Mimi Stevie just plays along with Mimi's scolding, but really he's gonna just do Stevie.
Jessica Dime has been keeping a low profile lately. At the last girls night out she said she wasn't drinking because she said she's trying to lose weight for the wedding. But now we find out she thinks she's pregnant! She's got all the signs. So since she has a good feeling she has a baby brewing, she decides to take a test.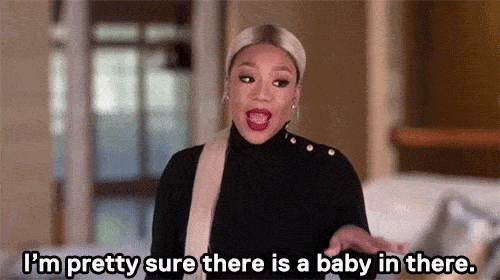 As Shawn and Dime wait for the results, they talk about what their future looks like with a baby in the mix. Should she try to patch things up with her mom so she can't get some family help? He's about to hit the road for NBA games so she may be home solo. Plus she's got a wedding to plan, new music to promote, and apparently some videos to shoot. Whew it's going to be busy! And the test shows?!  Preggo! This is amazing news for Dime solidifying her true glowup!
From happy baby news to terrible childhood trauma, the story takes a pretty hard turn…
Now that Estelita and Erica have patched things up, the two fiery Latina's are on a mission to be on a united front for female artist empowerment. Estelita invites Spice to join the friendship circle since she's a strong female artist. So over dinner, Estelita's feeling like she's in a judgement-free zone and it's time to come clean about sleeping with Stevie. She says they slept together before she signed the contract and now that the contract is signed, he only hits her up in the middle of the night trying to use "work" as an excuse to come over. She's been saying no to the midnight booty calls, so he's not doing anything to help her career and is now threatening to demote her.
Erica and Spice are a little shocked that she decides NOW to admit it, especially since she had just told Erica she didn't "recall".  They aren't shocked to hear Stevie is pulling these moves.  Spice calls Estelita out for whether she's using her childhood struggle to work hard for herself and why she even signed the contract with Stevie in the first place! Spice touching on the childhood struggle… triggers the tearful and tragic story of Estelita's childhood. She's the youngest of 20 kids and by the age of 14 had been raped by five guys, including her father molesting her. Her father died when she was 9 and there were no tears she hated him so much. And to top it off… her mother, who was everything to her, died of cancer which leads to her attempting suicide twice. Erica is bawling crocodile tears. Spice is horrified like we are.
Estelita realizes the bomb she just dropped and turns the story around by telling them (and us) not to start thinking she's a victim! "I'm a survivor!" – Estelita  The reason she signed with Stevie is she felt like he's the only man to really have her back. She didn't have anything on the table or anyone believing in her except Stevie. "Men are really good at manipulating you to believe that." -Erica For once Erica is the voice of reason! Estelita realizes she needs to figure out if Stevie's just, in fact, manipulating her or if he really believes in her as an artist. Spice is right there to back her up. Estelita needs to put it on Stevie that if he can't just stick to business, Spice will help get her a lawyer to get her out of the contract.
[In typical Mona fashion, she's effectively used the Love & Hip Hop platform to raise a very serious social issue. As a follow up to this scene, there's a hotline for anyone who has experienced sexual abuse: National Sexual Assault Hotline 800-656-HOPE or visit rainn.org]
After a long commercial break so we can mentally recover and switch gears, the mood is brightened up with TokyoxVanity and her insane rainbow wig! This girl is a scene in herself and we are here for it! She's in the kitchen cooking up some food when we meet her man Tabius. "There's a lot of fish in the sea but that fish is my fish." -Tokyo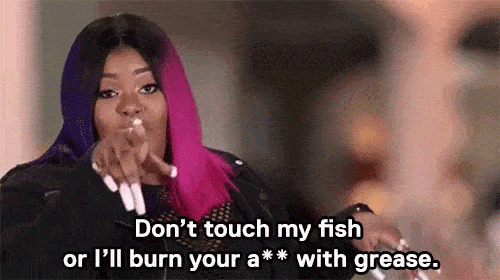 Tabius is happy to have Tokyo in ATL and wants her to get comfy at his place instead of finding a place of her own, but she's not about to play house. She's not ready to be wifed up. And she's not ready to have sex. Turns out she's still a virgin! This is a Love & Hip Hop franchise first! It's not for religious reasons or waiting to get married. "I'm saving myself til I want to do things." -Tokyo But Tabius is on a quest to be her first even if he has to be patient.
BK is doing the most to be the best boyfriend to Sierra Gates. He sets up a whole massage space in the living room, gives her a foot rub and sits to listen while she vents about just finding out her soon to be ex husband, Shooter, had a kid while they were married. The divorce isn't final just *yet* and hearing her carry on about her ex makes BK nervous because he doesn't want to just be a rebound. So instead of giving her ex any more airtime, he changes the subject and suggests they take a trip.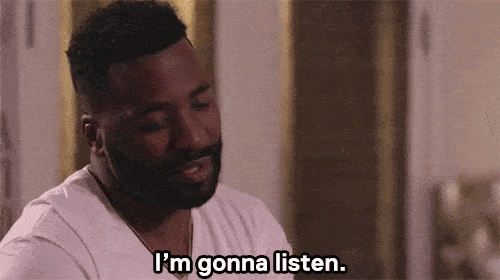 Mimi's new boo Ty launches a pop up shop and since Mimi doesn't really have a career of her own outside the show, she's there to help promote.  Dime rolls up to show her support and although she just found out she's preggo, she holds in the news since it's still early. Ms Karlie Redd makes a grand entrance with Tokyo. She introduces Tokyo to the girls and Dime wonders why Karlie didn't bring Melissa Scott. Oh, she doesn't know?! Mimi and Melissa are still on the outs so Karlie didn't think it appropriate. (Probably the first time Karlie's skipped a chance to make a messy situation!) Dime decides it's up to her to get Melissa and Mimi back as friends since she doesn't want any drama at her wedding.
Jazze Pha puts Erica through a literal bootcamp to get her in shape for her stage presence. Erica invites Tommie and Estelita to join as well, but Tommie is a no show for the actual fitness part of the program.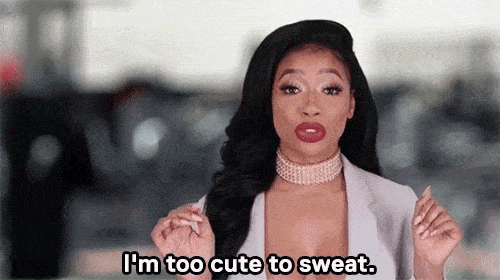 Just in time for the vocal portion of the camp, Tommie rolls in slightly lit. Erica is not the best singer so she really needs all the help she can get (queue the flashback of Erica's terrible singing in LHHNY).When asked to sing, Estelita and Erica struggle with the "doe ray me" while Tommie nails it.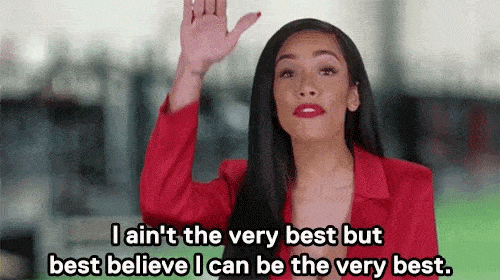 Ugh. Back to another depressing story… Sierra sets aside her anger with her future ex husband Shooter when she learns his 21-year old son was shot and killed. In what could have just been talked about instead of filmed, Sierra attends her stepson's funeral service along with Karlie and Young Joc. The service is packed in attendance and doves are released in the boy's honor at the burial.  "You're not supposed to bury your child. Your child is supposed to bury you." -Shooter 
While shooting her music video, Jessica uses the opportunity to bring Melissa into the mix while Mimi and Ty are there. Dime's trying to make peace between Mimi and Melissa so everyone can get along at her wedding. To make it more awkward, they all sit in a circle with Melissa and Mimi + Ty sitting across from each other. Dime digs right in to get to the bottom of their issue and Melissa blames Ty as the reason. (I thought Mimi was mad at Melissa for being friends with Joseline last season?) "Were they friends or were they f*cking?" -Ty It's kind of grey, yes they have f*cked, but they were just friends when Ty came in the picture and now they aren't friends because of Ty. Tokyo takes Melissa to go find Dime who ran to the bathroom to puke, Mimi gets mad at Ty for saying they shouldn't be friends if they've f*cked so Ty's just left sitting in the circle looking like the a**h0le. We're #TeamTy on this one.
Sierra's been struggling after the death of her stepson. She's been depressed and having to help her kids make sense of their brother's death. Tokyo comes by to check in and be a friend.  "He was like my child too." -Sierra The one bright spot is BK helping her through this. She can't focus on the relationship with BK with everything going on with Shooter.
Stevie pulls another sleazy move by rehearsing a potential artists and invites Estelita to meet under the guise they are going to work on music for her. Stevie thinks showing Estelita competition will motivate her and Estelita is tired of these games. Mena rolled with Estelita as support and Stevie's moves work when he gets Britney to start talking trash to Estelita saying it takes hard work and not just sucking c*ck.  "That's what they all say. Because they're guilty." -Erica This gives Erica an in to just start tearing in to Britney about how her shoes are so small her feet are "clawing at the ground", her outfit looks like a cheap Fashion Nova fit and how she looks "like she has a yeast infection on her face." Who doesn't love when mouthy Mena lets loose!
Thank God for Dime's baby news or this whole episode would have been a downer. Anyone else find this episode really depressing? Sound off in the comments below.
---