Love & Hip Hop Atlanta Recap: Horsing Around
Season 7 - Episode 14
Dana Escamilla June 20, 2018 12:27pm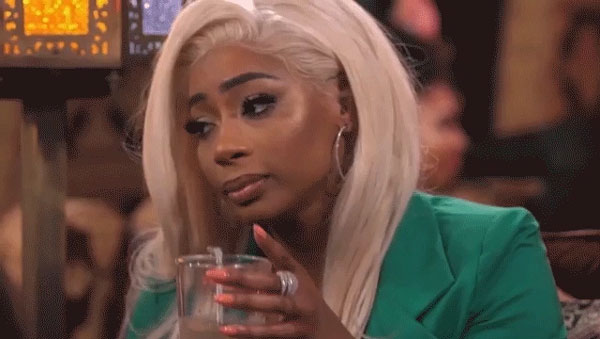 Season 7 Episode 14 picks up around the campfire from last week's episode while the Love & Hip Hop Atlanta cast is at Silver Spur Ranch in Texas. Estelita Qunitero and Sierra Gates are trading barbs across the flames and when Rasheeda Frost speaks up about how these aren't even real problems they're fighting about. Sierra agrees she's not about that life anymore and it inspires everyone to go around apologizing.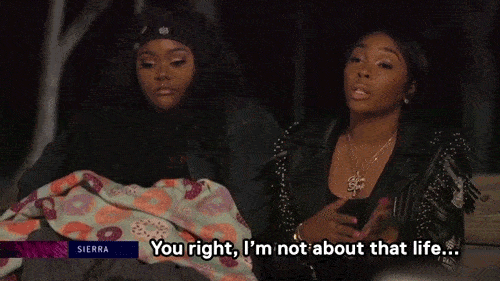 From campfires to come to Jesus conversations… the producers call Tommie into their office. The ominous music and the black screen fills us in that she tried to attack producers and security. So here she is sitting down with a substance abuse counselor and how her drinking has led to physical attacks.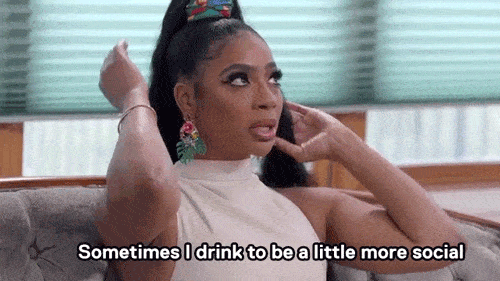 She confesses that the booze is a coping mechanism. "I'm not proud of it." -Tommie The counselor calls her out for threatening the staff and she goes back into what happened at the scene when she lost it. And when he says for her to continue on the show, she can't drink. She doesn't take the news well… "It feels like Eastern thinks I'm an alcoholic but it's all good." -Tommie She really doesn't think she's an alcoholic. He calls her out for having a drinking problem so she just commits to proving him wrong.
Back on the ranch and in the kitchen… Tokyo and Erica Mena hang back from the horseback riding excursion to help cook dinner for everyone. Some how Tokyo stirring the food, stirs up her issues of her past that she feels the need to share. But she doesn't come out and fully say what happened to her. Erica sensing sexual abuse admits she was abused and has had to learn to deal with it. Tokyo's not ready to talk about it but clearly there's something there so Erica leaves it alone and just hugs it out. Some real talk right there.
Back to the more light hearted entertainment… everyone is gussied up in their western wear and it's time to giddy up! These city folk are freaking a bit but Estelita uses the moment to wave like a pageant queen.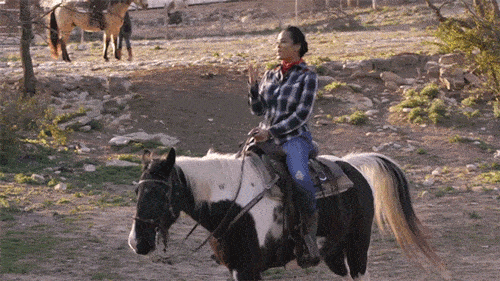 Sierra's horse freaks out takes off running all she can do is scream "Get me off! Get me off!" Security runs up on the horse to help her off. "I don't think any of us have a future in rodeo." -Karlie
Back home in ATL… Jasmine Washington is playing with her son when Kirk's daughter Ashley Frost. Ashley feels it's time she meets her baby brother and try to come to terms with the baby mama. "I just fell in love with my baby brother." -Ashley
It's baby mama night… Jasmine brings her son over to play with Tiarra Becca's five kids so mom's can sip on wine and catch up. Being a single mom is weighing down on Tiarra and she's considering letting KK back into King's life. Jasmine is all about family right now and encourages her to let the kid see his grandma.
Back to the rest of the crew at the ranch… it's time to get some line dancing lessons!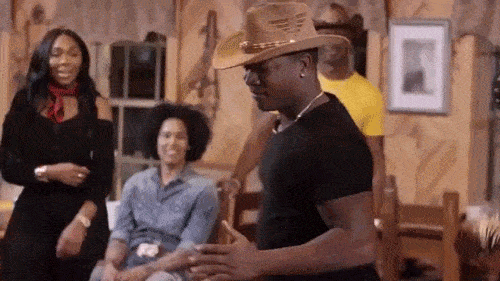 Joc nails his moves with swagger! Everyone's dancing and having a great time! But there's still some unresolved stuff between Sierra and Karlie Redd. So Sierra asks Karlie to talk and they work it out pretty quick. Then almost on queue when they were talking about BK, BK Brasco has to come interrupt to talk at Sierra. Karlie was hoping Sierra would kick BK to the curb, but she vows to try to stay out of their business.
BK surprises Sierra with I heart U in candles and rose petals. He's pulling out all the stops to win her back. It would be sweet if he wasn't such a scumbag cheater. Sierra thankfully isn't buying it and calls him out for the cheating. She thinks about it…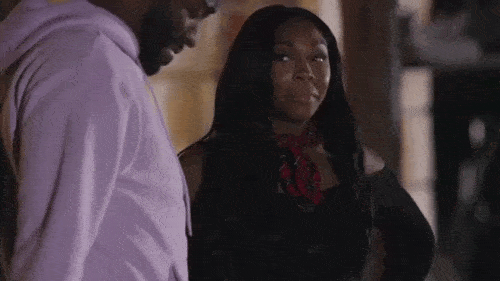 Back inside things are a lot more fun as Spice decides to flip the dancing script and teach the line dancing cowboys how to twerk!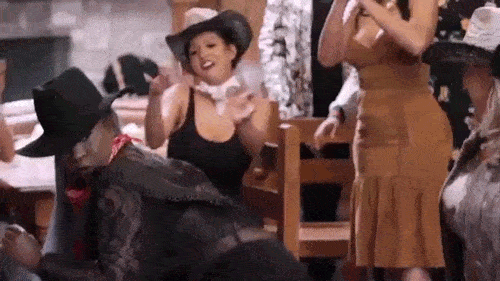 Back in Atlanta and to tired drama… Karen King meets up with her son, Sas, at the park. She carries on about all the things she has done for her family, legally and illegally, and how important it is for her son to keep working for the family and for Scrapp to get out of jail. Her speech is a bit over the top, but they're really milking it for the moment leading up to Sas surprising KK with having King at the park. Apparently Tiarra caved (or producers convinced her) and let the boy see his grandma after two years.
Back on the ranch…  it's time to leave and for Joc to say goodbye to his new friends – the donkeys. Tokyo and Spice managed to call a truce. Joc and Karlie made amends and are back to being a team of jokesters. Sierra wakes up in BK's bed so you know his candle trick worked. And then last but not least Rasheeda let Kirk back in her bed (and that is one reconciliation we were NOT rooting for).
And finally back in ATL and to second chances… Tommie shows up sober for a scene with her mom as her first test to show producers she's not an alcoholic. "Being suspended from filming was a wake up call." -Tommie. Her mom really puts Tommie to the test by bringing her sister Versace into the mix. But Tommie uses the chance to make amends with her sister and tell them about the suspension and intervention. Her mom then shares that her health is failing in hopes that it will be a wake up call to Tommie that she needs to be strong and get her own health in order. "I just feel like I gotta make it right." -Tommie
What do you think of the intervention and return of Tommie? Sound off in the comments!
---