Kylie Jenner Sells Majority Stake in Kylie Cosmetics for $600M
Try and Keep Up!
Lara Sophia November 21, 2019 10:51am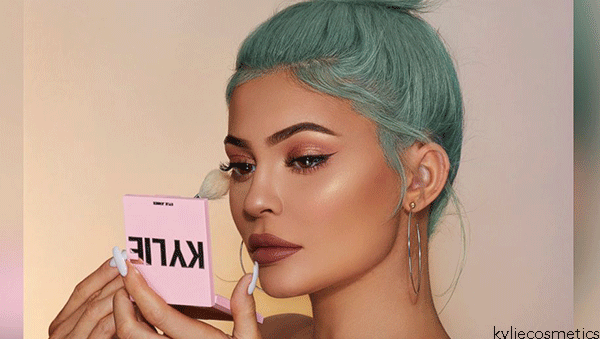 Here's everything that went down with the KarJenner clan this week!
Kylie Sells Stake in Kylie Cosmetics for $600M
If you thought Kylie Jenner couldn't get any richer think again! The youngest Kar-Jenner just sold the majority stake of her Kylie Cosmetics empire for $600 million!
On Monday, November 18, it was announced that beauty giant Coty purchased a 51 percent stake in Kylie's makeup company making Coty the majority shareholder in the brand.
"I'm excited to partner with Coty to continue to reach even more fans of Kylie Cosmetics and Kylie Skin around the world," the Keeping Up With the Kardashian star said in a press release. "I look forward to continuing the creativity and ingenuity for each collection that consumers have come to expect and engaging with my fans across social media. This partnership will allow me and my team to stay focused on the creation and development of each product while building the brand into an international beauty powerhouse."
The 22-year-old will still be involved in the brand's creative efforts when it comes to product development and promotion.
"We are pleased to welcome Kylie into our organization and family," Coty's CEO, Pierre Laubies, said. "Combining Kylie's creative vision and unparalleled consumer interest with Coty's expertise and leadership in prestige beauty products is an exciting next step in our transformation and will leverage our core strengths around fragrances, cosmetics, and skincare, allowing Kylie's brands to reach their full potential."
Source: Us Weekly
Khloe and Daughter True Are Getting Their Own Show
On Sunday's episode of KUWTK, Khloe hinted about a new spinoff show featuring her and her daughter True. The show would be dubbed Khloe and True Take The World.
"My mum and I are having a meeting with some producers that we're in talks with about helping me to finalize the [new] show that I'm developing," Khloe told the cameras.
During the episode, a TV producer explained, "We want to shoot and put this on the internet as soon as possible. [We see this being filmed] at the house, and seeing mum and daughter out and about, letting the world see little snippets [of Khloe and True's relationship]."
Source: Cosmopolitan 
Is Keeping Up With The Kardashian ENDING SOON?
Many KUWTK fans are speculating that the show they love or perhaps love to hate, could be ending sooner rather than later. Some believe that the writing may be on the wall for KUWTK after Kourtney revealed that she is temporarily leaving the show and won't be featured on season 18. It should also be noted that Kendall and Kyle have considerably cut back on filming for the show.
Meanwhile, fans also feel that it will become increasingly difficult for the family to continue filming their reality without including their kids. The Kar-Jenners' kids rarely film and are only seen on the show every once in a while but as they get older this will be more and more difficult leading many to believe the show will end in the very near future.
The drama on the show also seems to be causing major issues between the Kar-Jenner siblings. Kim and Kourtney's relationship has become increasingly strained over the last several seasons of the show, which many believe is the reason the oldest Kardashian is stepping away from the show for a while.
Source: The Blast
Caitlyn Jenner's Mom Doesn't Get Why KUWTK Is Successful; Calls Kris Controlling
Caitlyn Jenner's mom Ester Jenner doesn't get the fuss over KUWTK. More importantly, she doesn't like the woman behind the hit show, her former daughter-in-law Kris Jenner.
The 93-year-old tells The Daily Mail that she "doesn't get why the Kardashians" show is a success.
"I wasn't fond of that program, there was no plot, and why it was such a hit I'll never know, and I guess it still is," she continued.
Ester went on to call KUWTK creator Kris "hyper-controlling." She also accused the famous momager of emasculating her son.
"She [Kris] made him look like a milk-toast man! [meaning unassertive and spineless]" Esther said. She also admitted that she still struggles to use the correct pronouns for Caitlyn.
Kardashians Face Backlash Over 'Insensitive' Family Food Fight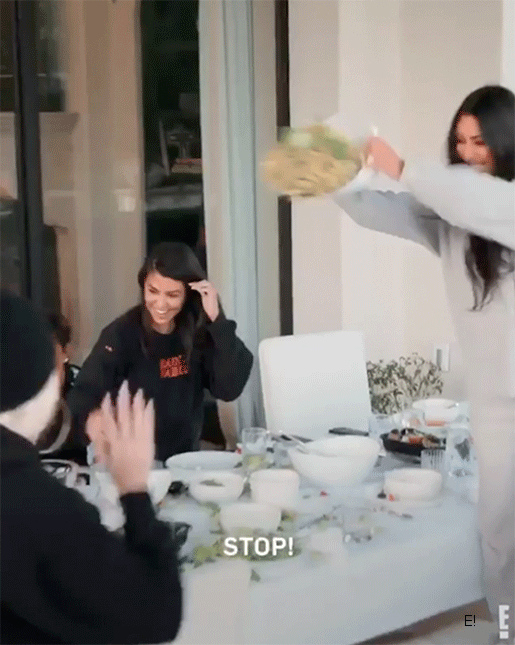 The Kar-Jenners are facing some major backlash after they got into a food fight on Sunday's episode of KUWTK.
During the dinner gone wild, the family threw bowls of pasta and salads at each other while running around the table.
While some fans found the food fight funny others weren't amused.
"My only thought during this whole video was how many humans there are out there without food. 'KIM THERE ARE PEOPLE DYING' …. and starving …. #disappointedbutnotsurprised," one fan wrote.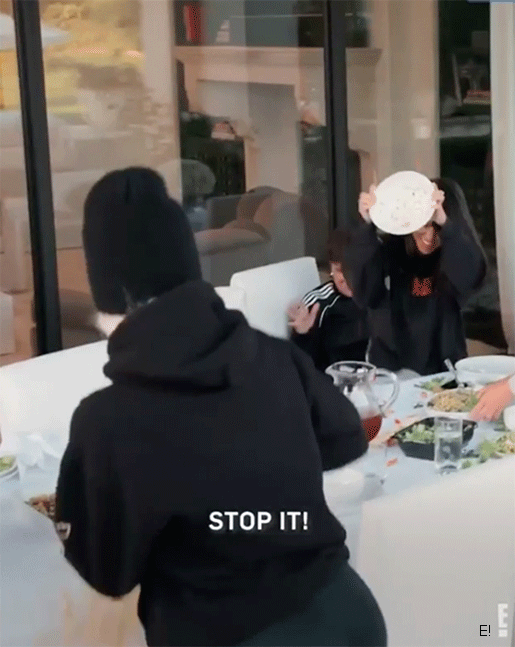 "That's very insensitive!! There's ppl that can barely afford to have breakfast," another fan wrote, while a third commented, "Shame on all of you, people would give their right arm for that food!! Disgusting."
Khloe seemingly agreed and told the KUWTK cameras that she found her family's behavior "unacceptable." 
"Am I bothered by this food fight right now? Who the f— wouldn't be bothered by this?" Khloe tells the camera. "This is, in any normal person's world, bizarre, disturbing, and unacceptable."
For more Kar-Jenner news, check out the

Buzz

section of TOR!
Thoughts on this week's roundup? Sound off below!
---