Kylie Jenner and Travis Scott Split After More Than 2 Years Together
Try and Keep Up!
Lara Sophia October 2, 2019 9:00am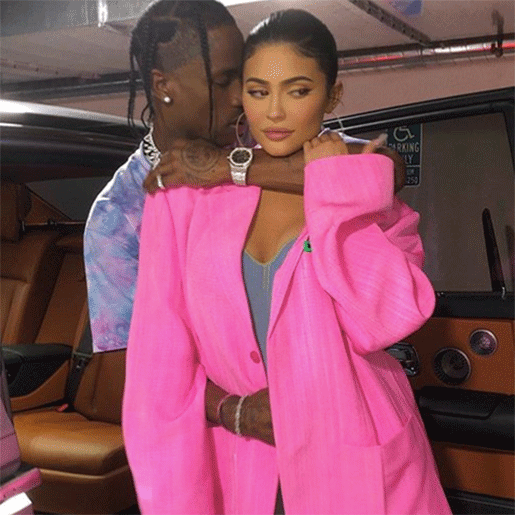 Here's everything that went down with the KarJenner clan this week!
Kylie and Travis Scott Split After More Than 2 Years Together
Several media outlets including Page Six, Us Weekly, TMZ, and In Touch are reporting that Kylie Jenner and Travis Scott have split after two years together.
The now-former couple have allegedly spent the last few weeks working on their relationship but have decided to "take a break."
Kylie and Travis' last public appearance was at the premiere of Travis' Netflix documentary, Look Mom, I Can Fly, back in August.
This report has yet to be confirmed by either parties' camp.
Sofia Richie Makes Her KUWTK Debut
In the past Sofia Richie has made it clear that she has no interest in appearing on KUWTK but it seems she changed her tune as she will make her debut on the show this season.
On Sunday, October 6th Sofia will make her KUWTK debut as she and boyfriend Scott Disick plan a joint family vacation with Scott's ex Kourtney Kardashian.
"It is a really awkward situation," Scott says in a new teaser clip. "This trip has so much pressure."
While Scott wants both Kourtney and Sofia to be "comfortable" he also admits that "it does take, like, a toll on me."
"You're a lot more sophisticated with me when Kourtney's around," Sofia tells Scott in the teaser.
As for Kourtney, she calls the vacation "bizarre."
Kylie Wears Sexy Gold Dress at Hailey and Justin Bieber's Wedding
Kylie stole the show at Hailey and Justin Bieber's wedding by wearing a revealing gold dress that left very little to the imagination. Guess the KUWTK star didn't know you're not supposed to upstage the bride! whoops!
Kendall Clears Up Rumors She's Dating Fai Khadra
Speaking of Justin and Hailey's wedding, Kendall once again sparked rumors that she is dating Fai Khadra when she brought him as her date to the September 30th nuptials.
However, Kendall quickly squashed the rumor mill by making it clear that she and Fai were just friends.
"We don't date he's just my date," Kendall captioned a photo of her and Fai from the wedding.
Khloe's BFF Malika Haqq Expecting First Child
KUWTK star Malika Haqq is pregnant with her first child. Malika is 14 weeks along and is due in March.
"I have always wanted to be a mother and it's still a little bit surprising but I'm overjoyed!" Malika tells PEOPLE. "I'm a very emotional person anyway, but this is another heightening of emotion … I feel really good about where I am in my life being pregnant now."
Tristan Thompson Gushes Over "Beautiful" Khloe on Instagram
Tristan Thompson can't seem to quit Khloe Kardashian. The NBA star raised eyebrows when he left a flirty comment on one of Khloe's Instagram posts.
Khloe posted a selfie of her soaking up some sun on Instagram.
"May you have the courage to explore every dream you dream," Khloe captioned the post.
Her ex Tristan couldn't seem to help but comment on the post, writing "The sun is [shining] bright on a beautiful [diamond]."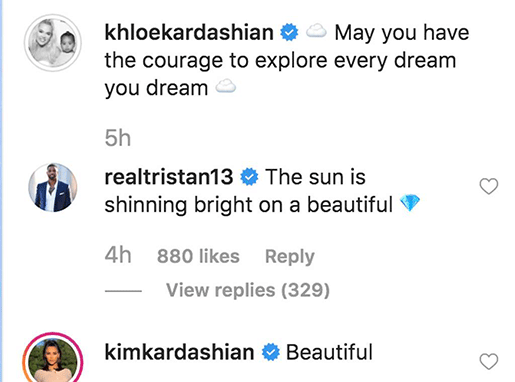 Last week Tristan commented "perfection" with the heart-eyes emoji on one of Khloe's other posts.
Kourtney & Kim Remember Late Father Robert on Anniversary of His Death
Earlier this week, Kim Kardashian and Kourtney posted tributes to their late father Robert on the 16th anniversary of his death.
Both KUWTK stars shared photos of their dad and wrote touching messages.
"I miss him so much doesn't begin to describe it," Kourt wrote while Kim shared: "Miss you dad. Can't believe today would be 16 years since you went to heaven."
---