Is Kyle Going to Paris' Wedding?!
This could get awkward..
Genny Glassman May 18, 2018 4:20pm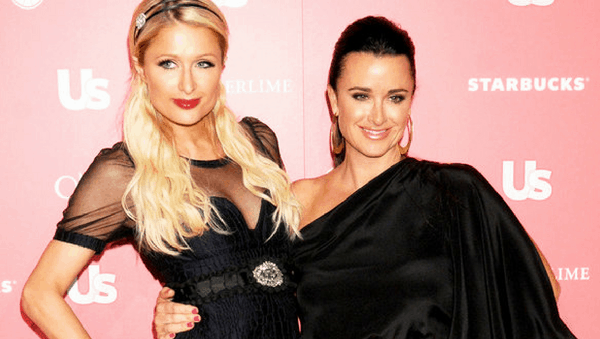 Did Kyle get an invite? While the Richards sisters have yet to resolve their ongoing feud, things might come to head with the upcoming wedding of Paris Hilton. Real Housewives of Beverly Hills' star, Kyle Richards is Paris' aunt, but there have been conflicting reports on whether she will be going to her niece's upcoming nuptials.
According to one report made by Life&Style magazine, Paris is not going to invite Kyle to her wedding to Chris Zylka, due to the feud between her mom Kathy and Kyle over Kyle's new show, American Woman. The magazine says that, " [a] source exclusively told In Touch that if Kathy doesn't have a change of heart, "Kyle is going to miss her niece's wedding."
They also note that Kyle has yet to deny or confirm if she's received an invitation.
However yesterday, RadarOnline published a conflicting story, saying that not only is Kyle going to the wedding, her whole family is!
Radar reports that a source told them that the claim that Kyle was not invited to Paris' wedding is "completely untrue." They add that, "Kyle and her husband Mauricio are all invited and there is no bad blood between Paris and anyone in her family right now."
If both Kyle and Mauricio were to go to Paris' wedding things could get awkward, quickly. Not only is Kyle not speaking with her sisters Kathy and Kim, Mauricio notoriously has bad blood between himself and Kathy's husband, Rick, after he left Rick's real estate company to go off on his own.
E! Online notes that at the time when Mauricio left his brother-in-laws company, a source told them that, "Rick and his team wouldn't make Mauricio a partner, even after years of working there and a lot of success. So he left."
Things got so bad that Mauricio was not allowed at any Hilton events. And at the time, Kyle felt torn between standing with her husband and protecting her relationship with Kathy. Now Kathy and Kyle don't speak to each other at all, so we could hardly imagine that the relationship between their husbands is any better.
Neither Kyle nor Paris has commented on the conflicting stories, but we are sure we'll get the full scoop as we get closer to the November wedding date.
If you were Paris would you invite Kyle to your wedding?
---