KUWTK Season Finale Recap: Break Free
Season 15 - Episode 16
Stephanie Downs December 11, 2018 11:44am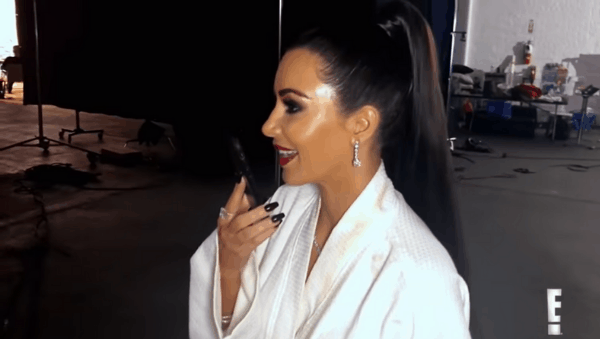 In the season finale of Keeping Up With the Kardashians, the show tried to cover every major moment from the fam in the span of 45 minutes. Still, it was pretty entertaining nonetheless. So, for the last time this season, let's head into everything that happened on KUWTK.
Khloe Heads Back To Work
.@KhloeKardashian spending her first night away from True ❤️😭 #KUWTK pic.twitter.com/r0LADuJa5N

— Kardashians on E! (@KUWTK) December 10, 2018
Aside from Kim Kardashian's crusade, the only other notable storyline revolved around Khloe Kardashian going back to work. For Khloe, going back to work means not being with her daughter, True Thompson, for the first time. The new mom traveled to New York City and Seattle to open up her new line of Good American activewear. Khloe related to her friends and Kris Jenner that she was really anxious about not being with True for a couple of nights, which is understandable.
Kris knows how to cheer her daughter up, though. During Khloe's Seattle trip, she got a surprise visit from a special guest: Pierre the mime. Khloe was as thrilled as anyone could possibly be upon being surprised by a mime (her team was less than thrilled, however). So, at least Kris could cheer Khloe up a little bit.
Kim's Latest Mission
TONIGHT OUR SEASON FINALE OF KEEPING UP WITH THE KARDASHIANS ON E! pic.twitter.com/ke8A9eMEeP

— Kim Kardashian West (@KimKardashian) December 9, 2018
The other storyline in the finale involved Kim trying to free a woman named Alice Johnson from prison. In a convo with Kourtney Kardashian (who didn't know Alice's name until then…), Kim said that she has to try and talk to the President since he's the only one who can free her.
In the midst of her good deed, Kanye West goes off the rails. So, it was just a normal Tuesday. Kim, as always, defends her husband's comments and says that he needs to communicate better but that he's simply himself. She also said that the media can twist his words to fit their narrative. Or maybe he needs to chill and take responsibility for the dumb sh*t he says? Idk, just spitballing here.
It turns out that Kanye's outspokenness has actually helped secure Kim a visit with the President. Jared Kushner calls Kim as she gets ready for the Met Ball and says that the meeting is a go. Kim remarks that she's not surprised since she doesn't understand how the Trump administration, or anyone else, couldn't find compassion for this woman. Well, I can explain some of the nation's current events to her and then she may be a little shocked at who she's working with. But, I won't get into it.
Kim's in Washington D.C. to meet with President Trump. It turns out that the meeting went well, mainly because she's a celebrity I'm sure. But what do I know? Kim gives Kanye and Alice's lawyers an update post-meeting and says that the clemency deal is 99% confirmed. It would be 100& but Jared said you can never say 100% with Trump, his father-in-law and the leader of the free world. What a winning endorsement of his decision-making!
Trump eventually does grant clemency to Alice. Kim gets to be the one to give her the news, as seen in a very emotional conversation. Shortly after they give her the good news, Alice is finally free. When Kim goes to visit her in Memphis they share a long hug and if that moment didn't get to you, you might not have a soul. Alice thanks Kim and her team and thanks Kanye, too. After all, this whole process would have been a lot harder if he didn't offend so many people with his ignorance disguised as "love."
This call makes me cry every time I see it. @MakeupByMario filmed this on his cell phone. I'm so glad we captured these moments

— Kim Kardashian West (@KimKardashian) December 10, 2018
Real talk though, and politics aside, Kim did a truly amazing, life-changing thing here. She gave Alice a second chance and she really should be applauded for her efforts. Hopefully, she'll continue to make a positive difference in this country by taking on the prison reform topic.
On that note, the 15th season of KUWTK has come to a close. What was your favorite moment from the season? (Mine had to be Khloe giving birth to True.) Let us know what you think in the comments below!
---