KUWTK Recap: Vegas, Baby!
Season 15 - Episode 14
Stephanie Downs November 26, 2018 10:23am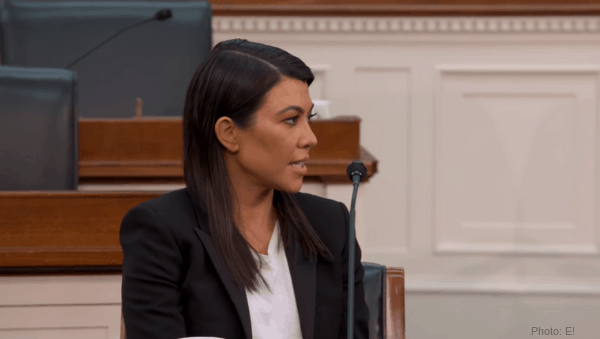 Kourtney Kardashian finally got some of the spotlight on the latest episode of Keeping Up With the Kardashians. Viewers also got their regular dose of Khloe Kardashian and Tristan Thompson along with Kim Kardashian's shenanigans. What did those shenanigans entail? Well…
It's Cher!
Hot on the heels of her high school reunion, Kim's keeping the good times going with her old pals. Kim and some of her friends from high school go to Vegas to hang out and attend a Cher concert. And boy did she let loose, taking an entire *sip* of her vodka shot to pregame for the concert. Kim previously told Kendall Jenner and Scott Disick that she had a wild side (even taking ecstasy when she recorded her sex tape, yikes). So, she was really trying to back that claim up during this trip.
Now, as many Kardashian fans likely know, Kim is a huge fan of Cher. So, it should come as a surprise to no one to hear that she was stoked to greet her idol following the concert. Kim was as nervous to say hello to Cher as I would be to say hello to her. In other words, it was super relatable.
Kourtney Takes D.C.
The Kardashians can't seem to stay away from politics, can they? But, at least they have the best intentions. This time, it's Kourtney who's taking Washington D.C. for a cause near to her heart. She first takes a meeting with EWG in California, where they tell her all about the faulty background behind consumer products. EWG would love Kourtney to help them lobby for better laws surrounding the ingredients in these products and she agrees to help.
Cut to a little while later, Kourtney is in D.C. with her annoying friend who's name I couldn't bother to remember. She meets with EWG once again prior to the lobbying in order to prepare. As she tells her friends later, she says that she has to speak in front of a ton of people to help their bill get passed. She also says that she was trying to figure out ways to get out of doing it during that meeting, which is just about the most relatable thing ever said on this show. In the end, she didn't have to worry as she nailed it.
Kim & Tristan's Feud Continues
Kim is apparently the only one that (openly) still has a vendetta against Tristan. And the feeling is mutual from Tristan, who doesn't have the wherewithal to feel bad about cheating, but felt bad enough about Kim's Ellen comments to block her on Instagram. Things are so tense between Kim and Tristan, that Khloe is trying to keep them apart since she's back in Los Angeles.
In a convo with Scott, who's strangely becoming the voice of reason on KUWTK, Kim realizes that being angry at Tristan is only harming her relationship with Khloe. So, Kim decides to put the drama behind her as everyone else has. When she finally greets Khloe at her house, she decides to say hello to Tristan, too. Khloe uses one of the crew's headsets to listen in to their conversation. But, there was no need for her to worry. Kim and Tristan have a lovely if not awkward conversation about pickleball and winter sports. All is well in the world then?
Do you think Kim was right to put the Tristan drama behind her? Tell us your thoughts on her mature move in the comments below!
---