KUWTK Recap: True Story
Season 15 - Episode 13
Stephanie Downs November 19, 2018 11:22am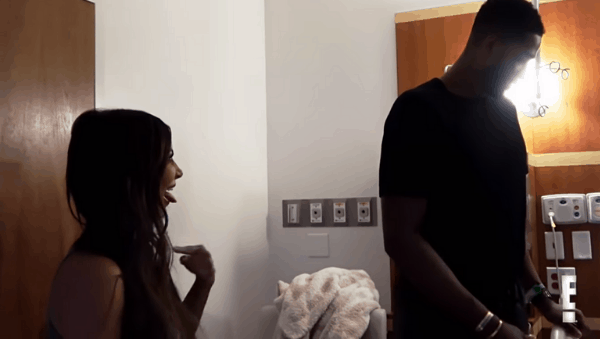 This week, Keeping Up With the Kardashians viewers finally got to see Khloe Kardashian give birth to her daughter, True Thompson, in the midst of all of that Tristan Thompson drama, of course. As you can believe, the delivery room with Tristan and the Kardashians was as awkward as you'd expect.
The episode begins as Khloe heads to the hospital with her friend Sav. Kris Jenner, Kim Kardashian, and Kourtney Kardashian are on their way. But, they're cutting it close, as they relate on their flight to Cleveland. Khloe isn't alone as she prepares to give birth at the hospital though. She has her friend Sav and Tristan (ugh), who arrives shortly after she does. By the way, the mood instantly changes when Tristan strolls in like the creep that he is.
Khloe isn't family-less for long, as Kris and her doctor, Dr. A, arrive, followed closely by Kim, Kourtney, and Malika Haqq. Naturally, the family isn't thrilled to be in Tristan's presence. But, they're making it work for Khloe, who just wants a peaceful situation for the birth. Kim can't help but get a little sassy though. As she stands behind Tristan, she motions that classic throat cutting action in reference to him. You gotta love Kim.
As Khloe and everyone else prepares for the birth, the family FaceTimes Kylie Jenner and Kendall Jenner who couldn't be there. Just as someone FaceTimes Kendall, who thinks the birth already happened, Kris scrubs up to help deliver her grandchild. I have to say, I did tear up a bit during the whole thing. As longtime viewers know, Khloe has wanted to be a mom for a while now. So, it was amazing to watch her dream come True.
In what caused me to cry for the second time during the episode, Kris gave Khloe the most meaningful gift ever. She gifted Khloe the same set of bracelets that Rob Kardashian Sr. gave to her when she gave birth to Khloe. How is it that this family knows how to make me so emotional???
Of course, Khloe announced that her baby girl's name is True. Many of the family say that True Kardashian would be fun, but the new mom is sticking with the alliteration of True Thompson. Before the sisters head out, they say that Tristan wants to have a talk with the whole family at a later date. And nothing could go wrong there, right?
Cut to their meeting (which fell on Kourtney's birthday, what an interesting way to celebrate). Khloe explained that they didn't film it because Tristan doesn't want it to affect his career. Hm, maybe he should have thought about that before cheating on his pregnant girlfriend? Apparently, it didn't go well. Who would have thought? (Everybody, everybody saw that coming.)
Back in California, Kim and Kris give cousin Cici Bussey the lowdown on the meeting. They say it was nice to see Khloe and the baby, obviously. Kim hits the nail on the head when it comes to Tristan, though. She says that he feels bad more so because the cheating has affected his public image, rather than how it's affected Khloe. And that's exactly why she needs to kick him to the curb.
Later, Kim goes on The Ellen DeGeneres Show where she calls the Khloe and Tristan situation so "f*cked up," which is the most diplomatic way to put it honestly. Following the taping, she gives Khloe a heads up on what she says. It's a bit hard to understand what Khloe says in reply. But, what I did catch was that she agreed that it's so f*cked up and that Tristan is a piece of sh*t. Where are the lies though?!
Later, Kim tells Kourtney that Tristan thought she was trying to start drama with her comments. Is he the most oblivious person on the planet? (No need for answers btw, we all know that he is.) She says that she unfollowed him on Instagram, the 21st-century version of a public shunning and that she's done with him. So am I, Keeks. By the way, Kim ended up going to her 20th high school reunion in a blink-and-you'll-hopefully-miss-it segment. I, for one, am we did get to see it glad solely because I never have to hear about that event ever again. Sorry, not sorry.
Since Khloe and Tristan's relationship status is still a little murky, do you think they'll ever be able to get back on track? And should they? Tell us your thoughts in the comments below!
---