#FashionFriday: Keeping Up With Kourtney Kardashian's Summer Style
Can you keep up?
Lara Sophia August 3, 2018 11:20am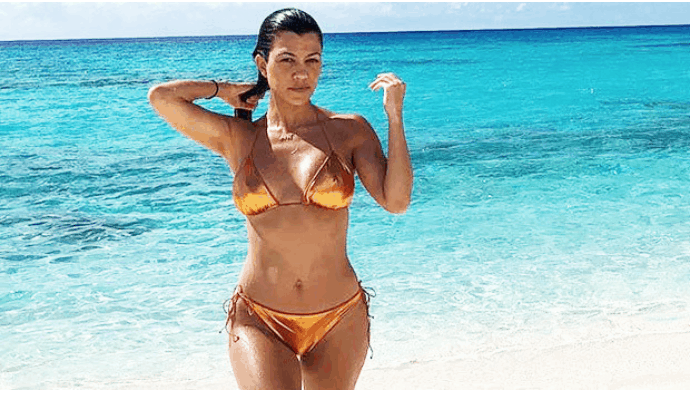 Season 15 of Keeping Up With the Kardashians debuts this weekend and the only thing hotter than the upcoming season is Kourtney Kardashian's summer style.
This summer Kourt's been living it up in the Mediterranean with her uber hot boy toy and all of her fashion looks have been on fire!
And while we all can't live Kourt's lavish summer lifestyle we can steal a piece of her kickass style.
Kourt's surroundings have definitely influenced her summer style choices and allowed her to step up her fashion game in a major way.
So, how can you steal Kourt's summer style?
Well, you'll need a few key pieces and a whole lot of attitude! And don't worry you can pull off Kourt's summer looks anywhere whether you're yachting it up in the Med, cruising the Jersey shore, relaxing in the Hamptons, or being a lush in Laguna Beach!
Good fashion always translates and with Kourt's help, you'll be the talk of whatever town you're in.
Here are 4 key ways to keep up with Kourt's summer style!
Less is More 
Less is so much more in the summer. It seems like Kourt has spent her entire summer in a bathing suit and there's nothing wrong with that! When it comes to Kourt's summer swimwear it's all about being classy and subtly sexy. Many times this summer, Kourt's rocked amazing one-pieces that are far sexier than any bikini. Look for classic cuts and colors when shopping for swimwear. Avoid prints or anything too complicated. If you want to kick things up a notch, take a page out of Kourt's book and grab a swimsuit in a bright color or fun cutouts.

Throw On and Go Pieces 
In the summertime, no one wants to waste time fussing over their outfits, well maybe Kourtney does, but some of her best outfits this summer have been ensembles that require minimal effort. Think effortless and chic. Many of Kourt's throw on and go outfits are made of lightweight, breathable fabrics that are super comfortable and easy to wear. These outfits can easily take you from a day at the beach to dinner and drinks. Throw on a red lip and you're good to go!

Monochromatic
So many of Kourt's summertime looks have all been about classic cuts and monochromatic colors, which means wearing the same color/color family head to toe. Monochromatic looks can not only make you appear taller but also thinner #winning. Kourt's been rocking monochromatic tops and bottoms that are super tailored and timeless.

A Signature Color 
While Kourt's been rocking a lot of black and white this summer because it's classic AF and always looks good, she's also picked a signature summer color to throw into the mix. One of Kourt's favorite colors this summer is mustard yellow. To steal Kourt's summer style find a signature color that works for you and wear the hell out of it! Mustard yellow pops on Kourt's skin and works well with her overall aesthetic.
Here are some curated pieces for you to shop that are very reminiscent of Kourt's summer style. And the best part is they won't break the bank! Happy shopping!
For more on how to Keep Up With the Kardashians, check out

Taste of Reality's tour

!
---