Kim Zolciak Defends Herself Against Claims That She's Racist
The RHOA star is in hot water over the racist remarks she made in the season reunion
Genny Glassman April 26, 2018 6:49pm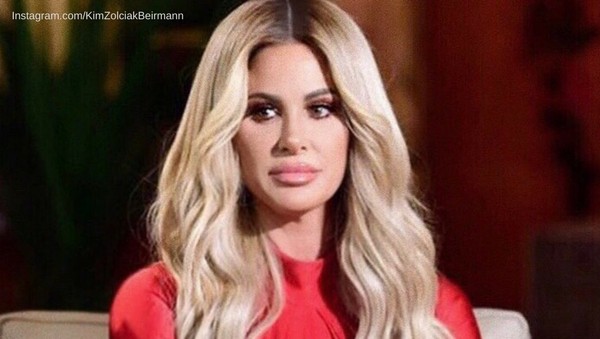 We all knew that Sunday night's episode of The Real Housewives of Atlanta was going to get Kim Zolciak-Biermann in trouble. Between her ongoing battle with NeNe Leakes, her beef with Kandi Burruss over what really happened in the Bahamas, and her obvious inability to separate truth from lies; part three of the RHOA reunion was rough for Kim Z. Which is why it is no surprise that the most inflammatory remarks Kim made about race and #RoachGate have come back to bite her on the butt, big time.
During the reunion, the other castmembers of RHOA tried to explain to Kim why her claims that NeNe Leakes has roaches in her house has racial overtones. As host Andy Cohen tries to explain to her, "Roaches is a metaphor for racism." Kim, who does not seem to understand her place and why it is not a good look for a rich white lady to be accusing a black woman of having a roach problem, seems utterly perplexed. She tells them, "You're reaching," but the overwhelming truth that no one was going to vouch for her, not even Shereé.
In a scene from after the reunion, Kim confronted Andy Cohen in a tirade that is …well, take a look for yourself .
"Put yourself in my shoes, five African-American woman just f***ing hammering [me]." This whole racism thing in this day and age is bulls*** Like everyone of those m*therf***ers on that couch tonight owes this world a f***ing apology! For this racism s*** They already tried to claim that s*** long ago, right Shereé? Nobody really bought into it because the social media wasn't there and racism wasn't f***ing all that real. And you know it."
Kim feels like she was treated unfairly and that all of the questions aimed at her were too tough (tough).  Andy puts it to her clearly, there was nothing nice about your story this season on the show. Everything that happened to you was confrontational and (I will add this because this was the subtext) now you need to answer for all the damage that you caused this season.
Of course fans had an extreme reaction to Kim's outburst. On social media, users called Kim every name in the book, which then prompted Kim to post an apology on her Instagram account.
"During the last RHOA Reunion episode, I made a comment that confused and offended people," Kim writes, "I sincerely apologize."
Kim continues to try and backpedal her way out of this, claiming that her comments were "out of context," and that she had said that "[racism] is not as real as it is now," but that it got cut in the final edit.
Here is the thing, Kim. Someone who is not racist would never have uttered words that could get misconstrued in the way that yours did. The fact that you brought up that it was five African-American women against you, a lone white woman, is deeply telling and if you had just considered what the other castmembers were trying to explain to you about #RoachGate and apologized, it would have been enough to just call you an ignorant fool. But now that you've gone all the way around the world to defend yourself, while also asking us to feel bad for you for being white, it will have to be a rough day in Hell before anyone will come to your defense.
Tell us what you thought about Kim's outburst in the comments below!
---