Former 'RHOA' Star Kim Zolciak-Biermann Claps Back at The Accusations That She Photoshopped A Picture of Her Kids
Kim Z. is not here for your accusations.
Genny Glassman October 17, 2018 3:32pm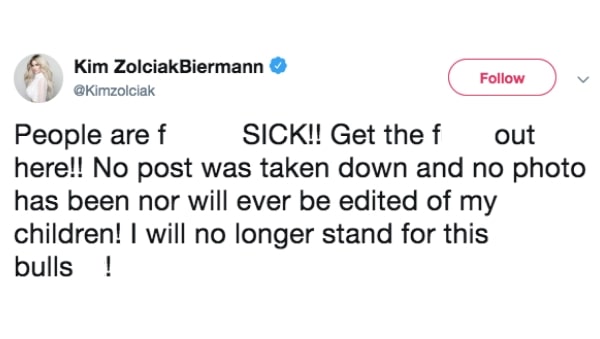 Former Real Housewives of Atlanta star Kim Zolciak-Biermann is not backing down after people online have accused her of photoshopping a picture of her 4-year-old twins.
The drama started when the Instagram account Wigz n Cigz shared two screen grabs taken from Kim's Instagram account and claimed that between posting an original photo, taking it down, and reposting the same photo, Kim actually photoshopped her kids to look thinner.
And then in a second post, Wigz n Cigz animates the before-and-after. So that one can see that Kim's daughter Kaia looks slimmer and her son Kane appears to have his ears taken in.
The posts attracted a lot of attention online. Many people wrote in the comments that the alleged photoshop was "disgusting" and shamed Kim for making the tweaks.
But Kim wouldn't take the slam lying down. She responded to the accusation on Twitter, sending out a fiery tweet which said that "no post was taken down and no photo has been nor will ever be edited of my children!"
People are fuckin SICK!! Get the fuck out here!! No post was taken down and no photo has been nor will ever be edited of my children! I will no longer stand for this bullshit! https://t.co/sgJEEVemzH

— Kim ZolciakBiermann (@Kimzolciak) October 16, 2018
And the mom of six doubled down on her claim by saying that she "will no longer stand for this bulls***!"
This isn't the first time the reality mom has been accused of using her share of photoshop. Page Six reported that in September Kim was also accused of photoshopping Kaia's body in a post that was shared by both Kim and her daughter Brielle. People online claimed there was a noticeable difference between the photo that Kim shared vs. the pic that was shared by Brielle. In Kim's photo the image appears to have been edited, Kaia has a smaller nose and a larger backside.
"You are demented … SHE IS A BABY. Shes already perfect," someone commented on the post. "Why would you even think to do that to your child."
Do you believe Kim photoshopped the pictures? Sound off in the comments!
---