Kim Zolciak-Biermann and NeNe Leakes' Feud Comes to Blows on the RHOA Reunion
Kim and NeNe could not control themselves on the trailer for the season 10 reunion
Genny Glassman March 30, 2018 4:32pm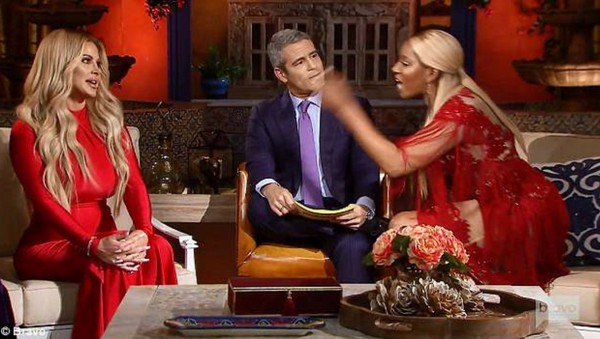 Bravo has released the trailer for the Real Housewives of Atlanta reunion and by the looks of it we are in for major drama. The ladies had a lot to work through on the season 10 reunion, and of course things exploded when Kim Zolciak-Biermann showed up to support Sheree Whitfield and give NeNe Leakes a thorough dressing down.
Ten years later…This is art. #RHOA pic.twitter.com/xnRJbi77yC

— Eric O'Daily (@EricODaily) March 30, 2018
From the video posted earlier this morning, it looks like the producers had Kim come out at the end of the reunion to stir up trouble. But before Kim comes on stage, NeNe vows, "I'm going fight the battle!"
Then we cut to a scene where Sheree and Producer Andy Cohen are on speakerphone with Sheree's inmate boyfriend, Tryone Gilliams. "NeNe used to stalk me…She was very aggressive," he tells them.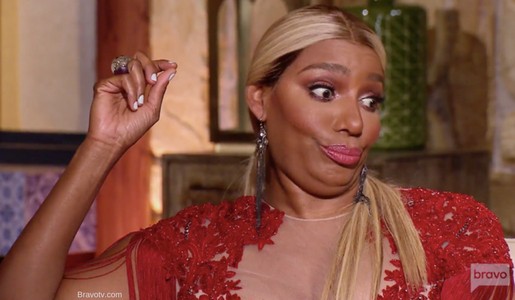 Of course Tyrone is referencing his claims that NeNe pursued him while she and her husband Gregg were on a marital break. NeNe has adamantly denied these claims in the past. "We'll talk to LIE'rone when he gets out," she tells Andy.
Then Kim comes out and seemingly fires the first shot, "Jealousy's a disease. Get well soon, b*tch." She adds, "I don't have my own show for no reason!"
RHOA castmate, Kandi Burruss, jumped in to NeNe's defense. "You were sitting on the sidelines watching us like f***ing fan!" she screams.
Then NeNe tags in, yelling at Kim, "You are trash!" She adds, standing, "I don't give a f**k about you!"
The footage ends with Kim storming off stage and yelling at producers.
"Every one of those motherf***ers owes the WORLD a f***ing apology!" she says through tears. Whew, so much for trying to clear the air!
NeNe and Kim have been fighting all week over social media, but of course when the two were face-to-face things got ugly quickly. Kim even took to Twitter to insinuate that NeNe's behavior was violent and threatening.
"She already strangled me literally years ago check the police report!" Kim Tweets.
She already strangled me literally years ago check out the police report! https://t.co/wSk5kCEbmY

— Kim ZolciakBiermann (@Kimzolciak) March 29, 2018
Kim also retweeted a photo (above) that showed a side-by-side comparison of NeNe going after her on the season 1 and season 10 reunions. 
10 years later and the one 10 years older still can't act her age. 😏 anger management is needed clearly https://t.co/tx4p5HmvHu

— Kim ZolciakBiermann (@Kimzolciak) March 30, 2018
"Anger management is needed clearly," she says.
Kim addresses a fan who tries to take the reality star to task. She writes, "[There's] no excuse for physical violence period. " 
Sweetie of course I have said things and made mistakes but NEVER once have I put my hands on someone nor implied or threatened too! No excuse for physical violence period. https://t.co/VBNnLKcraT

— Kim ZolciakBiermann (@Kimzolciak) March 30, 2018
NeNe has not responded directly to Kim, but she did tweet to her fans, "I already took out the trash."
I already took out the trash☝🏾 I'm done until April 26th at the Houston Improv & Washington DC April 28th at MGM! Come see my edges👊🏾

— NeNe Leakes (@NeNeLeakes) March 28, 2018
Obviously we will be watching to see the whole drama play out, but for now we are Team Nobody.
Let us know if you're Team NeNe or Team Kim and if you'll be watching part 1 of the reunion on April 8!
---