Kim Kardashian Is Working on Renaming Shapewear Line
Try and Keep Up!
Lara Sophia July 10, 2019 9:41am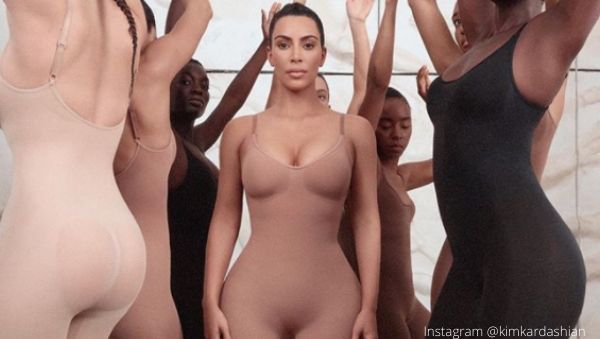 Here's everything that went down with the KarJenner clan this week.
Kim Axes Calling Shapewear Line Kimono and Works on Renaming It
When Kim Kardashian announced, she was creating a shapewear line; it made so much sense; however, the name for her brand didn't. Kim did a play on her name by calling her shapewear line Kimono which didn't sit well with many. Kim trademarked Kimono and Kimono Intimates, which lead to her being accused of cultural appropriation since Kimono is the name of a traditional Japenese garment.
My brands and products are built with inclusivity and diversity at their core and after careful thought and consideration, I will be launching my Solutionwear brand under a new name. I will be in touch soon. Thank you for your understanding and support always.

— Kim Kardashian West (@KimKardashian) July 1, 2019
Now, Kim is working on renaming her shapewear line and is looking to fans for help. Kim also trademarked the name Solutionwear in April. This is one of the names Kim's considering using for her shapewear line that includes lingerie, robes, nightgowns, and more.
Solutionwear pic.twitter.com/bBsPi8AIXZ

— Kim Kardashian West (@KimKardashian) July 8, 2019
We haven't renamed it, but do you guys like the name Solutionwear? Any other names your liking? ***Kim Kardashian renames her figure fixing brand Solutionwear
*** https://t.co/YOJ620q8yE

— Kim Kardashian West (@KimKardashian) July 8, 2019
Khloé Defends Spoiling Her Daughter True, Says: "I Want to Spoil Her"
Khloé Kardashian clapped back at fans who accused her of spoiling her 14-month old daughter after sharing a video of True driving around in a toy Bentley car. Some fans criticized Khloé's spending habits.
"Another Kardashian in a Bentley. You guys are so oblivious to how your excessive spending looks to the outside world. I really loved your family's story and now just can't bare [sic] to watch as you spend all this money on worthless materialism. It's so sad," one Instagram user commented.
"Ummm you know this is not a real Bentley? It's a toy," Khloé replied. "No reason to be sad over a baby in a toy car. Either way, I'm sorry you feel that way, but I hope you have a great weekend! Focus on things that make you happy! Smile."
Khloé went on to say she doesn't "believe that all we do is spend money on worthless materialism."
"What I can say is that I'm able to look myself in the mirror and sleep at night. I'm able to do that because I know I'm a good person, and life is all about balance," Kardashian continued. "Yes, I do choose to spoil my daughter. I want to spoil her with love as well [as] with material items. She will be also raised with values, responsibilities, chores, respect, self-love."
"We all work hard, and we are able to spend our money in the way that we choose. I hope that's what comes across to 'the outside world,'" she added.
Kris, Kylie, and Stormi are on the Cover of Harper's Bazaar Arabia
Three generations of Kar-Jenners appear on the July/August cover of Harper's Bazaar Arabia. Kris gave fans a preview of the cover and her and Kylie's spread in a post on Instagram.
"Thank you so much @harpersbazaararabia!! Such an honor to be on the cover of the July/August issue… three generations ❤️❤️!!!," Kris wrote.
Penelope Turns 7!
Scott and Kourtney's little girl Penelope turned 7 over the weekend! She celebrated with her mom, Aunt KoKo, cousin True, cousin North, and several friends with a limo ride and a pancake breakfast at IHOP.
Last month, Penelope and North had a joint Candy Land themed birthday party, which featured a candy castle, a ton of colorful balloons, a candy bounce house, a candy costume playhouse, and so much more!
---