Reality Check: Cafe Du Monde
Kim Kardashian's Beignet Binge: 3 visits in 24 hrs still wasn't enough to satisfy her pregnancy craving!
Dana Escamilla December 21, 2015 12:25pm
In a recent episode of KUWTK, pregnant Kim flies her entourage to foodie-heaven New Orleans for the ultimate cheat meal night since she's been doing soooo good eating healthy. After indulging in a meal at Bourbon House, they head to Cafe Du Monde where she exclaims her love/addiction for the beignets. After she returns to LA, she confesses to Kris that she made THREE trips to Cafe Du Monde to get beignets and even brought back the mix for her chef to make (which admittedly didn't taste as good)!  So is it worth a special trip for the real deal?
YES! Located in the heart of the French Quarter, Cafe Du Monde has stayed true to its roots as a traditional coffee stand serving only drinks and beignets. For those who have yet to experience beignet bliss, it's essentially fried dough covered with powdered sugar. These delectable little powdered pastries are A-MAZING and because they know you can't just eat one, an order comes with a minimum of three. They are open 24 hours nearly every day of the year except holidays so be sure to stop in and try one if you haven't already. And maybe just like Kim you'll find yourself going for seconds and thirds…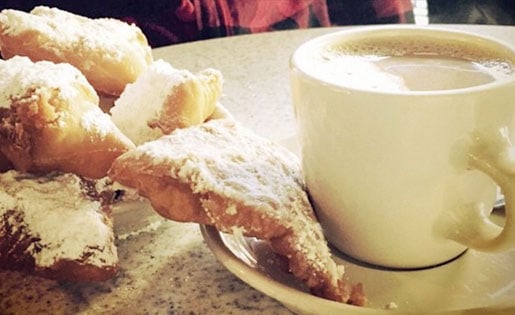 ---