Kim Kardashian West Launches KKW Beauty
And of course the reality star launches on #NationalSelfieDay!
Dana Escamilla June 21, 2017 7:50am
SOURCE: KKW Beauty
The Kim Kardashian West empire is ever expanding! With today's launch of KKW Beauty, Kim breaks from the Kardashian Beauty (formerly Khroma) brand with sisters Kourtney Kardashian and Khloe Kardashian and re-enters the make-up market as a stand alone next to sister Kylie Jenner's Kylie Cosmetics. Although this is Kim's independent brand and developed with her own team, she's taking a page out of Kylie's make-up mogul playbook by focusing on one signature product. The first KKW Beauty product to launch is a cream contouring and highlighting kit available in four skin shades (retail $48).
Building off the huge sell-out success of Kim's collab with Kylie on the KKWxKYLIE nude lip kits, KKW Beauty anticipates selling out in mere minutes generating an estimated $14.4 Million! Since their products tend to sell out fast, don't be confused where to shop these twin sissys! What's the difference between KKW Beauty and Kylie Cosmetics?  KKWBeauty.com = contour kits and KylieCosmetics.com = lip kits. Got it?!?!
More remarkably, KKW Beauty adds to the business mogul's growing portfolio of all things Kim. The queen of social media has leveraged her 100 million+ Instagram following to launch a digital domain that consists of a paid app KimKardashianWest.com, branded emoji app and merch Kimojis, mobile game Kim Kardashian: Hollywood, and a kids clothing line in collab with hubby Kanye West, The Kids Supply. Plus filming for Keeping Up With The Kardashians season 14 is underway.  There's no denying Kim Kardashian is a lot to keep up with!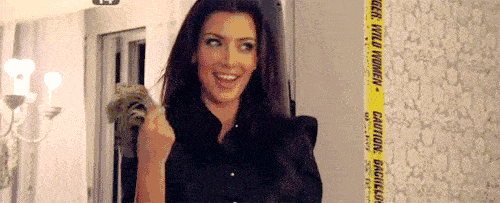 ---