Are Kim Kardashian and Kanye West Moving To Wyoming?!
Try and Keep Up!
Lara Sophia September 11, 2019 11:02am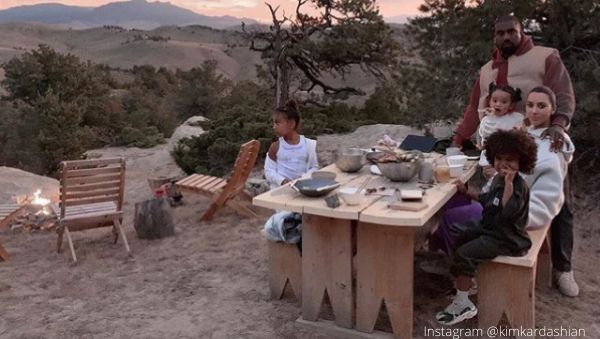 Here's everything that went down with the KarJenner clan this week!
Kim & Kanye Reportedly Moving to Wyoming
Say what?!?! Rumor has it Kim Kardashian and Kanye West are moving to Wyoming more specifically Cody, Wyoming, the Rodeo Capital of the World. TMZ reports that Kanye dropped $14M on a massive 4,500-acre property dubbed Monster Lake Ranch.
According to PEOPLE, Kanye has been in Cody for week's scouting schools for the couple's four children North, Saint, Chicago, and Psalm.
In 2018, Kim told EXTRA that Wyoming is her husband's "happy place" and his "place away from it all."
And it seems that Wyoming maybe Kim's happy place as well. In the September issue of Vogue Arabia, Kanye asked his wife where she sees herself in 10 years and she shockingly said Wyoming!
"In my mind, I'm already living in those 10 years. I see us living on a ranch in Wyoming, occasionally going to Palm Springs and our home in Los Angeles — and becoming a lawyer," Kim revealed, adding that she "would probably" set up her practice in Wyoming then "fly into DC, New York, and L.A."
Source: Extra 
Kourtney Thinks Sofia 'Brings Out the Best' in Scott
Kourtney Kardashian is 100% supportive of her ex Scott Disick's relationship with girlfriend Sofia Richie."Kourtney thinks Sofia brings out the best in Scott and is happy for them," a source tells Us Weekly. "Kourtney and Sofia share a common background and lifestyle, and Sofia is easy to get along with and is a normal girl."
The source adds that the 21-year-old fits in perfectly with the Kar-Jenners.
"Everything is positive with Sofia and Kourtney right now. The family is in a really good place right now and everyone views Sofia as being part of the family," says the source. "Sofia is integrated into their lives and they're closer than ever before."
Family is the number one priority for Kourtney, who is glad she can happily and easily co-parent with Scott.
"Kourtney and Scott are co-parenting in a great way," the insider notes. "Scott and Kourtney realize it looks weird from an outside perspective that they have stayed so close as exes, but it works for them."
Although Scott and Kout's romance didn't work out in the long run, the KUWTK star is happy her ex has found love.
"Any rumors about Kourtney thinking it's 'bittersweet' that Scott has been able to be the partner to Sofia that he wasn't able to be for Kourtney are strictly rumors," the insider explains.
Source: Us Weekly 
Khloe Reveals Tristan Made a Move on Her After Jordyn Woods Scandal
Yikes! In an attempt to make her daughter True's first birthday party less awkward Khloe Kardashian agreed to meet with her ex Tristan Thompson the night before the party. However, that move turned out to be a colossal mistake after Tristan tried to make a move on Khloe.
According to Khloe, Tristan was "lingering" around after spending time with True and asked if she wanted to "grab a glass of wine."
"I'm like, 'It must say dumb f–king whore on my forehead,'" she explained to her assistant and glam squad while getting ready for True's party. "And he was like, 'No, it doesn't.' And then he was like, 'Can I have a hug?' And I like one-arm hugged him, and he was like, 'One? A one-handed hug?' And I was like, 'Yeah! That's nice enough.' And then he tried to like kiss me, and I go, 'This is the problem with you. You can't just like take what you get.' Whatever. And then this morning, he was like, 'Thank you for letting me see True. She looked great. You looked even better.'"
Source: TooFab
Kim Debuts New Short Haircut on TODAY; Reveals She on Medication After Getting Tested for Lupus
The KUWTK star appeared on TODAY and debuted a new shorter hairdo. Turns out that KKW cut 2 inches off her hair just before her appearance on the morning show.
"I cut it this morning," she said when TODAY host Hoda Kotb admired her new hairdo.
Kim later revealed that her hairstylist Chris Appleton wanted to take another inch off and asked fans if she should.
Tune into @TheTodayShow BTW Chris wants to cut my hair another inch. Should we??? pic.twitter.com/1znHkXGSXo

— Kim Kardashian West (@KimKardashian) September 10, 2019

While appearing on TODAY, Kim also opened up about testing positive for Lupus. While Kim wouldn't say too much, telling fans they will find out the results of her tests on this week's KUWTK she did hint that she's on medication.
"I did find out, we're gonna talk about it next Sunday. I was able to find an amazing doctor, Dr. Wallace, and we figured out what the problem is," Kim revealed.
---