Khloe Kardashian Reveals The Sex Of Her Unborn Baby!
It was a BIG surprise to Khloe! Find out what shes having!
Keegan Biondino March 5, 2018 2:10pm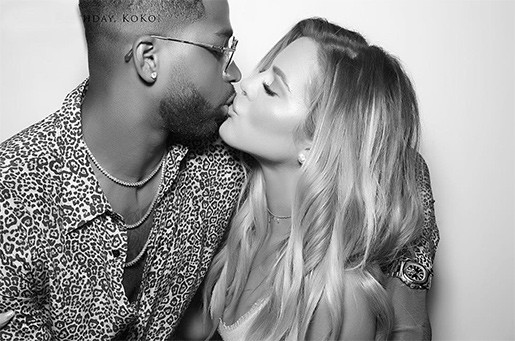 On the KUWTK Season 14 finale of Keeping Up With the Kardashians, it was revealed that Khloe Kardashian is having a baby GIRL! This will be the first child for Khloe, with boyfriend Tristan Thompson.
Kylie Jenner called Khloe, while on a trip to San Francisco with sisters, Kim Kardashian and Kourtney Kardashian. Kylie received the news of the gender from the doctor so that she could be the one to share it with her big sister.
Khloe seemed to be in shock when finding out that the baby was, in fact, a little girl. She was totally convinced she was having a baby boy. (YAHTZEE)
"When you have your mind made up as to what you're having, like everyone told me you're going to feel what you're having and you'll just kind of know," she said. "Then, when you find out it's the complete opposite it's just a shock. I just was convinced that I was having a boy, so to be having a girl it's just like, 'OK that wasn't what I thought was going on." (Via E!News)
Khloe then called "Momager" Kris Jenner to share the big news. Khloe said, "I'm really hoping Kylie's gonna say she's lying and like I'm really having a boy."
"A man is much more attached to a girl."  (I can attest to this being a total daddy's girl and the only girl of three brothers. WIN!)
Kris explains to Khloe how the only thing she wanted in life was a baby boy and her first three were girls, "Don't be a b**ch!" Kris tells her.
"Totally, and I know Tristan will be in love and I'll be in love and she'll be so cute and whatever" Khloe says.
"This will be the love of his life, no offense to you, but this will be the love of his life," Kris tells Khloe. "Well, then I'm going to get jealous. I'm jealous," Khloe jokes. "Well, then I don't like that. I don't like her."  HAHA, this is why Khloe is my favorite!
This all played out on last night's finale of KUWTK. Although she was initially in shock, I know Khloe is going to LOVE having a little sidekick and BFF!
Last night on Twitter, Khloe clarified with fans that she's extremely excited to become the mother to her little girl.
I am now so excited my daughter will have forever best friends with Chicago and Stormi!! God is great!!! Thank you Lord for our princess 👑 👶🏽💗

— Khloé (@khloekardashian) March 5, 2018
Khloe is looking FIERCE and FABULOUS and I cannot wait to see this beautiful baby girl!
What do you think about Khloe's reaction?! Any guesses for baby girl Thompson's name? We would love to hear your thoughts in the comments!
---