Khloé Kardashian Gives Birth to Baby Girl With Tristan Thompson By Her Side
We can't even imagine what that delivery room was like!
Genny Glassman April 12, 2018 10:45am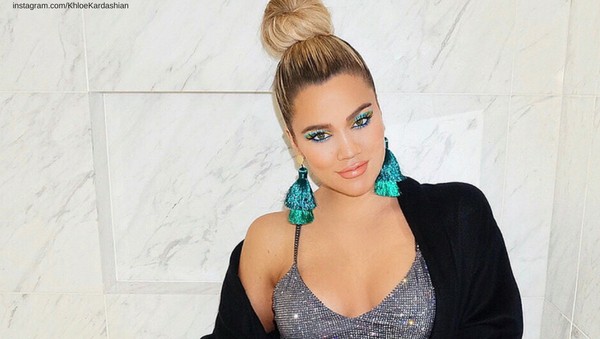 In the only speck of brightness coming from this whole sordid affair, Khloé Kardashian has given birth to a baby girl early Thursday morning. TMZ is reporting that the 33-year-old new mom gave birth at about 4 a.m. in a hospital outside of Cleveland, Ohio. As of this reporting, the newborn does not have a name yet.
TMZ writes that Khloé had a large support system with her when she gave birth. Sisters Kourtney Kardashian and Kim Kardashian were there. As were her mother Kris Jenner and her best friend Malika Haqq. Amazingly, despite the sh*t-storm he caused this weekend when he was caught cheating on Khloé with a 28-year-old strip club bartender in a Manhattan nightclub, Tristan Thompson was also by Khloé's side.
This is not the first time that Tristan has imploded a relationship while his girlfriend was pregnant. In 2016, Tristan left girlfriend, Jordan Craig, when she pregnant with the son, Prince, for Khloé. This morning Wendy Williams reported that Tristan is not listed on his son Prince's birth certificate, which is unfortunately very telling.
More from Taste of Reality: Khloé Kardashian Goes into Labor, While Tristan Thompson's Mistress Goes into Hiding
As of now, the relationship status between Tristan and Khloé must be tense at best. Tristan decided to play in his basketball game last night, while Khloé was rumored to have gone into labor. The Cav's player was not welcomed at the court, however. Fans booed Tristan the entire night and one Twitter user reports that Tristan "wasn't announced coming off the bench by the PA announcer, either."
#Cavs fans booed Tristan Thompson when he was shown on screen. He wasn't announced coming off the bench by the PA announcer, either.

— Spencer Davies (@SpinDavies) April 12, 2018
While another fan held up a sign that read, "We [heart] Khloé!"
@RealTristan13 in case you didn't see this during the game!! pic.twitter.com/I2GDLM9XMo

— Emma Ours (@OursEmma) April 12, 2018
All in all, Tristan has more than ended his goodwill with America. If Khloé decides to stay with him, Kris will certainly have to do more than her share of PR magic.
Tell us what you think Khloé named her baby in the comments!
---