'RHOC' Star Kelly Dodd Says She Won't Return If Vicki Gunvalson Does After Drug-Use Allegation
Kelly is not playing around this time.
Genny Glassman November 21, 2018 4:27pm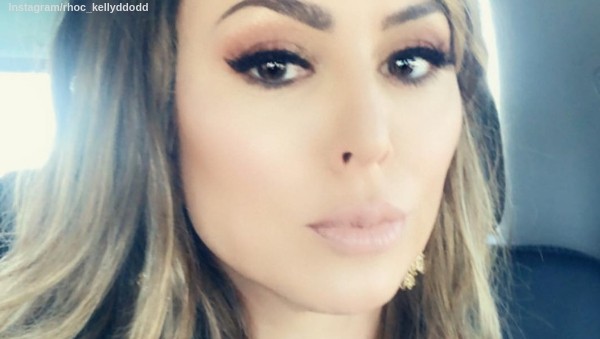 The battle between Real Housewives of Orange County stars has gotten so bad that star Kelly Dodd says she won't come back to the show as long as Vicki Gunvalson is there.
The drama originally started on the RHOC reunion, when Vicki not-so-subtly implied that Kelly uses cocaine. Kelly denied the accusation and in a series of responses to fans on Instagram, she reveals that she will not be back on Bravo if Vicki stays on the show.
"I don't do drugs," Kelly wrote in response to a fan who told her she should sue Vicki to 'teach her a lesson,' "but I would sue her (but) we sign contracts that we can't sue each other," she added.
"it's ok if she's on next year I won't be on," she continued. In a second message Kelly added that she "can't go back if that liar can say s**t without consequences."
"That money isn't worth it to me!" she wrote.
But another fan was confused. Apparently Vicki had gone on Watch What Happens Live and said that there was no beef between the two Orange County ladies. "I don't get it," rthibod7 wrote.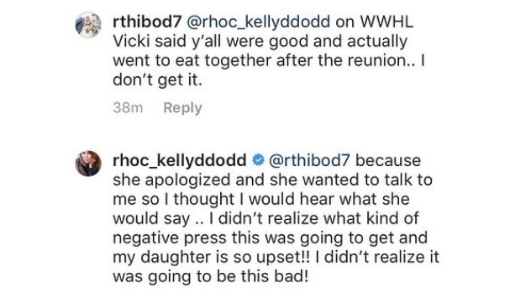 Kelly explained that the two ladies did have a meeting and talked over their issues. But apparently the recent release of the RHOC trailer struck a nerve because Kelly now says that she "didn't realize what kind of negative press this was going to get."
"My daughter is so upset!! I didn't realize it was going to be this bad!" she said.
While we're sure that Vicki is probably going nowhere in the foreseeable future, we guess we'll just have to see if Kelly follows through with her threat!
Would you be sad to see Kelly go? Sound off in the comments!
---