Is Kathryn Going to Fight For Full Custody of Her Kids With Thomas?
Are these rumors too good to be true?
Genny Glassman June 1, 2018 3:58pm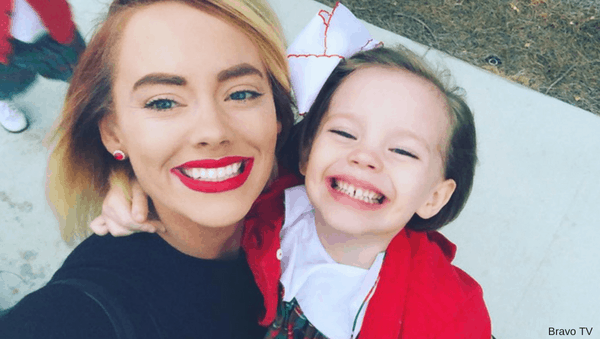 The rumors are flying! Multiple reports have come out that Kathryn Dennis will be seeking full custody of her two children with former boyfriend, Thomas Ravenel, and that the recent accusations of sexual assault against Ravenel are only helping to strengthen her case.
According to Radar Online, Ravenel currently has full custody of the two children, Kensie, 4, and Saint, 2. Kathryn lost custody of the kids in 2016 and entered a rehab program. Not being able to see her children was hard for Kathryn and in a recent interview with People Magazine, she spoke out about her personal heartbreak.
"Your heart is walking around outside of you and you can't see them or talk to them," Kathryn tells the magazine. "It's out of your control but these are two humans who you gave life to. It's just so unnatural and I can't describe it in any other way. It's probably one of the hardest things you can go through in life in general. It's hard spiritually, mentally, and physically; you can just become drained by the guilt and shame."
But things might change for Dennis. After allegations have surfaced of her ex-boyfriend, Ravenel, assaulting two women, the production company for Southern Charm is performing an internal investigation to get some answers. Which might just tip the scales in Kathryn's favor.
"Kathryn is going to court to ask a judge to give her full custody of the kids," a source tells Radar.
As of late, things have been amicable between Kathryn and Thomas, but that doesn't mean that Kathryn isn't willing take her shot to spend more time with her kids. The source adds that, "Right now, Kathryn pays Thomas $100 a month in child support since he has full custody. She is planning to ask for money for child support from Thomas in court since she is spending fifty percent of the time with the kids."
'Kathryn is considering bringing up all of the sexual assault stories about Thomas that are in the news now. She might do that if she thinks it will help get her more time and money," the source adds.
On an appearance on Watch What Happens Live, host Andy Cohen asked Kathryn about the allegations made against her ex-boyfriend. But she was reluctant to comment on the matter until the investigation had been completed, saying that she mostly wants to focus on her kids.
The co-parents are due in court June 8th, and in a separate report filed by Radar, Kathryn has supposedly been taking multiple drug tests in preparation for her court date.
"Kathryn submitted to the drug tests that Thomas ordered over the year since she lost custody of the kids and she passed them all," an insider explains.
We won't really know the outcome until Thomas and Kathryn have their day in court. But this might be the one case where we are hoping that the rumors are true!
Do you think Kathryn should get custody of her kids back?
---