Kardashian Jenner Babies, Kimojis, And Drama
There's So Much To Keep Up With
Stephanie Downs March 9, 2018 12:53pm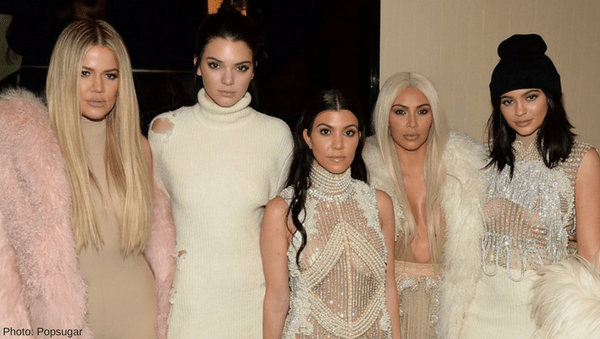 Even if you're a fan of the Kardashians, you're bound to miss a few Kardashian-based stories every now and then. There's too much to keep up with sometimes! Luckily, we've got you covered. Here's a lowdown on all of the important Kardashian stories from this week that you may have missed.
Khloé's Having A Girl!
I am now so excited my daughter will have forever best friends with Chicago and Stormi!! God is great!!! Thank you Lord for our princess 👑 👶🏽💗

— Khloé (@khloekardashian) March 5, 2018
Despite previous reports that Khloé Kardashian was having a boy (as reported by Us Weekly in October of 2017), the Revenge Body star is actually having a baby girl with boyfriend Tristan Thompson. In the season finale for Keeping Up With the Kardashians, Khloé finally received the great news from sister Kylie Jenner, who first told her that she was having a girl. Although, it looked like her sisters were more excited about the gender reveal than she was. Maybe she was hoping for a little Tristan Jr.?
Regardless, Khloé seems super stoked now about welcoming another girl into the Kardashian family. She even tweeted about how her child will have forever best friends with cousins Stormi and Chicago. How cute! Now the only question is – what will her tot's undoubtedly interesting name be?
Kendall Had A Pre-Oscars Mishap
— Kendall (@KendallJenner) March 5, 2018
Kendall Jenner experienced a scary situation recently before all of the glamorous Academy Awards festivities, according to People. Apparently, the model was admitted to the hospital before the Oscars because she had a bad reaction to a vitamin IV drip. Some celebs have been known to go through the vitamin IV procedure in order to get a little bit of rejuvenation in before an event. However, it's unclear why exactly Kendall went through with it.
Kendall was able to bounce back following the ordeal and make an appearance at the Vanity Fair Oscars party (as seen in one of her tweets above), where she looked fabulous, of course.
Kourtney's Relationship Issues
Is there trouble in paradise for Kourtney Kardashian and her boyfriend, Younes Bendjima? Based on some questionable Instagram usage, there very well could be some relationship drama brewing. On March 5th, some users noted (via Perez Hilton) that Kourtney unfollowed her boyfriend on the social media site, and then went private for a brief period of time. Shortly after, some noticed that Younes made his Instagram private, possibly in response to the unfollow?
Almost as soon as all of this drama went down, things went back to normal. Could there really have been some drama between the two? No matter what it was, it seems like things are smooth sailing with the couple post-Instagram feud. The two went grocery shopping together on March 7th. So, it looks like it's full steam ahead for "Kounes"… "Yourtney"… Kourtney and Younes.
A Special Ring For Kylie
Kylie showed off some brand new bling recently. But, it wasn't any ole' bling. She showed off a super meaningful piece of jewelry to her fans that will bring a new definition to couple goals and friendship goals. On Snapchat on March 7th, Kylie posted a photo of a new ring, which sported the initials "JW" on it decked out in diamonds.
In case there was any confusion who the ring was in honor of, Kylie captioned the photo with, "Jacques Webster & Jordyn Woods. Real Ones, OK…" How lovely is it that the youngest Kardashian/Jenner sibling honored both her boyfriend, Travis Scott, whose real name is Webster and her BFF with the gorgeous piece of jewelry?
And Kim's Sparking Controversy (What Else Is New?)
Download the new KIMOJI in honor of #InternationalWomensDay tomorrow! 💪 https://t.co/KK3TmDsFh6 pic.twitter.com/EagIFz6Q2G

— Kim Kardashian West (@KimKardashian) March 7, 2018
Not only did Kim Kardashian hang out with Madonna this week, but she also sparked some controversy because of a certain group of her Kimojis. On March 6th, Kim released a batch of her Kimojis (aka just Kim Kardashian related emoticons) in advance of International Women's Day on March 8th. Some of the icons include phrases like "grab America back" and "the future is nasty nasty nasty."
Some thought that the Kimoji pack was in poor taste for a couple of different reasons. One of those reasons was due to the fact that Kim was selling the pack for $2.99, which some considered taking advantage of a social cause for profit. Others, who were also probably not Kardashian fans, thought that Kim released the Kimoji pack purely for attention.
Do you think Kim's Kimojis were the wrong call? Sound off in the comments below!
---