The Kardashian Jenner Wealth Ranked
Collect That Money Honey!
Lara Sophia March 18, 2019 12:21pm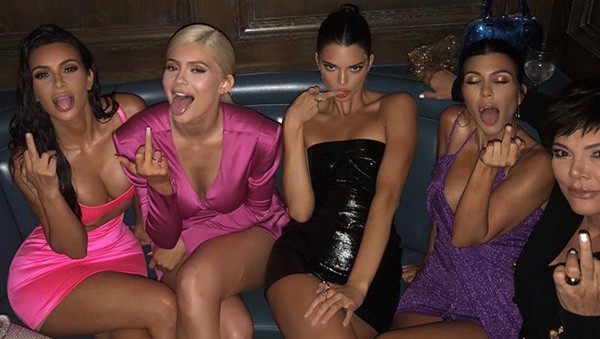 There's rich, and then there's Kardashian-Jenner rich! While all of the Kar-Jenners are swimming in the moolah, some are just a little bit more well off than the others. It's no secret that Kylie Jenner is the richest Kardashian but do you know who's the least wealthy? I didn't think so. I mean let's be real being the poorest Kardashian is still nothing but #richpeopleproblems to us mere mortals.
Before we start adding up all zeros in the Kardashian's bank accounts, let's state the second obvious in this situation, and that is Rob Kardashian. Poor Rob is only worth a cool $10M. Insert the biggest eye roll ever. Luckily for him, he's been omitted from this list just like he has been from Keeping Up With the Kardashians. Was that a little too harsh? Oops!
So let's get on to ranking the Kardashian Jenner empire!
Kylie Jenner: $1 Billion
Kylie, 21, is the richest bitch in the Kar-Jenner family. Kylie Cosmetics is worth a whopping $900M, add in her own personal assets (clothing line, Instagram posts, etc.) and boom – Kylie's a billionaire. A self-made billionaire at that. Even though that last part is up to debate for many.  According to Kylie, Kris and Caitlyn cut her off at 15, which isn't shocking since she had more money than most 30-year-olds at that point. Kylie also claims she started her cosmetics empire with all her own money. However, Kylie does admit that her KUWTK fame gave a slight advantage over others. P.S. Kylie makes $1M per sponsored Instagram post.
Kim Kardashian West: $350 Million
Surprisingly, Kim isn't the richest sister despite being the biggest hustler. This fact still baffles many including myself considering Kim's sex tape launched the career of every family member. I mean arguably without the sex tape there would be no KUWTK and certainly no Kylie Cosmetics.
Kim's money comes from a bevy of resources including KUWTK, which she stars in and executive produces. It's rumored that Kim gets a $5M bonus every time Kanye West appears on the E! reality show. Kim also rakes in the big bucks from her makeup line KKW Beauty, her merchandise, mobile game and now-defunct app. Not to mention sponsored Instagram posts. Kim will promote anything from Olay skincare to GummyBear hair vitamins on Instagram for a premium price. In 2018, Kim reportedly got paid $720,000 per sponsored Instagram post.
Caitlyn Jenner: $100 Million
Before KUWTK, Caitlyn was one of, if not the most famous Jenner. Caitlyn was creating sponsored content before it was even a thing. #Wheaties Caitlyn's wealth comes from a multitude of career paths. The former Olympian was a successful athlete and an even more successful motivational speaker thanks to her former #wifeager Kris Jenner. The rest of Caitlyn's money comes from KUWTK, her book, and various endorsement deals.
Kris Jenner: $60 Million
The devil works hard, but Kris Jenner works harder. Kris has made most of her money by taking 10%  (or more) of everything her kids (and ex-Caitlyn Jenner) made. Kris also rakes in the dough from KUWTK, which she takes credit for creating and developing for E!. The momager also serves as the shows executive producer. And just like her kids, Kris does various endorsement deals and sponsored posts – most notably Fendi.
Khloé Kardashian: $40 Million
Khloe may have terrible taste in men, but thankfully she's got a good business sense. Everyone can't have it all, right? Khloe-Money's company Good American denim line reportedly sold $1M worth of jeans in its first day of business. Koko also earns plenty from KUWTK, and it's various spinoffs including Kourtney and Khloé Take Miami, and Khloé and Lamar and Revenge Body with Khloé Kardashian. Add in executive producing her own crime show and sponsored Instagram posts and you've got money, honey.
Kourtney Kardashian: $35 Million
Kim may have dubbed Kourtney the "least interesting to look at" out the family, but she's still making money moves. Kourt's made most of her money from KUWTK, and it's spinoffs like Kourtney and Khloé Take Miami. And while Kourtney's bank account balance isn't bad, she's done considerably less than her sisters and their bevy of brands. However, don't count the oldest Kardashian out just yet. Kourtney is set to launch her own Goop-esque lifestyle blog called Poosh any day now. And let's be real Kourtney will for sure be able to give Goop a run for its holistic bougie money.
Kendall Jenner: $18 million
Last but not least is Kendall.  Kenny may be the world's highest-paid model, but models don't make as much as makeup brands and clothing lines, which makes her the poorest Kar-Jenner. Kendall is believed to be worth $18M or as much as $33M depending on the source. Kendall may be the poorest compared to her sisters, but she is a Supermodel and a Victoria Secret Angel. So who's really winning in this situation? I think that's pretty clear.
Are you surprised at how the Kar-Jenner's rank when it comes to wealth?
---