Kardashian Jenner Round-Up: Selfies Are Totally Last Year, Guys
Politics, Selfies, & T-Shirts, Oh My!
Stephanie Downs June 25, 2018 9:34am
There was a pretty major Kardashian Jenner update this week, everyone. While it's not that serious (in the grand scheme of things), it is a major development in the KarJenner world. So, what's this update? You're going to have to read on to find out what it is and what else went on with the fam this week.
The End Of Selfies As We Know It
It's the end of an era, guys. Kim Kardashian is over selfies. Yes, the same woman who authored a book entitled Selfish, which contained a slew of her own selfies, is over the self-portraits. In an interview with ITV's This Morning, she said, "I don't take selfies anymore. I don't really like them. I just, it's not it's not all about sitting there taking selfies. I just like to live there in real life."
Ok. But, Kim, don't you know that selfies are totally a part of your brand?! Not to mention the fact that she still takes selfies every now and then (see: above). So, what is the truth, girl?
Kendall's Weird Run-In
Well, this is just all kinds of awkward. On Kendall Jenner's Instagram story, she recounted a very weird run-in she had recently. While on a grocery run (sure), Kendall took a video of a man wearing a "Kill the Kardashians" T-Shirt. Yeah, not exactly the type of apparel you'd like to see while out and about.
According to TMZ, the man wearing it had a specific reason for wearing it. He explained that he's an animal lover and doesn't appreciate the Kardashians wearing fur. While he did have an explanation, he still probably should have left the tasteless shirt at home.
Kim Returns To Paris
Thank you Paris for the emotional trip back! 🇫🇷 I couldn't have come for a better reason….off to Teyana's listening party in LA now! 2 major experiences in 2 countries all in the same day!

— Kim Kardashian West (@KimKardashian) June 21, 2018
There was a pretty emotional moment in store for Kim this week. For the first since her terrifying robbery ordeal in October 2016, Kim returned to Paris for the fashion show Kanye West's friend, Virgil Abloh. It must have been super hard for the reality star to go back to the location where such an unfortunate situation occurred. But, the trip went well. In a tweet, she wrote, "Thank you Paris for the emotional trip back! I could have come for a better reason."
Kylie Shares A Vid Of Stormi
We got a Stormi update! A couple of weeks after Kylie Jenner said that she's not sharing anything about her baby girl, she posted a video of little Stormi to her Instagram account. In the snap, Kylie showed Stormi holding one of her toys and said, "That's dedication." Even though she did post the video, she still did not show off Stormi's face in it. So, it does seem like she still wants to be a little more private when it comes to her daughter.
The Kardashians Get Political Again
It has been heartbreaking to watch what has been going on at the border, and impossible to comprehend that we live in a country where children are torn from the arms of their parents, who are dealt the ultimate punishment for wanting a better life for their families.

— Khloé (@khloekardashian) June 22, 2018
Well, this isn't completely political, it's more just common sense. Khloé Kardashian tweeted about how devastated she was about the current crisis in our country wherein children are being separated from their parents at the border. Khloé urged her followers to read up on the issue and donate in order to help in a subsequent tweet.
On the flipside, Kim had something interesting to say in regards to the situation. In an interview with The Hollywood Reporter, Kim said that it was "heartbreaking." But, she also said, in the same interview, that she tries to "see all sides" when it comes to Trump and that it's "crazy" that people in the country don't want him to win. Kim, I don't even have the time to get into this so I'll just say…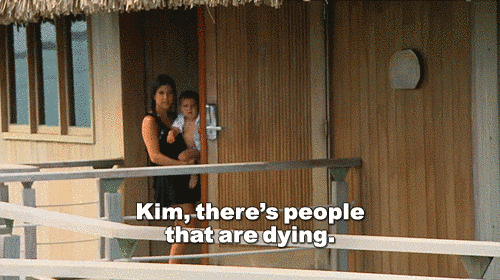 What do you think about Kim's thoughts on Trump? Let us know in the comments!
---