Kardashian Jenner Round-Up: Kylie Dethrones Kim As the Most-Popular
Lara Sophia February 1, 2019 5:07pm
Another week, another Kardashian-Jenner roundup. Shockingly it's been a scandal-free week for the Kardashian-Jenner clan but a quiet week for them is still a crazy week for us mere mortals.
Here's everything that went down with the KarJenner clan this week.
Chicago West Turns 1
Chicago officially turned one in January and to celebrate Kim and her husband Kanye West threw their youngest an epic Alice in Wonderland themed party.
"My baby Chicago turned 1 this month and we threw her an Alice in 'One'derland themed party," Kim revealed to fans on Instagram while sharing a series of pictures from the party.
As expected no expense was spared and the party included real-life Alice in Wonderland characters, an elaborate Cheshire cat cake, a topiary maze in the hallway, and a bouncy castle outside.
My only question: Can I come back as a Kardashian kid in my next life? Pretty please?
Kim Heads to California Capitol for Criminal Justice Reform
Kim continued her crusade for criminal justice reform by heading to the California State Capitol. According to E! News Kim visit coincided with the launch of the Free the Vote Act. This act is "aimed at restoring voting rights to formerly incarcerated people on parole."
Look who's here to endorse criminal justice reform and #FreeTheVote @KimKardashian pic.twitter.com/ad34MaWLB9

— Asm. Kevin McCarty (@AsmKevinMcCarty) January 28, 2019
"Had a great day at the California Capital [sic] today discussing criminal justice reform," the KKW mogul tweeted.
Kourtney Is Fighting With Khloe and Kylie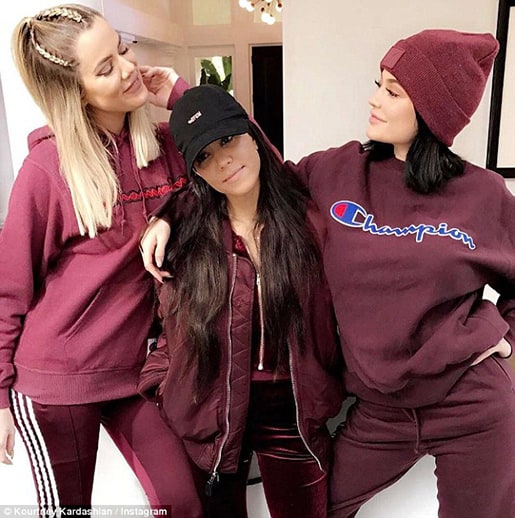 Kourtney, on the other hand, spent her week fighting with her sisters, specifically Khloe and Kylie. Kourt revealed she and Kylie had a "tiny sister fight" but have since made up.
While Khloe was simply "pissing her off."
"Khloé is pissing me off today," Kourtney wrote in an Instagram caption. Fans quickly got sucked into the drama and were dying to know what went down between the sisters.
"None of my business but….what happened?", one fan asked while another added, "@khloekardashian what did you say?"
Khloe responded but didn't reveal why Kourtney was pissed off at her. "Ok but seriously, I didn't look at the photo until now. You actually look pretty perfect. I still mean what I said," Khloe commented.
Brandon and Leah Might Be Reconciling
The couple of 14 years may have split in September but it seems like they may be giving their marriage another chance. Life & Style reports that Brandon and Leah were spotted on a romantic stroll in Santa Monica.
Leah and Brandon "were very touchy-feely. At one point, they passed some guitar players and stopped to dance," reveals the source."Brandon even affectionately put his arms around Leah's waist. They looked like a normal loved-up couple.
Did Kylie Name Her Upcoming Lip Kit After Taylor Swift Songs?
Last week we told you how Kylie was previewing Kylie Cosmetics Valentine's Day collection on Instagram. Well, as Kylie showed off her products fans quickly noticed that she named one of her Valentine's Day lip kit collections after her sister Kim's nemesis Taylor Swift.
As E! News first reported the makeup mogul's lip kit dubbed The Forever Set includes Built to Last liquid lipstick, Story of Us gloss, and Forever and Always lip pencil, all which are names of Taylor Swift songs from the mid-200s. Coincidence? Maybe, maybe not. It could be a subtle way to shade Taylor after Kim was forced to reconcile with the songstress following her new record deal with Universal Music Group. T.Swift's new record label is owned by Universal who also owns the E! Network, which airs Keeping Up With the Kardashians.
Khloe Gets Called Out For Overediting Her Photos
Koko is getting called out for overediting her Instagram photos. The drama started when Kim posted an unedited photo of Khloe on Instagram and fans quickly noticed that she looked very different from the photos on her feed. Fans quickly pointed out that Khloe looked nothing like herself.
It's no secret that Kardashian and Jenner's highly edit their social media posts with photoshop and filters. Not to mention they only take photos from certain good angels.
However turns out fans were equally, or even more, to be honest, pissed off at Kim for posting a bad photo of her sister. Kim may have looked flawless but her sister not so much. Fans called out Kim for doing Khloe dirty.
Has Kylie Dethroned Kim as the most-popular Kardashian-Jenner?
21-year old Kylie seemingly snatched her sister Kim's Queen Bee crown out of nowhere. Kylie's brand and popularity have skyrocketed over the last few years which ultimately led to her being dubbed the youngest "self-made billionaire" by Forbes. And the numbers don't lie. If Kylie hasn't already dethroned her big sister she will very soon. Kylie is right on Kim's heels with 125M Instagram followers. Kim has 126M currently. Yet, Kylie scores way more likes on Instagram than Kim. Kylie received 18M likes when she posted her daughter Stormi's first photo, while a topless picture of Kim only got 5M likes.
However, Kylie's net worth far exceeds Kim's. Kim's only worth $350M compared to Kylie's $900M. An OK! Magazine source insists that Kim is "obsessed" with Kylie's success and her ability to turn everything "into a money-making venture."
Is Kylie the new Queen B of the KarJenners? Is Khloe overediting her Instagram photos? Tell us what you think in the comments below!
---