Kourtney Kardashian Photo Slammed As A Photoshop Fail
Try and Keep Up!
Lara Sophia March 20, 2019 9:00am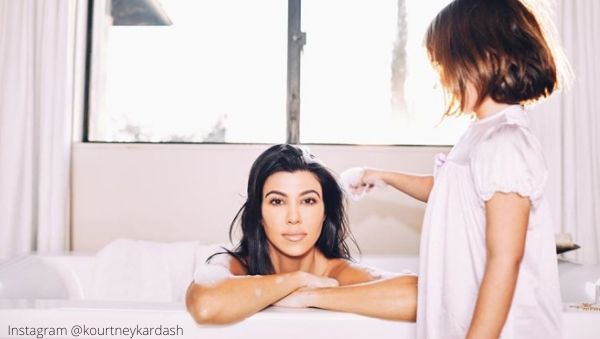 Here's everything that went down with the Kardashian Jenner family this week.
Kourtney's Nude Photo Is A Major Photoshop Fail
Uh-oh! Kourtney Kardashian found herself at the center of a photoshop scandal after posting a naked photo of herself in a bathtub on Instagram. Kourtney posted the photo to promote her upcoming lifestyle website Poosh. "Love yourself as deeply as you love them," Kourtney captioned the picture.
At first glance, Kourtney looks amazing as she lays seductively in a bathtub with bubbles strategically covering her private parts. However, when you look a little closer the photo is full of more than a few photoshop mishaps.
For one Kourtney's one leg looks oddly long. Then there seems to be a nipple on Kourtney's wrist.
A sample of the reactions:
"Love yourself but you photoshopped the s*** outa this what's wrong with ur legs????"
"We all just ignoring the nipple on her wrist????"
"Hey, Kourtney there's a nipple on your hand. Might wanna get that checked out."
"I've never seen something more photoshopped in my life"
"I believe there are bubbles but as a photographer who edits, I honestly think this was a joke edit. Unless she has a big mole on her wrist, that's a nipple."
Rob Turns 32
Happy Birthday, Rob! Rob Kardashian turned 32 on St. Patrick's Day and his family rallied around him to celebrate. The Kardashian's also threw it back and relived some of Rob's past birthday celebrations.
Kendall Is the New Face of Longchamp
Momager Kris Jenner celebrated Kendall Jenner's latest modeling campaign in a post on Instagram. The supermodel is the new face of Longchamp and is featured in the brand's "new chapter" commercial.
Kim Gets A Reading By the Long Island Medium
Kim Kardashian revealed that she had a reading by the famous Long Island Medium. "Anyone who knows me knows that I love hearing messages from the spirit world. Having a reading with @theresacaputo was a dream come true," Kim wrote. Perhaps we will see Kim's reading on KUWTK or Long Island Medium.
---