Kardashian Jenner Round-Up: Kendall's Big Surprise
Really, Kendall?
Stephanie Downs January 10, 2019 2:28pm
Last week, KarJenner fans were treated to some exciting baby news. This week, fans got to hear even more exciting news in the form of an… announcement of a product partnership from Kendall Jenner. Ok, so it wasn't as exciting. But, let's head into everything the family did this week.
Family Ski Trip
It's wintertime, which means it's time for all of your favorite celebs to hit the slopes. That includes the KarJenners, of course! Kendall, Kylie Jenner, and Kourtney Kardashian went to Aspen to get in on some ski and snowboarding fun. Of course, to mark the fun event, the three sisters posed for a selfie together showcasing all of their winter gear.
Kris' Hair Transformation
As you can see, Kris Jenner had a somewhat major hair transformation. Instead of her classic hairstyle, she opted for an updo with bangs. While the bangs are most likely of the clip-in nature, it's still so fun to see the momager play around with her hairstyle. And, really, I was excited to see Kris' hair transformation because it means I get to use this gif: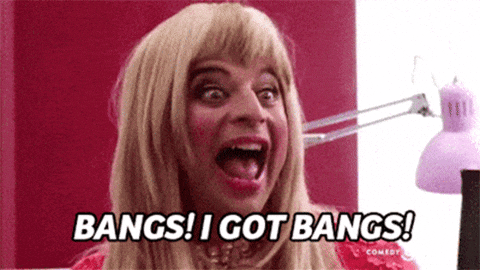 Some Luxurious Baby Gifts
A couple of weeks after Christmas, auntie Kim Kardashian gave all of her little nieces and daughters yet another fabulous gift. Kylie showcased the gift, a little Louis Vuitton bag, which she gave to her daughter, Stormi Webster, as you can see in an Instagram video she posted. As a surprise to no one, the video is absolutely adorable in every way.
Kendall's "Major" Announcement
— Kendall (@KendallJenner) January 7, 2019
Oh, Kendall. Yet again, a big product partnership she's made has been a pretty big fail. After Kris hyped up a major, emotional announcement from her daughter, fans were left wondering what it could be. But, come Jan. 6, her announcement was revealed to simply be a brand partnership with Proactiv (Sidenote: Proactiv is still around???).
While it's fine that Kendall made a deal with the skincare brand and opened up about dealing with acne, it's nowhere near exciting enough to warrant the kind of hype that Kris put into it. It just got fans' hopes up for something actually semi-interesting. Try again next time, Kenny.
How did you feel about Kendall's Proactiv announcement? Let down? Excited? Indifferent? Let us know in the comments below (especially if you're into this whole partnership, because, why?)!
---