Kardashian Jenner Round-Up: A Khristmas Recap
It Was A Super Glam Christmas
Stephanie Downs December 27, 2018 11:16am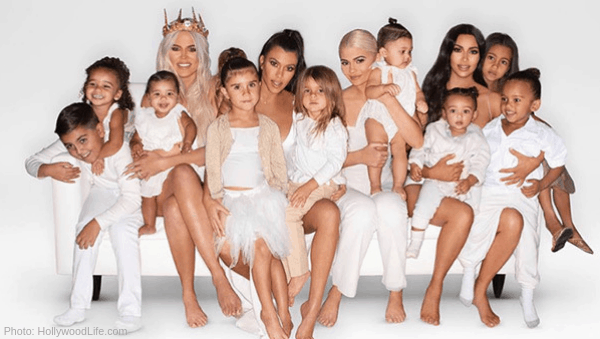 Aside from an interesting update from Kourtney Kardashian and Scott Disick, this week in the KarJenner realm mostly had to do with all kinds of Christmas activities. So, how exactly did the famous family celebrate the holiday?
Kourtney & Scott's Co-Parenting Journey
Kourtney and Scott are pure co-parenting goals, according to their latest vacay. In one of the most awkward (yet still… positive?) Instagram posts of the year, Scott posted about hanging out with baby mama Kourtney and current girlfriend Sofia Richie while on vacation. He wrote "THREE's COMPANY" in reference to the post, which proved that the crew has got co-parenting down pat and that Scott isn't the best at making Instagram captions.
Guess Who Released A Christmas Card???
After all of last year's drama and the family themselves saying there wouldn't be a Christmas card, the KarJenner crew changed their minds about their holiday tradition. Days before Christmas, the Kardashian Jenner family released their 2018 Christmas card, shocking the world in the process.
Some members of the fam were left out, namely Kendall Jenner and Kris Jenner. But, as they explained, the card this year focused on the moms in the family along with the growing next generation of KarJenners. And the result was one of their most adorable cards yet!
A Christmas Eve To Remember
If you know anything about the Kardashians, you'd know that they go all-out on Christmas Eve for their annual bash. This year was no exception. Held at Kim Kardashian's house (instead of Kris'), it was a true winter wonderland. As always, everyone was dressed to the nines for the party with Khloe Kardashian and Kylie Jenner twinning with their babies. But, the very best moment from the affair (aka my own personal favorite part) may have just been…
A Hot Reunion
So much fun celebrating Christmas Eve with my gorgeous girl @KimKardashian. ✨👸🏻👸🏼🛷❄️✨ pic.twitter.com/oPoAd3oBX1

— Paris Hilton (@ParisHilton) December 25, 2018
Kim and Paris Hilton reunited, y'all! Once upon a time, Kim and Paris were thick as thieves, with Kim even being the hotel heiress' pseudo-stylist. That was before Kim's obvious rise to stardom, though. Ever since, it seems like the pair have been on good terms, but they haven't been spotted actually hanging out together on too many occasions. So, their Christmas Eve hangout, complete with them going sledding together, was the hottest blast from the past that anyone could have imagined.
Were you surprised to see Kim and Paris hanging out together again? Tell us your thoughts on their reunion in the comments below!
---