Kardashian Jenner Round-Up: Back In Action!
The Best KarJenner News Round-Up Is Officially Back
Stephanie Downs November 8, 2018 1:52pm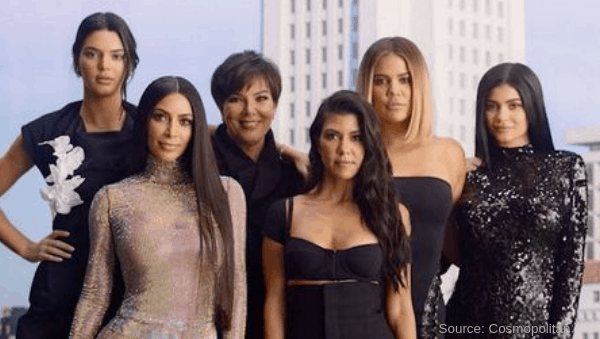 After a brief hiatus, the lowdown on all of the Kardashian and Jenner news you need to know is finally back! So, what exactly did the famous family get up to this week? As always, they were pretty busy.
Kourtney, Scott Disick & Sofia Richie's Casual Dinner
Things must really be getting serious between Scott Disick and Sofia Richie because the couple just took a major step: meeting the one and only Kourtney Kardashian. According to People, all three sat down to a "tense" dinner on Nov. 4. It doesn't mean that Kourtney and Sofia are going to be instant besties now. The publication reported that Kourtney wants to get to know Scott's girlfriend better for the sake of her kids, as they have been spending time with her. No matter what though, this group dinner definitely sounds like a mature and positive step in Kourtney and Scott's co-parenting relationship.
Khloe Talked About The Tristan Drama
I wanted to have a beautiful birthing experience for myself and for the memories of what I choose to share with True when she's older. I want her to have videos and pictures of her daddy there, holding her etc. I want her to know she is LOVE and my happiness! Babies feel energy!

— Khloé (@khloekardashian) November 5, 2018
In case you missed the latest episode of Keeping Up With the Kardashians, you missed a big ep. The Nov. 4 episode featured the Kardashians finding out about Tristan Thompson's cheating scandal. Understandably, Khloe Kardashian related that the episode would be a hard one to watch. She also opened up about her feelings during all of the intense moments in a very honest slew of tweets.
As a bit of background, Khloe told Kourtney right before the birth that she wanted everything to be civil with Tristan when they were in the delivery room. On Twitter, she went into further detail as to why. She wrote, "I wanted to have a beautiful birthing experience for myself and for the memories of what I choose to share with True when she's older." It makes total sense. Although, I don't know if I could be nearly as mature as she was if I were in her shoes…
Kendall's B-Day!
On Nov. 3, Kendall Jenner marked her 23rd birthday. To celebrate the occasion, the model actually had a low-key affair with her friends. According to The Cut, she celebrated with her fellow model friends, including Bella Hadid. Kendall spent the day bike riding around NYC on a CitiBike and then showed off her singing chops as she and her friends went to karaoke. (Coincidentally, I also went to karaoke on the 3rd but unfortunately did not manage to see Kendall, just FYI.) So, it definitely sounds as though Kendall had a super fun birthday celebration.
Kylie Got A Major Gift
Kylie Jenner received every girl's dream gift recently. No, not an all-expenses-paid trip to Paris, but it was still amazing. Kylie posted a video to her Instagram in which she showcased the many, many bouquets of roses that her boyfriend Travis Scott got her. All you have to do is check out the clip (which is conveniently posted above) to check out just romantic the move was. In short, Travis is definitely a keeper, Kylie.
#TheyVoted
The Kardashians did their civic duty on Nov. 6 by voting. Or, at the very least, Kim Kardashian did. The famous fam has been vocal about politics and the need to vote to make a difference. Most notably though, Kim related that she did indeed vote, according to one of her Instagram posts. She wrote, alongside an adorable photo of her son, Saint, "I voted today for my baby right here and his future!!!" It's nice to see that Kim did vote, especially after she's gotten involved in politics in a pretty major way recently (not that I want to reiterate one of her particular D.C. visits).
What do you think about Kourtney's interesting dinner with Sofia? And any other thoughts on any of the major KarJenner moves this week? Be sure to hit the comments!
---