The Kardashians Upset With Jordyn Wood's Red Table Talk Interview
Try and Keep Up!
Lara Sophia February 27, 2019 9:10am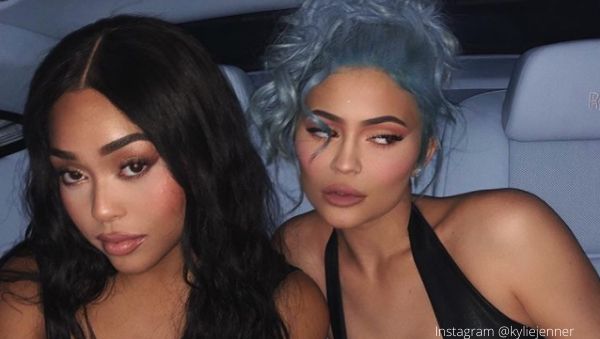 Here's everything that went down with the Kardashian Jenner family this week.
The Kardashians Can't Keep Up With Jordyn Woods' Changing Stories
It's usually us mere mortals who can't keep up with the Kar-Jenners but this time around the shoe is on the other foot. Rumor has it the Kardashians can't keep up with Jordyn Woods' ever-changing story. At first, Jordyn and Tristan Thompson denied anything happened between them, then they admitted to hooking up. Then Jordyn claimed she was blackout drunk. The story is evolving so much that no one in the Kar-Jenner family knows what to believe. Some say Jordyn Woods and Tristan Thompson only hooked up one time, while others say it's been going on for a month. Either way, the Kar-Jenners can't keep up. And because of that, they will "never do business" with Jordyn again.
"Her story keeps changing a bit, and it's almost like she is digging herself deeper," a source told People. "It's been a week now of nonsense explaining from her side. Everyone thinks she wanted to hook up with Tristan and she just didn't think she was gonna get caught."
As for Kylie, she feels "torn" over the situation. Jordyn reportedly has apologized to Kylie multiple times. And rumor has it Kylie is leaving the door open to reconcile with Jordyn down the line but for now, she's revoked Jordyn's security clearance to her gated Calabasas home.
"It's gonna be very difficult for her to cut Jordyn completely out of her life," the source told People. 
Meanwhile, the Kardashians are even angrier Jordyn is going public with her side of the drama. Jordyn will be appearing on the March 1 episode of Jada Pinkett Smith's Facebook Series Red Table Talk.
"The Kardashians are upset with Jordyn's Red Table Talk interview, and feel like she should be focusing more on healing her relationship privately with the family or Kylie then talking about it publicly."
"The Kardashian-Jenners have been nothing but incredible to Jordyn and hope she'll be respectful," the source tells Entertainment Tonight. "They just wish her way of dealing with it was done in a different way."
"If Jordyn doesn't handle this the right way, any possible hope of her being back in with the family or Kylie will be gone," the source adds.
Khloé Won't Be the Next Bachelorette
Despite claims to the contrary, Khloé won't be vying for true love on ABC's The Bachelorette.
Bachelor creator Mike Fleiss would love everyone to believe that Khloé is the next Bachelorette after her latest heartbreak but it turns out its just #FAKENEWS. Khloé's sister Kim initially called out this fake story on Twitter but Fleiss insisted Kim didn't know what she was talking about. In fact, Fleiss claimed he was working directly with their momager Kris Jenner to get the deal done.
Any decision regarding @khloekardashian as the new #TheBachelorette will need to be approved by my dear friend @KrisJenner …

— Mike Fleiss (@fleissmeister) February 21, 2019
I have already been in contact with my dear friend @KrisJenner about @khloekardashian as #TheBachelorette . Stay tuned!!!

— Mike Fleiss (@fleissmeister) February 22, 2019
She's out of the loop on this one… #TheBachelorette https://t.co/IRQ2srXrnx

— Mike Fleiss (@fleissmeister) February 23, 2019
How would @KimKardashian know??? This is between me and @KrisJenner — and most importantly @khloekardashian !!! https://t.co/IRQ2srXrnx

— Mike Fleiss (@fleissmeister) February 24, 2019
However, that was all one big lie. Kim texted Khloé and their mom and asked if this claim was true.
Oh really????? Wait a minute…. https://t.co/fe5xhzvMLR

— Kim Kardashian West (@KimKardashian) February 24, 2019
Khloé shut down the rumor and told her sister: "Ewwww I mean put some respect on my name." Kim then made the text message public forcing Fleiss to run away with his tail between his legs.
….. @fleissmeister pic.twitter.com/zftf83KYWu

— Kim Kardashian West (@KimKardashian) February 24, 2019
Meanwhile, Khloé also responded directly to Fleiss on Twitter and basically told him to shove it.
"I'm not fucking clickbait right now. Stop or you will be hearing from my lawyers. How insensitive!!," Khloé tweeted.
I'm not fucking clickbait right now. Stop or you will be hearing from my lawyers. How insensitive!! https://t.co/vTKi83nLUJ

— Khloé (@khloekardashian) February 24, 2019
Kourt, Kendall, & Khloé Snap Sexy Photos Together
Kendall, Kourt, and Khloé decided to play dress up and have some fun in front of the camera this week. They all smiled for the camera as they donned sexy outfits and posed provocatively. Kendall donned a red mini dress with white gloves and heels and see-through black stockings. Khloé and Kourt, on the other hand, went for pure glitz and glam with their sparkly body-con ensembles. Kourtney paired her sheer jeweled dress with black lingerie, while Khloé accessorized her holographic jumpsuit with nude heels and statement jewelry.
Kylie Graces the Cover of Paper Magazine
Another week, another magazine cover featuring one of the Kar-Jenners. This week it's Kylie who is gracing the cover of Paper Magazine. Kylie shared pictures from her shoot with Paper Magazine on Instagram. The theme of Kylie's cover was "Transformation" and in every photo, she's transformed into a new version of herself.
Kendall Shows It All Off At Vanity Fair Oscar Party
Kendall got awfully leggy at the Vanity Fair Oscar party. In fact, the supermodel left little to the imagination when it came to her revealing gown that showed off almost everything. You know what they say – if you got it, flaunt it. And Kenny most certainly has it.
Brody Jenner Doesn't See the Kardashians Anymore
"I don't ever really see [the Kardashians]," Brody Jenner, 35, told Us Weekly. "Everybody's kind of doing their own thing now since my dad and Kris split up."
Turns out Brody doesn't see his half-sisters, Kylie and Kendall Jenner, all that much either because they're "all really busy."
"They're traveling a lot, so I don't see them that much. But … we're great," Brody says.
Although Brody and the Kardashians don't speak often, he wishes nothing but the best for them especially Khloé.
"Khloé is a great person," Brody previously told Us. "Nobody deserves that. I will say, though, he did it once, so she probably should have left him then. To have that happen again … yeah, of course, I feel bad for her."
Khloé Speaks Out After Splitting With Tristan
Khloé is finally speaking out following her split with Tristan Thompson and his affair with Jordyn Woods. On Twitter, Khloé penned a thank you note to her fans. In the tweet, Khloé praised her fans for their love and support.
Hi loves, wanted you to know that I appreciate you! 🙏🏽 I've been reading your kind words and they really are a blessing to me. I love you! Thank you Thank you! I'll be back when I'm in the mood to chat with you all. Until then remember to be kind to one another 💕

— Khloé (@khloekardashian) February 26, 2019
---