Just Add X by Vanderpump Rules' Jax Taylor
The VPR Star Debuts His Line of Cocktail Mixers, and Their Names
Ashley Hoover Baker December 3, 2018 12:07pm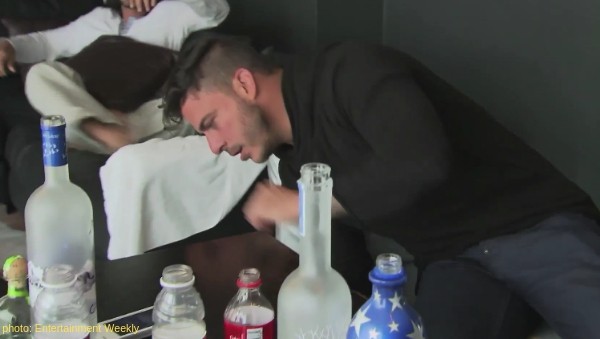 Jax Taylor. Where do we start?
We know Jax is the king of bad decisions, but it looks like he is trying to make a positive change. Key word = trying. Maybe the success of Tom Tom motivated him, maybe his super sweet fiance motivated him, nevertheless, Jax wants more than just a future at SUR…and this time it doesn't involve sports writing in Florida, he'd have to retire his chunky sweater for that heat!
Ladies and Gentlemen: Presenting 'Just Add X,' Jax Taylor's line of cocktail mixers!
Let's get this out of the way first. Did anyone's brain automatically think the of ecstasy? 'Just Add X' reminds me of some terrible nights in the early 2000s that I'm actively trying to block out, but I digress.
Now, let's get to the good part. The names of Jax's mixers…
Yes, you read them right. The Ging, The SOB, The Seedy Kiss. But the one that has shaken me, like a cocktail, to my core is called THE CHEATER.
Jax Taylor named a cocktail mixer, The Cheater! (That's SO Jax!) Sure, it's sugar-free, organic, and made in America, but why name a product based on an unfaithful romp with an octogenarian nearby? Our friends on Twitter gave their opinions…
Hahaha 😱you think someone wants to walk around holding or be drinking a drink that reads "Cheater" I doubt it 🤯Good luck tho…

— Chloe R (@ChloeakaRC) December 2, 2018
#jaxtaylor coming soon to a dollar tree or 99 cent store near you. #loser #oldbartender didn't have enough sponsors for his hoe down wedding with @bncartwright #brittany #vanderpumprules #boring #justaddx pic.twitter.com/TswFrLXkKT

— Tiffany Cartier (@SaschaDayin) December 1, 2018
Can we all agree that these names are horrible?!?! I realize Jax is too clueless to realize he's missed the mark on this, but why hasn't Brittany intervened? Neither of the Toms nor Ariana could give their expert opinions? 'Just Add X' just isn't sitting well with me…
Please give Jax suggestions for better names for the Just Add X mixers in the comments below!
---