Jerry O' Connell Confirms That Denise Richards Has Joined 'RHOBH'
Jerry blabbed!
Genny Glassman July 27, 2018 5:51pm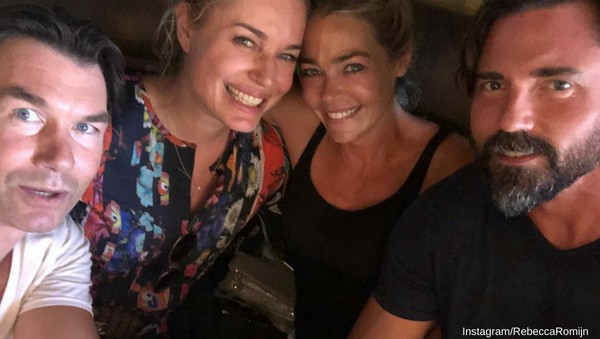 Are the rumors true? According to actor, Jerry O' Connell, Denise Richards is officially joining the cast of the Real Housewives of Beverly Hills. We all know what this means….Charlie Sheen might be coming to Bravo.
O' Connell's shocking revelation comes after multiple sources have speculated that Richards was "close to striking a deal."
But the actor did Bravo fans one better.
Speaking on a red carpet with E! News, O' Connell told reporters that he was giving them the exclusive news that Richards is officially part of the cast.
"Exclusi-vo!" O' Connell said as he busted out his cell phone and showed reporters a picture of himself, wife Rebecca Romijn, Richards, "and her super hot boyfriend Aaron," having lunch together on July 27th. The newly signed Real Men Watch Bravo host says that the lunch date happened on "the eve that Denise is starting a new endeavor that we're excited for her to be starting." (Hint hint, he means Real Housewives).
The Bravo franchise would mark Denise's second endeavor into reality TV. In 2008, the actress had her own reality show on E! called Denise Richards: It's Complicated, which ran for two seasons. And in 2011, Richards told Us Weekly that she would love to be casted on the hit reality show. "It's one of my favorite shows!" she told reporters.
Well, we guess that dreams come true!
Would you want to see Denise on RHOBH? Let us know in the comments!
---