Jeremy Vuolo Is Now Officiating Weddings
Jeremy Vuolo Can Officiate Weddings Now!
Mandy Robinson September 30, 2018 11:00am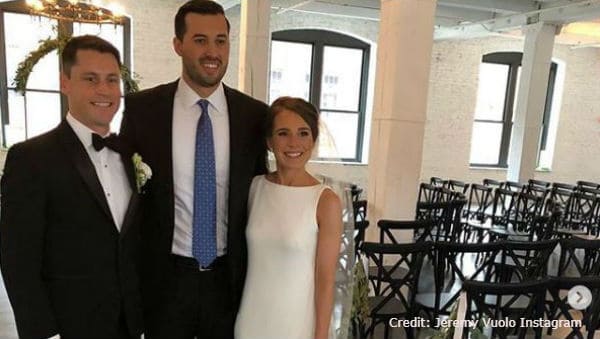 Jeremy Vuolo of Counting On has always made it clear that serving the Lord is his planned profession. It turns out that he can now officiate weddings. Jeremy went on a trip to Chicago this weekend along with his wife Jinger Duggar and their daughter Felicity. He shared on his Instagram that they went there so that he could officiate a wedding for his friend.
In the post, Jeremy explained about their trip. He said, "It was a joy and an honor to officiate the wedding of one of my closest friends, @patricksean24, to his beautiful bride, @kirsten_hermine.
May the Lord bless you abundantly as you begin this journey together!" Jeremy looked really nice for the event all dressed up in a suit with a blue tie.
It looks like Jeremy and Jinger had a nice time on the trip. They were both sharing pictures on Instagram. They took their daughter on a plane and she even slept for at least part of the trip. These two do need to get her used to traveling with their family being far away. They also went to a Cubs game while they were in Chicago. They haven't shared just yet if they are heading home.
Hopefully, the TLC cameras followed Jeremy and Jinger Vuolo on this trip to Chicago. It would be great if the entire trip would get to be seen on the show. The viewers can't get enough of this adorable couple plus they will want to hear all about Jeremy's new venture and see if he has plans to do more weddings in the future.
Are you surprised to hear that Jeremy Vuolo can officiate weddings now? Let us know your thoughts on his new venture in the comments, and don't miss the new episodes of Counting On when they air on TLC. New episodes are on Monday nights.
---