Flipping Out's Jenni Pulos Speaks Out About Rift With Former Friend Jeff Lewis
Jeff and Jenni can't stop talking about each other in the press.
Genny Glassman November 13, 2018 5:11pm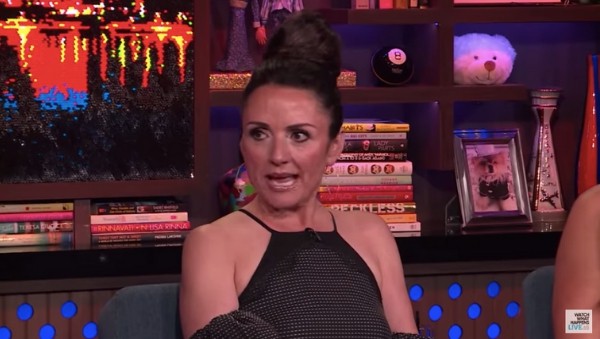 The fight between Jenni Pulos and Jeff Lewis is heating up and it looks like things might be beyond repair. Jenni, who was a former employee of Jeff Lewis Design, went on Watch What Happens Live on Monday night where she spoke her piece about her current rift with her former boss and close friend.
In October, host Andy Cohen interviewed Lewis where the reality star said that despite being a "a very, very forgiving guy" he would have a hard time forgiving someone who "reports you for abuse to your bosses, that's kind of something that's kind of hard to get over."
But on Monday's show Jenni attempted to set the record straight. "I never filed a claim, I really worked for him, we were really friends," she explained. "You know, heartbroken about how it's all transpired, but I wish him the best and I always have."
These comments follow an explosive couple of weeks. According to Us Weekly, the rift between Jenni and Jeff started when Jeff gave her "some unsolicited career advice" which must have struck a nerve. "She said that she had given up her acting career to work for me, and that really hurt my feelings, because I felt like I have done nothing but accommodate her for her auditions and meetings and all of that," Jeff explained on his radio show Jeff Lewis Live.
"[Jenni] doubled down and allegedly I was reported for wrongfully terminating her off her own show. And there were also allegations of a hostile work environment, so somebody's talking to an attorney, which scares me."
"My showrunner had to go frame by frame to confirm that there was no abuse," he clarified. "I have been cleared of all abuse, victimization charges."
Though there does seem to be a TON of drama surrounding this Jeff and Jenni debacle, Jeff said that he's hopeful Flipping Out will return to Bravo for a new season."They just haven't picked [the show] up yet and coincidentally my contract has expired," he said. "The show has not been officially cancelled … yet." But in the meantime it looks like Jeff will have to get a new partner in crime.
Whose side are you on, Jeff's or Jenni's? Sound off in the comments.
---